Maya Lin was in her senior year at Yale when she won the public competition to design the Vietnam Veterans Memorial in Washington, D.C. — the memorial that launched her career and honored human lives.
Her latest memorial, titled "What Is Missing" — which she said will be her last — honors the lives that human destroy: the environment and natural world.
These two were referenced specifically by the White House in its press release announcing that Lin was among the 21 2016 recipients of the Presidential Medal of Freedom, the nation's highest civilian honor, along with Ellen DeGeneres, Kareem Abdul-Jabbar, and Eduardo Padrón.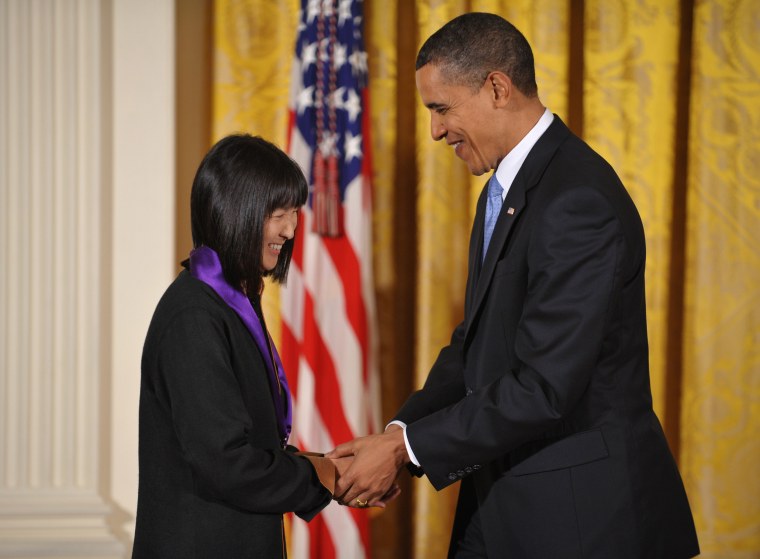 The award, which is presented to those who "have made especially meritorious contributions," will be presented today at the White House by President Barack Obama, who said in a statement that the award recipients "have helped push America forward, inspiring millions of people around the world along the way."
Lin told NBC News over e-mail that when she learned that she would be receiving the Presidential Medal of Freedom, she was "speechless and so very, very honored."
The ceremony won't be Lin's first time meeting Obama. She also received the National Medal of the Arts from him in 2009. Seven years later and in the final year of his presidency, Lin said she believes that the President's action on climate change will be a critical part of his legacy.
"I think for me personally his action on climate change, and his advocacy for clear action that could help prevent the worst effects of climate change, has been so critically important," she said. "It has seen us come together as a world to act, to help prevent the worst effects of climate change."
RELATED: Tom Hanks, Bruce Springsteen Among Obama's Last Medal of Freedom Recipients
Lin also reflected on the President's work with the economy and healthcare. "I also think his belief that all Americans should be able to get health insurance was so desperately needed and welcomed by so many Americans who did not have access to health care, and the fact that [with] the economy when he took office— we were in one of the worst financial collapses — things are really turning around," she said. "It just takes time to come back from that point of collapse."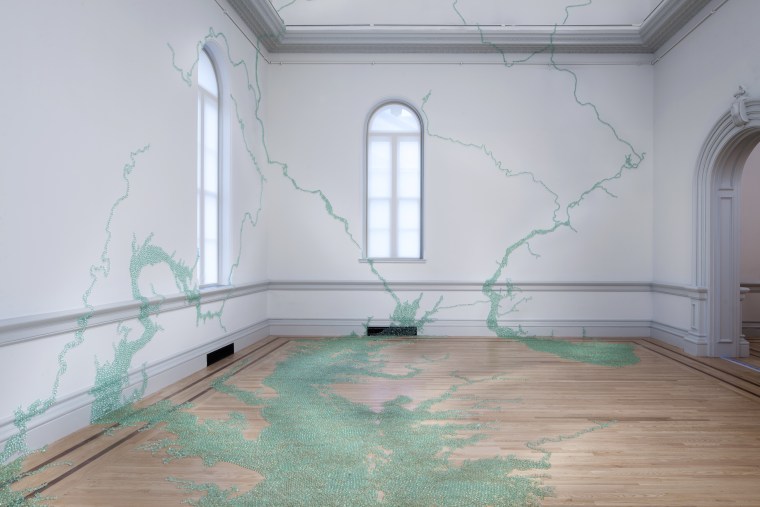 The environment has been a "lifelong concern" for Lin, whose prolific body of work in both art and architecture has been informed by an affinity for the natural world.
"As an artist I often work in series, and so for me, I wanted my last memorial to be on a subject that I have personally been concerned with and connected to since I was a child," she said. This last memorial, 'What Is Missing,' encompasses multiple platforms, with temporary and permanent physical installations as well as an interactive online component."
"By trying to make people realize and become aware of this loss of species and habitats, to wake us up—and to hopefully galvanize people into action—then the web allows for very clear what you can do to help both protect species and reduce climate change emissions," she added.
"I think nature is resilient— if we protect it—and with my background I wanted to lend a voice to the incredible threat we are under from climate change and species and habitat loss."
Outside of general awareness and individual action, Lin knows from personal experience that policy can have a very real and tangible effect on the environment, which is why she expressed concerns about Donald Trump's stances on the environment.
"I am so saddened by the stated goals of the incoming administration to dismantle the environmental protections that have made our water and our air and our communities safer and cleaner, and that [President-Elect Donald Trump] threatens to renege on the Paris Climate accord—which would be as, 365 businesses just petitioned, a disaster for us both ecologically and economically," she said.
In comparison, Lin cited policies that have engendered positive environmental change in her lifetime. "I grew up with the formation of the Clean Air Act, the Clean Water Act and the Endangered Species Act all coming into being, and it made a lasting impression on me: how killer smog was choking our cities, how rivers were so polluted they caught fire, how pesticides had done irreparable damage to our wildlife," she said. "But with protective legislation, nature came back—our rivers, our air."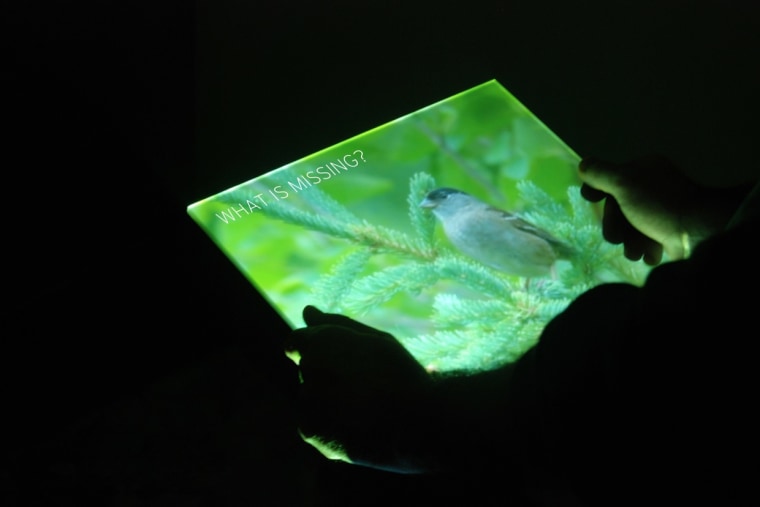 Lin added that her work with 'What Is Missing?' was inspired by a desire to combat climate change specifically.
"So to focus on this subject, especially now with the threat of climate change, is what I wanted to do. I think nature is resilient— if we protect it—and with my background I wanted to lend a voice to the incredible threat we are under from climate change and species and habitat loss."
Follow NBC Asian America on Facebook, Twitter,Instagram, and Tumblr.