A jury has awarded $23.3 million to a company that for three decades had provided peppers to a California maker of chili sauces, including its popular Sriracha.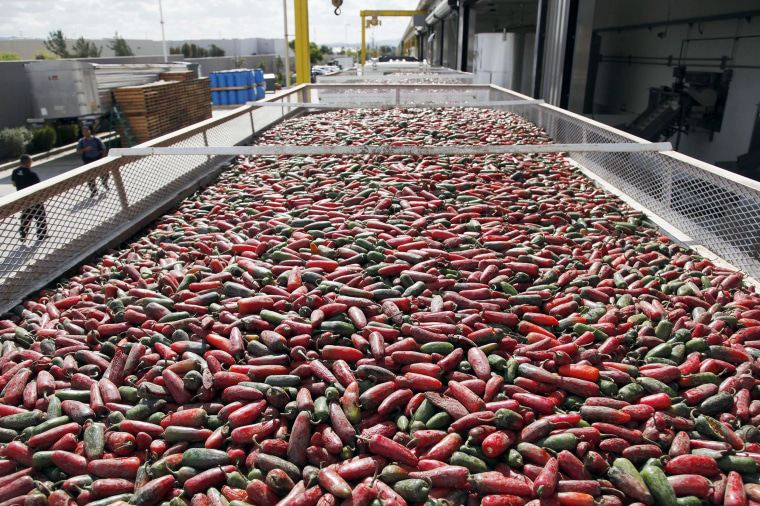 Huy Fong Foods, Inc. is on the hook for $10 million in punitive damages and another $14.8 million to compensate for two years of financial losses incurred by chili pepper supplier Underwood Ranches after their relationship abruptly ended, according to the Ventura County Star and court records.
"Those losses were real, so we've got a lot of ground to make up," Craig Underwood, owner of Underwood Ranches, told CNBC in an interview. "But it was so emotionally rewarding to hear all of the jury members support us unanimously."
A roughly $1.5 million overpayment from Huy Fong to Underwood was deducted from the $14.8 million.
James Q. McDermott, an attorney for Underwood, said in a phone interview Monday that the July 3 verdict fully vindicates his client's position.
"It's unfortunate it had to go to this length, but it's obviously a good result that they're happy with," he said.
Daniel J. Carobini, an attorney for Huy Fong, told NBC News in an email that they disagreed with the jury's decision.
"We will be challenging it via post-trial motions and an appeal," he wrote.
The verdict in California Superior Court was the culmination of a suit Huy Fong initially filed against Underwood in August 2017. Underwood lodged a countersuit in February 2018, and the case went to trial this year.
Underwood had provided Huy Fong with its chili peppers for about 30 years, but the two sides could not reach an agreement for the 2017 harvest, court documents said.
Huy Fong accused Underwood of not returning an overpayment of about $1.5 million from the 2016 season, while Underwood alleged that Huy Fong breached contracts between the two companies.
The creator and founder of Huy Fong, David Tran, began making hot sauce in Vietnam in 1975, according to Huy Fong's website and the lawsuit. The name of Tran's company comes from the Taiwanese freighter "Huey Fong," registered in Panama, on which he escaped the war-torn country in 1979.
The United States accepted Tran as a refugee, and he started his business in 1980 in a 5,000-square-foot building near Los Angeles' Chinatown.