The California-based producer of a popular hot sauce is suing its pepper provider for breach of contract, accusing it of refusing to give back millions of dollars' worth of equipment and to refund an overpayment totaling close to $1.5 million.
Huy Fong Foods, Inc. filed its lawsuit on Tuesday in California Superior Court in Los Angeles against Underwood Ranches, which has grown the peppers Huy Fong uses in its chili sauces like Sriracha for approximately three decades, court papers said.
Following the 2016 harvest season, the two sides could not reach a production agreement for 2017, court filings said.
Huy Fong accuses Underwood of holding its "equipment hostage" and "severely impacting Huy Fong's ability to complete the 2017 harvest and greatly increasing the expense associated with that harvest," according to the suit.
"Underwood seeks to punish Huy Fong for ending the parties' relationship and to use its wrongful detention of Huy Fong's equipment as leverage in negotiations," the lawsuit alleges in part.
Asked to quantify what effect this might have on the company's supply of hot sauce available for sale, Huy Fong attorney Mary H. Haas told NBC News in an email that "Huy Fong is doing everything it can to ensure that it will not have an inventory shortage of its products."
A request for comment sent to an attorney for Underwood Ranches Thursday was not immediately returned.
According to Huy Fong's complaint, annual production agreements were "partly oral, partly written and partly established by the parties' practice."
Among other things, they included Huy Fong paying for all expenses related to production of its chilies and an estimate of Underwood's anticipated costs, as well as for Underwood's purchase and maintenance of all necessary chili-production equipment on behalf of Huy Fong, the lawsuit states.
The agreement also prohibited the equipment's use for anything other than the hot sauce company's pepper harvest, court papers said.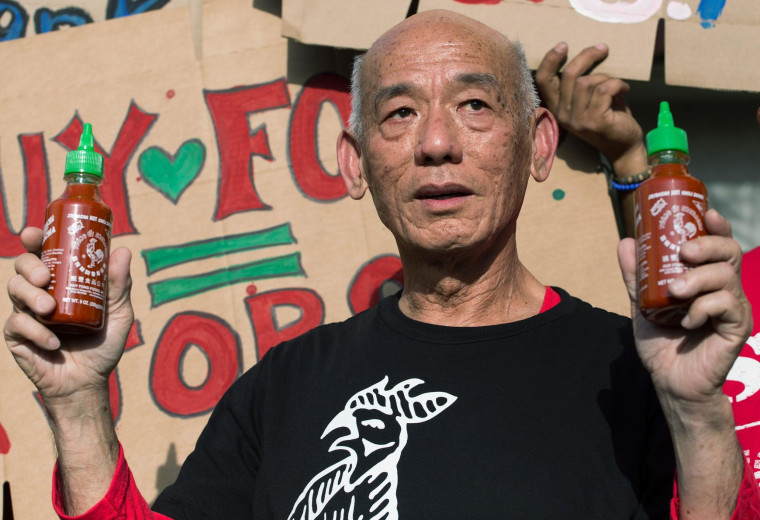 Between 2008 and 2016, Huy Fong paid more than $190 million to Underwood Ranches, according to the suit. The company also said it promptly remitted any balance Underwood said it owed if chili-production costs were higher than the estimated expenses, according to the lawsuit.
For the 2016 harvest, though, Huy Fong overpaid Underwood $1,455,270, court documents allege. After the two parties failed to reach a new production agreement, Huy Fong claims Underwood refused to return the excess payment, along with Huy Fong's $7 million in equipment.
It also accuses the pepper picker of not paying close to $25,000 after allowing Underwood to sell its hot sauces to Sysco, a third-party foodservice distribution network, the lawsuit said.
The creator and founder of Huy Fong, David Tran, began making hot sauce in Vietnam in 1975, according to Huy Fong's website and the lawsuit. The name of Tran's company comes from the Taiwanese freighter "Huey Fong," registered in Panama, on which he escaped the war-torn country in 1979.
The United States accepted Tran as a refugee, and he started his business in 1980 in a 5,000-square-foot building near Los Angeles' Chinatown, according to the company.
Follow NBC Asian America on Facebook, Twitter, Instagram and Tumblr.