Jennifer Kumiyama rolls herself around her hometown of Long Beach, California, crossing the downtown streets confidently. Her right shoulder bares a tattoo of the international wheelchair symbol with a heart.
"At one point, I wanted to completely cover myself up with tattoos," Kumiyama, 36, told NBC News. "It's so sad that people with disabilities, especially women, have so many body issues."
A mix of Chamorro, Japanese, Chinese, Filipino, and black, Kumiyama grew up knowing she was different. But even life in a wheelchair doesn't stop the actress, singer, and pageant winner from following her ambitions.
"Being onstage, I realized that I was fulfilling not only my dreams, but the dreams of others," Kumiyama said. "I didn't even think of it that way. People would bring their kids to shows, and they said they don't see this kind of thing [having a disability] onstage. They would say, 'Thank you for being brave enough to do it.' And that's when I started becoming an advocate."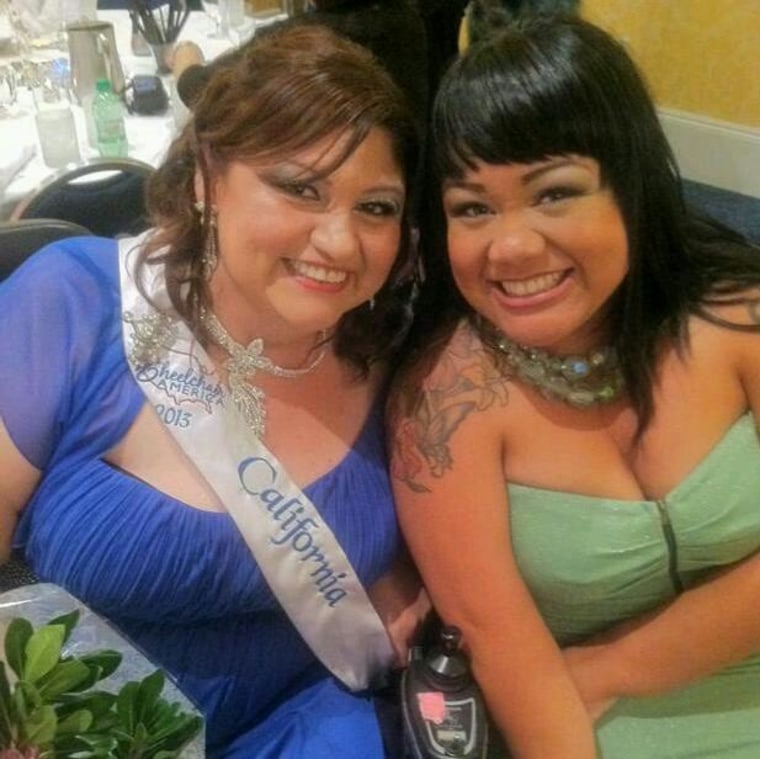 Kumiyama was born with arthrogryposis multiplex congenita, a rare condition in which joint contractures permanently affect her arms and legs, causing muscle weakness and very limited mobility. The doctors told her she would never be able to use her limbs.
"I remember the school secretary asking if I wanted to stay in special education, or go into the 'mainstream' classes," Kumiyama said. "Of course, I wanted a regular education. In the special ed program I was initially put in, I was learning at such a slow pace for me. There was no challenge, and children should be challenged in school. That was my first taste of understanding my rights as a disabled person."
Growing up in Southern California in the 90s, Kumiyama remembers the initial struggles of wheelchair accessibility, with the American with Disabilities Act only being signed in 1990. "Even for a while, there weren't accessible buses, walkways, or stages," she said.
"When I go to auditions, I always say, 'Please God, let them see just me. Let them hire me based on the fact that I'm good; not because they feel bad for me. Because if I don't deserve it, then I don't."
The stage had always been home for Kumiyama. As the eldest of six in a musically-inclined, mixed Asian-American family, she was involved in her high school's choir, orchestra, and theater program.
"I loved being a thespian. But I had put it in my head at such a young age that I would never be a professional performer, just because you don't turn on the TV or go to a theater and see someone like me onstage, in public like that," she said. "So I figured that wasn't an option. I wasted a lot of time trying to do other things, and figure out who I could be happily. But I wasn't happy. When I got to college, I didn't want to do anything else but perform."
Determined to follow her passion, Kumiyama moved to Long Beach when she was 20 years old to be formally trained. She took voice lessons at Long Beach City College and California State University, Long Beach, all while hitting Los Angeles' robust audition scene.
In 2002, after a short reality TV show stint in the second season of Warner Brothers' singing reality show "Popstars," Kumiyama auditioned for the role that would boost her acting career: Disney's "Aladdin: The Musical Spectacular," showing at the Hyperion Theater at Disney's California Adventure theme park.
"Out of 2,500 people auditioning I was the only one with a disability, so I was already intimidated," she said. "I was 22 years old. I went in, and I was so nervous that I had to start over a few times. I sang the best that I could, and I went home, thinking that that was over and didn't go well…but they called me back. And they kept calling me back."
After a few more tryouts in front of the show's producers and Disney executives, Kumiyama heard nothing for two months. She was studying for a midterm when her phone rang.
"It was Disney calling. I was so happy I cried," she said. "It was a learning process for both Disney and myself, hiring someone with a disability. They had to hire someone to help, and that person is now my agent. I had to learn to speak up and ask for things, and they provided."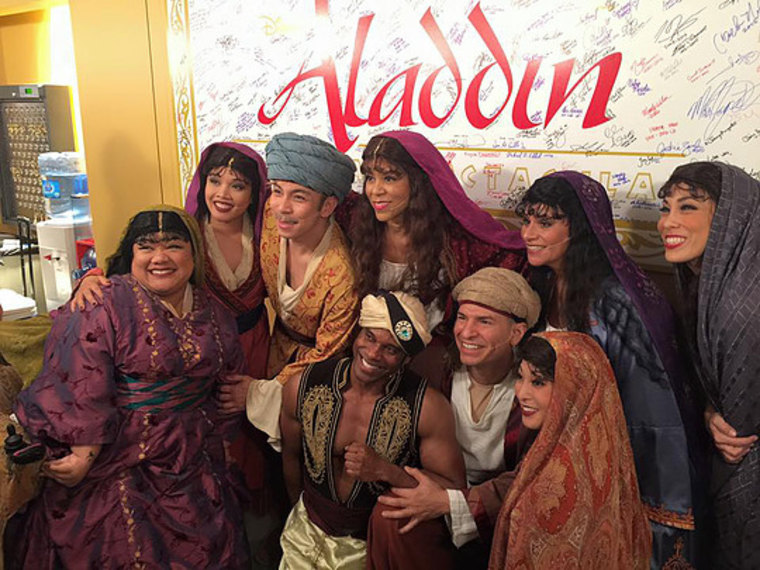 As, according to Kumiyama, the first performer in a wheelchair to be on any Disney stage in the world, she had a special cot to lie down on between scenes, a decorated chair that props and were welded onto, and unique stage blocking choreography. In the ensemble, she joined a cast of talented performers who became family for 13 years before the show ended this past January.
"They were long days; 14 hours, 4 shows a day, 5 days a week. It was a lot of work, especially coming from not realizing what you're getting into, but I am so grateful. Aladdin was an amazing opportunity," she said.
While still in the show, Kumiyama was cast in Oscar-nominated film "The Sessions" with John Hawkes and Helen Hunt, as well as MTV's "Awkward." She continued to pursue smaller acting roles, while continuing her advocacy work through Disney and the Special Olympics program.
"When I go to auditions, I always say, 'Please God, let them see just me. Let them hire me based on the fact that I'm good; not because they feel bad for me. Because if I don't deserve it, then I don't," she said.
"And please, don't let them put me through the dance audition," she added, joking.
In 2010, Kumiyama discovered the pageant world, competing for and winning Ms. Wheelchair California — and later, 1st runner-up for Ms. Wheelchair America — on the 20th anniversary year of the Americans with Disabilities Act.
"Going from theater to pageant life is an interesting transition. Having that experience helped," she said. "When you're in that role, people look to you to learn something, but I actually learned so much from the disabled community. I know what I need as a person in a wheelchair, but I became more aware and sensitive to the needs of others. For some reason, the world fails to recognize that the disability community is the hugest minority in the world, and yet there are still very limited resources — places that aren't accessible — for the community that needs the most."
Winning the pageant only propelled Kumiyama's advocacy work forward. She made frequent appearances at events, sharing her story with schools and organizations, she said. Her platform was "Empowering children and young adults with disabilities to make their dreams come true."
"It tied into my job as an actress, and it was what I was passionate about," she said.
After her reign ended, Kumiyama stayed closely involved with Ms. Wheelchair America and the organization's cause. In 2012, she became state coordinator, founding the Ms. Wheelchair California Foundation, an independent organization from Ms. Wheelchair California, to support pageant titleholders. With the help of a board of directors, her family, and team, Kumiyama coordinates her own pageant, finds sponsors and contestants, and advertises and fundraises heavily for the pageant.
"It's like running a full-time business," she said. "I especially love working with the titleholders, who inspire me. Aside from competing nationally, they each have a platform that they choose, and it's tailored to the girl and her disability."
Since its formation, the Ms. Wheelchair California Foundation has crowned five titleholders, including the most recent Miss Kathleen Barajas, who has cerebral palsy, and last year's winner, Dr. Alette Coble-Temple, who won the nationwide Ms. Wheelchair America pageant as the first titleholder with a severe speech impediment.
"A lot of people assume that having a disability is the worst thing that could happen to your life, but that's not true," Kumiyama said. "When I see people freak out, I don't understand why. Acquiring a disability doesn't make [you] any less of a person. We need to change the narrative. I feel like we've come far, but we still have a long way to go."
Kumiyama also shared the inevitable challenges that come with reaching out to people with disabilities—especially to the Asian-American community, many of whom are still living behind closed doors.
"People in our community are so used to being spoken for, not speaking for themselves. It's our culture. There's a stereotypical treatment of people with disabilities, and the fear of speaking out," she said.
Hoping to change the culture, Kumiyama has been involved for several years with the Asians and Pacific Islanders with Disabilities of California (APIDC), a non-profit dedicated to the empowerment of Asian Americans with physical, mental, and developmental disabilities. She has been a trainer at the APIDC's annual Youth Leadership Institute, a program aimed at training college students to become empowered leaders in the Asian-American and disability rights movement.
"Jennifer is both an entertainer and an advocate; you can't separate the two. It's who she is," Patricia Kinaga, APIDC chair and co-founder, told NBC News. "She's an incredible singer who lights up the whole stage in her chair. She has such an incredible impact on audiences, and on the students she trains about community advocacy. I've seen her interact one-on-one with young adults with disabilities, and she is able to show them how they can make a path for themselves in a very compelling way. Her inner beauty and advocacy work is her stage."
"A lot of people assume that having a disability is the worst thing that could happen to your life, but that's not true. When I see people freak out, I don't understand why. Acquiring a disability doesn't make [you] any less of a person."
In between auditions and running the Ms. Wheelchair California Foundation, Kumiyama works for the Long Beach city government, interning under Long Beach Councilwoman Lena Gonzalez. She also became a commissioner for the city's Commission of Disabilities, working to increase opportunities and equal accessibility, and hopes to study public policy.
"It's funny, working in theater for so long and then doing something like interning for the City Council — it's two completely different worlds," she said. "But I love public policy, organizing and helping other people. I didn't want to just sit at home."
She added, "I really want to try and promote universal design. If we just learned to design things universally, without thinking that its because we have to fulfill the [ADA] requirement, everyone can have equal access to enjoy the quality of life. If you want to make change or help others make change, there's only one way to do it, and that's by being involved. Nothing happens if you sit still."
Follow NBC Asian America on Facebook, Twitter, Instagram, and Tumblr.