A New York woman was arraigned Monday on charges of second-degree murder and unlawful concealment of a human corpse in connection with a newborn found dead in a trash bag outside her residence in Staten Island.
Nausheen Rahman, 28, allegedly cut the umbilical cord and placed the baby, who was breathing, in a plastic bag that she threw into a garbage can, according to the criminal complaint.
A spokesperson for the New York City Medical Examiner's Office told NBC News Tuesday that the cause of death was still under investigation.
At her arraignment, Rahman did not enter a plea before Staten Island Criminal Court Judge Raja Rajeswari. Rahman was remanded and is scheduled to appear in court again on Friday, according to the Staten Island District Attorney's Office. Her attorney, Michael Robert Rosas, told NBC News that Rahman will plead not-guilty.
"We're going to conduct our own investigation, and we're going to see where that leads us," Rosas said. "It's a tragic event, and we're doing our best to uncover some of the facts."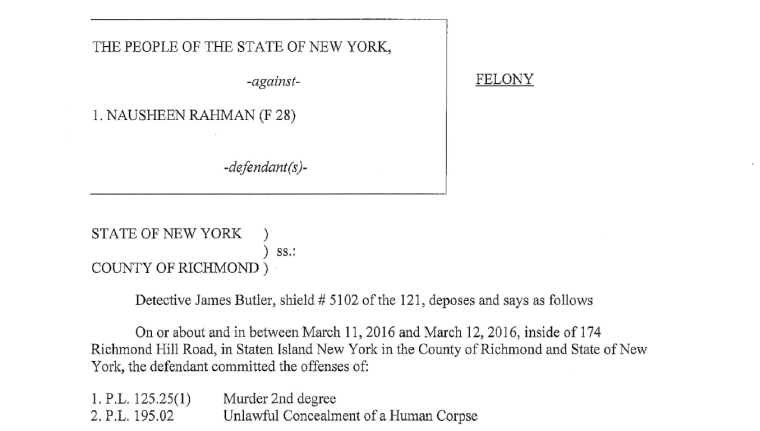 According to NBC New York, police found an unconscious infant outside Rahman's apartment on Saturday morning around 11:30 a.m. The night before, Rahman had gone to the Staten Island University Hospital and told personnel she was bleeding as a consequence of childbirth, the report said. The hospital had no record of the birth. Rahman allegedly explained she had had the child at home and then disposed of it, according to the report.
Follow NBC Asian America on Facebook, Twitter, Instagram, and Tumblr.