"Aloha. I'm Patrick Landeza, and I'm from the island of Berkeley, California," is how Patrick Landeza introduces himself at every concert in which he performs. It is also the central theme of a new documentary film being made by filmmaker Alex Vo called "The Story of Patrick Landeza."
"This [film] is to call awareness to the Hawaiians on the mainland and their journey of discovering where WE fit in. My own quest for identity lies within the music I play," Landeza told NBC News. "When people would tell me 'I'm not real' or not take me serious as a Hawaiian musician because I was born in Berkeley, I would find refuge in my relatives and mother who would continue to tell me the same stories of our rich family history."
Landeza is the first and only mainland-born-and-raised Hawaiian musician to win the Nā Hōkū Hanohano Award, the premier Hawaiian music award, according to the Honolulu Star-Advertiser. He won the award in 2013 for his album, "Slack Key Huaka'i."
Landeza is also an important part of California's Hawaiian community. He has produced Hawaiian music concerts for twenty years, he teaches slack key guitar around the country, he makes traditional Hawaiian jewelry and Hawaiian clothing, and he caters Hawaiian food. He has also written a children's picture book, "Danny's Hawaiian Journey," which explores what it means to be Hawaiian for a child growing up on the mainland.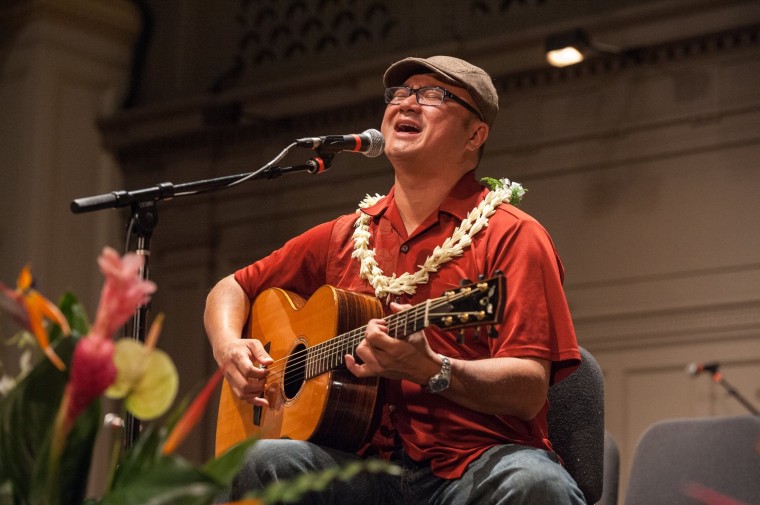 Hawaiian music has been the key to discovering his identity. "Playing Hawaiian music makes me stronger," Landeza said. "Stronger meaning a better sense of who I am as Kanaka Maoli, the stories I was told as a youth about my ancestors and their quests, their roles in the 'Kingdom of Hawaii.'"
"The Story of Patrick Landeza" is expected to be completed in 2017.