A long line of young people wound around the corner of Lafayette and Prince Streets in New York City on a chilly morning earlier this month, some having battled the cold for hours to queue in front of the storefront of Supreme, a world-renowned streetwear brand.
Supreme's Spring/Summer 2016 collection was "dropping" that morning and the hundreds of people — mostly male, many people of color — were in line to be some of the first to purchase the clothes. Many, despite having to stand uncomfortably for hours, wore bright, branded clothing representing their subculture.
In the front of the entrance, a group of young Asian-American men decided to not even bother. They stood a little distance from the line and were speaking to a well-dressed reseller — someone who specializes in buying and reselling items on the flourishing streetwear secondary market. The reseller pulled out an iPhone and showed the trio a video of one of his clients.
The young men, each wearing branded oversized jackets, hoodies, hats and designer sneakers, couldn't articulate exactly why or how they had bought into the subculture.
"I really got into old school hip hop, but I think especially for a lot of Koreans, it started with [artists like] Keith Ape," 19-year-old Ted Kim told NBC News.
Je Son echoed the sentiment. "Definitely hip hop, listening to hip hop, and then looking at those artists and what they wear and watching their music videos," the 20-year-old said.
Music — particularly K-pop and Korean rap — is a large driver behind streetwear's popularity, especially among the Asian Americans in line at Supreme. The style has gained a new level of popularity in recent years, buoyed by artists such as Kanye West and Odd Future. Supreme itself started as a skateboard brand, but now enjoys an unrivaled reputation for cool among streetwear enthusiasts, thanks to decades of edgy designs and limited supply.
RELATED: Asian Designers Bring Diverse Perspectives, Visions to New York Fashion Week
For many in line, the drive to feel cool and be on trend led to their hours-long wait, and for some, the wait itself was part of the draw. Students Corey Yen and Batao Feng, both in their early 20s, had driven from Delaware to get in line during the middle of the night.
"We just wanted to experience it," Feng told NBC News. "We don't have class on Thursday, so just wanted to give it a try."
Yen told NBC News that what drew him to the clothes was simple.
"Really hype," he said.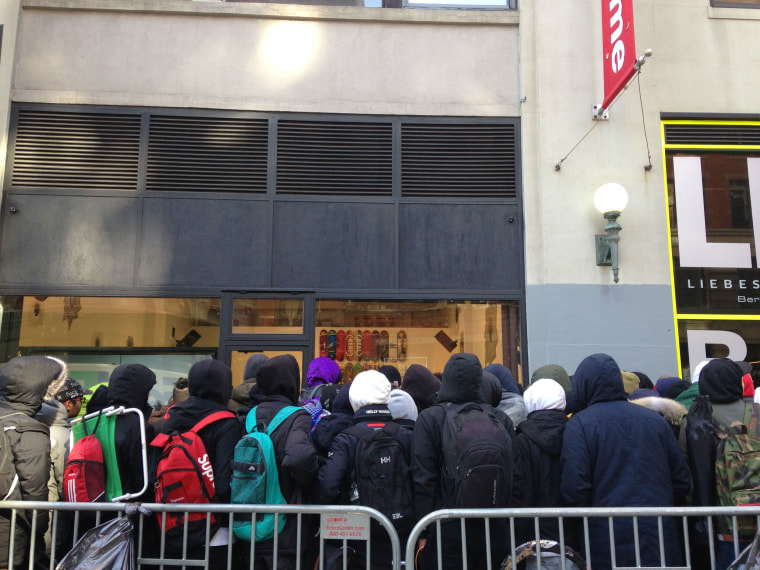 Others in line had difficulty articulating what exactly drove them to wait for hours, or to even pursue a hobby such as streetwear, where t-shirts can go for hundreds of dollars and jackets for thousands.
"I just want to look fresh, I guess, want to impress girls, I don't know," 19-year-old Ken Chen said. He had been in line with Mo Kyao, also 19, since 3 a.m.
"It's an addiction man, once you get into it, you can't get out," Chen continued. "You can't just go from being super fresh to H&M. [You have to] keep updating your closet."
An hour after the store opened, the line had barely moved. Bouncers barked at patrons to stay orderly. Towards the back of the line, some had brought folding chairs and looked forward to hours more of waiting to get into the store. A group of teenagers, taking advantage of their winter break to test their patience in line, huddled blocks away.
18-year-old Tahe Goak reminded those around him that as "hyped" as one could be about the nature of streetwear, it still came down to one thing.
"You try it on, and if it looks good on you, you get it," he said.
Follow NBC Asian America on Facebook, Twitter, Instagram, and Tumblr.
Correction: An earlier version of this article stated that Supreme is a Japanese brand. It is based in New York.