Jason Fong is an Asian American, a high school senior in Southern California, and a Harvard University applicant.
He's also an opponent of a lawsuit against the Ivy League school he hopes to attend that claims Asian Americans are harmed by its race-conscious holistic admissions policy, according to recent court filings in the dispute.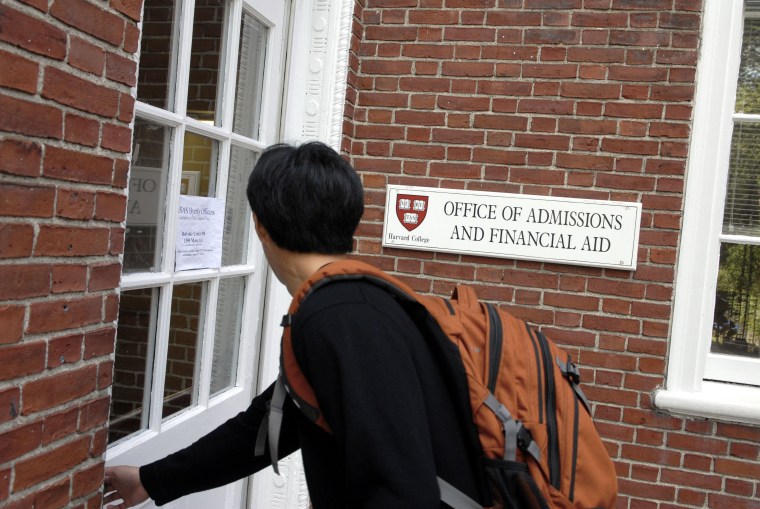 Fong — who is identified as J.F. in court documents according to Asian Americans Advancing Justice-LA (Advancing Justice-LA) — and another half-Pacific Islander student, identified in court papers as M.A., petitioned a federal judge this week to join a group of current and prospective Harvard students as friends of the court in Students For Fair Admissions, Inc. v. President and Fellows of Harvard College.
RELATED: Asian-American Advocates Celebrate, Bemoan Affirmative Action Decision
The status would allow them to file amicus briefs, participate in oral arguments, and submit evidence against the lawsuit, according to Advancing Justice-LA, a nonprofit that supports affirmative action in college admissions and is representing the two students.
"We refuse to be used as a wedge by outside players stoking the insecurities of newer Asian immigrants, provoking them to lash out at the very programs that have helped communities of color gain access to higher education," Nicole Ochi, supervising attorney for Advancing Justice-Los Angeles, said in a statement.
The suit, brought in 2014 by Students For Fair Admissions, Inc. president Edward Blum, alleges that Harvard engages in racial balancing by enrolling the same percentages of students in each race category every year. It also accuses the school of "using racial classifications to engage in the same brand of invidious discrimination against Asian Americans that it formerly used to limit the number of Jewish students in its student body."
Harvard president Drew G. Faust has promised a "vigorous defense of our procedures" in response to the lawsuit, according to the Harvard Crimson.
Students For Fair Admissions, Inc. is also suing the University of North Carolina at Chapel Hill over its admissions policies.
The issue of whether Ivy League schools discriminate against Asian applicants has fueled a contentious debate within the Asian-American community. Some have argued that the number of Asian-American students admitted annually to Ivy League schools has not kept pace with an overall increase in the Asian-American population.
But others disagree, calling these complaints and lawsuits an attack on affirmative action, which they say promotes diverse learning environments.

Fong and M.A. would be the only Asian-American and Pacific Islander prospective Harvard students to join the friend-of-the-court group, Advancing Justice-Los Angeles said in court papers.
The organization believes the two are uniquely suited to address claims by Students For Fair Admissions, Inc. that Harvard's race-conscious admissions policy hurts Asian Americans, according to court filings.
For Fong, who is half Korean and half Chinese, diversity in high school has helped him a lot, he said in his court declaration.
Fong said he experienced bullying and social exclusion in private elementary and middle schools, which had few students of color, court papers said. And while he finds his public high school to be more inclusive and a safer place to share his own ideas, Fong still experiences what he called microaggressions from some students and teachers, according to court documents.
RELATED: Complaint Filed Against Yale, Dartmouth, and Brown Alleging Discrimination
Captain of the high school wrestling team with a 4.5 GPA, Fong said he's looking forward to being surrounded by diverse people in college, court filings said.
"We refuse to be used as a wedge by outside players stoking the insecurities of newer Asian immigrants, provoking them to lash out at the very programs that have helped communities of color gain access to higher education."
"I believe that race-conscious admissions policies are key to providing that sort of environment," he said, according to the court declaration.
M.A., the other Southern California student asking for standing as a friend of the court, is still in tenth grade. A staff writer for the student newspaper and varsity soccer team member, M.A. also hopes one day to attend Harvard, court papers said.
"I want to go to a school known for creating graduates who are the best in their field," M.A. said, according to his declaration.
Being multiracial — in addition to Pacific Islander, M.A. is also a quarter white and a quarter black — has forced M.A. to confront racial identity "in many complex ways already," court papers said.
"I already can see that race is constructed, and I can bring that important perspective to the college classroom and dorm room," M.A. said, according to court filings.
Filed in November 2014, the Harvard lawsuit hit speed bumps over the last two years as the Supreme Court took up another case involving affirmative action.
In Fisher v. University of Texas, the court ruled 4-3 in late June that the race-conscious admissions program at the University of Texas at Austin did not violate the Equal Protection Clause of the Constitution.
Abigail Fisher, who is white, first sued the state school back in 2008. She claimed its holistic review process, which considers race along with other factors, put her at a disadvantage to other applicants.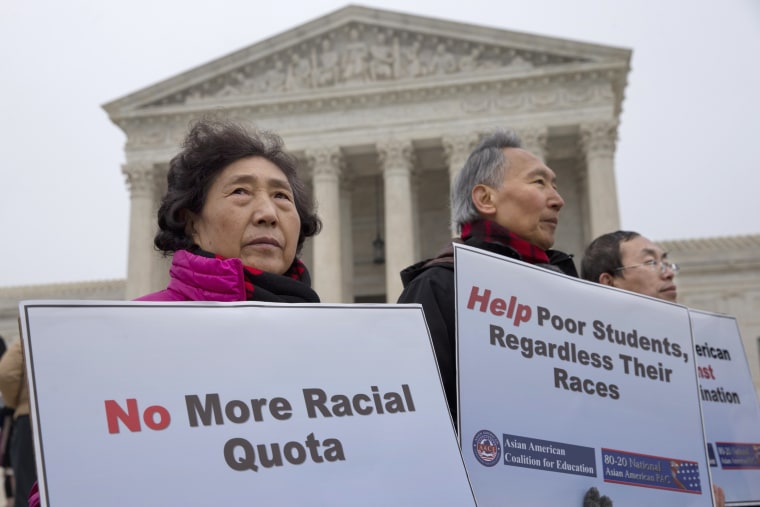 The court's ruling upholding the school's admissions program was largely praised by Asian American and Pacific Islander (AAPI) advocates of affirmative action. But it also drew criticism from some AAPI groups, including the Asian American Coalition for Education.
That organization has filed complaints with the federal departments of Education and Justice, alleging certain Ivy League schools treat Asian applicants differently.
Citing the ongoing lawsuit, the Education Department last June closed a complaint the group had made against Harvard, which offered similar claims.
Follow NBC Asian America on Facebook, Twitter, Instagram, and Tumblr.