A new Pew Research Center study shows that 10 percent of Americans are self-employed, and that self-employed Americans and their employees accounted for 44 million jobs in 2014 or 30 percent of the national workforce.
A closer look at differences by gender, race and ethnicity, and immigrant status reveal interesting trends in entrepreneurship from the newly released U.S. Census Bureau data.
According to the study, men were nearly twice as likely as women to be self-employed in 2014, at 12 percent compared to 7 percent. Of all the ethnic groups, Caucasian Americans were the most likely to be self-employed at 11 percent, followed by Asian Americans at 10 percent, Hispanic Americans at 8 percent, and African Americans at 5 percent.
Immigrants were more likely to be self-employed than individuals born in America, 11 percent compared to 10 percent. However, within ethnic groups, these numbers diverge much more dramatically.
Among Hispanic Americans, immigrants were almost twice as likely to be self-employed, at 11 percent, compared to 6 percent for American-born Hispanics. Caucasian immigrants were also much more likely to be self-employed at 17 percent as compared to American-born Caucasians at 11 percent. For Asian-American immigrants, 11 percent were self-employed compared to 7 percent of American-born Asians. For Black immigrants, 7 percent were self-employed as compared to 5 percent of American-born Blacks.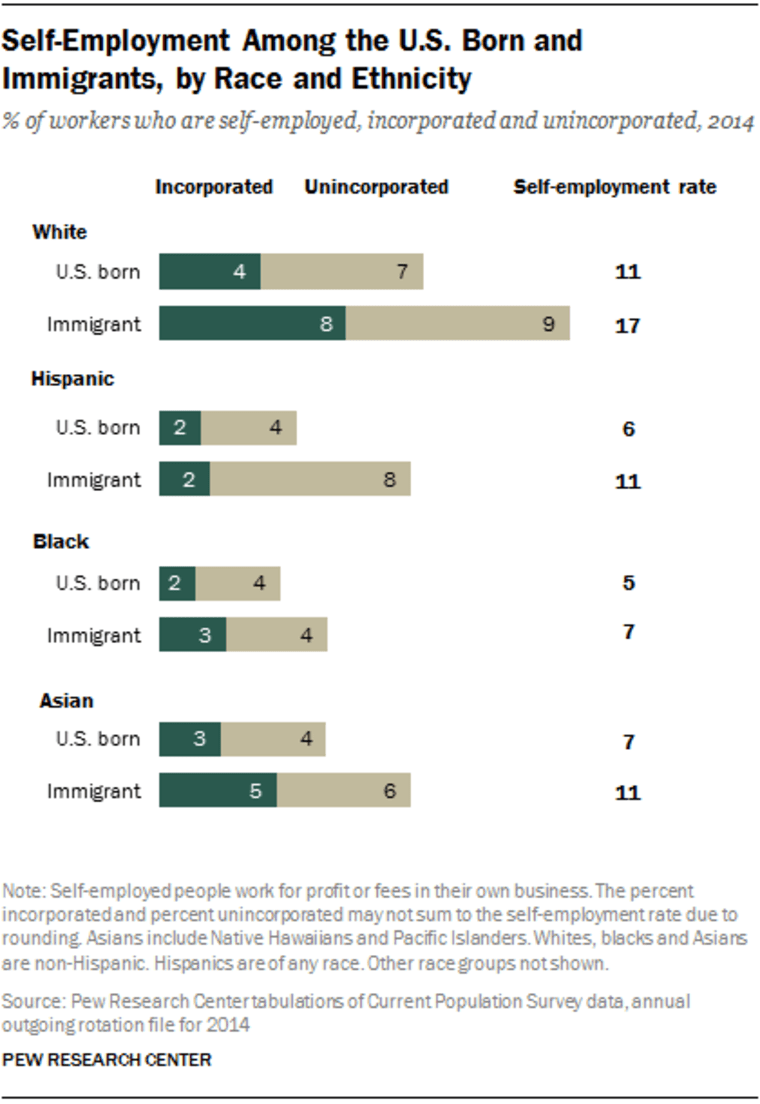 Self-employed Asian Americans were the most likely to have at least one paid employee, at 31 percent. This compares to 25 percent of self-employed Caucasian Americans, 18 percent of Hispanic Americans, and 15 percent of African Americans.
In recent years, the number of unincorporated self-employed Americans has decreased slightly, while the number of self-employed Americans who own incorporated businesses has increased. This is good for job creation because incorporated businesses tend to hire many more employees, 10.2 percent on average compared to 5.6 percent.
IN-DEPTH