To commemorate this year's Asian Pacific American Heritage Month, NBC Asian America will be interviewing a series of community pioneers, from a Korean-American musician who found mainstream success in the '60s to an academic credited with helping revive the Hawaiian language and the "Chinese Bardot."
These individuals have witnessed the history of the U.S. These are their stories and their hopes for the future.
Sue Kim didn't know what the lyrics of the American songs she sang meant as a child entertaining U.S. troops stationed in South Korea after the Korean War, she said.
Some kids cannot handle it, some kids handle it. We did not have a choice. We had to handle it because we had to survive at the time and we had to send money to Korea so our family could eat.
Neither did her sister Ai-Ja or cousin Min-Ja — both of whom she perform with — or her mother, legendary Korean singer Lee Nan-Young, who taught the girls phonetically from records she obtained off the black market and entertained troops as a means of survival after her husband, orchestra conductor Kim Hae-Sook, was killed during the conflict.
"She would learn herself first, then she would teach us," Kim, now in her 70s, said from her home in Las Vegas. "Of course as youngsters, nobody wanted to rehearse. She had a banana, and an apple, and an orange. She put it on the side and said, 'Learn this song, and you can eat that.'"
Kim's mother's efforts were successful.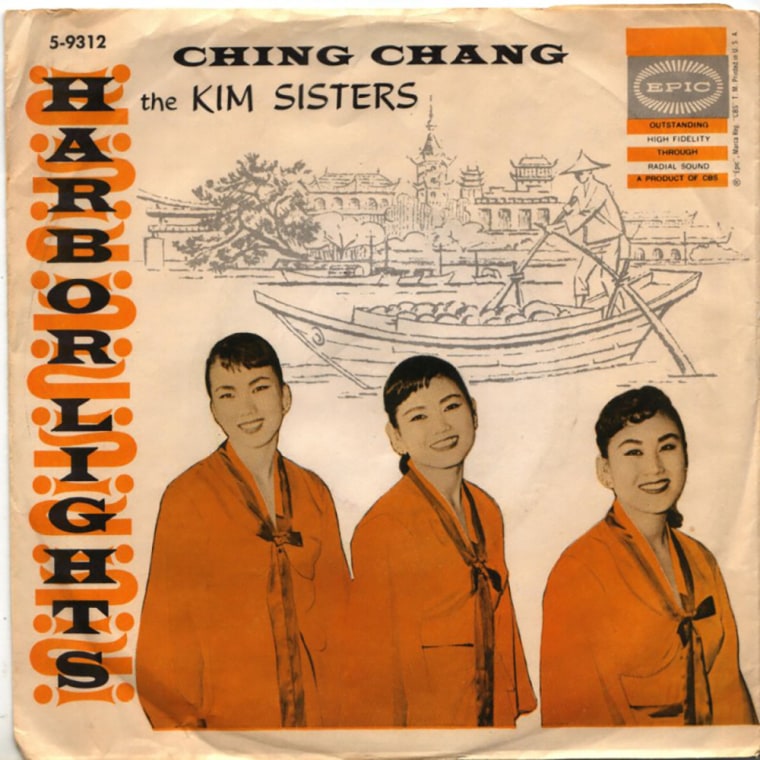 Not only did her girls, known as The Kim Sisters, find acclaim in South Korea, but they also signed with an American entertainment producer, moving to the U.S. in 1959. The Kim Sisters would become a consistently top-selling act in Las Vegas and regular performers on national television shows, appearing on The Ed Sullivan show more than a dozen times.
In an interview with NBC Asian America, Sue Kim discusses coming to the U.S., The Kim Sisters' popularity, and the rise of modern K-pop.
What do you think was the reason for The Kim Sisters' popularity in the United States?
We didn't play a lot of instruments at the time, but our mother said, "If you go to America you must learn instruments because there's a lot of singing."
At the time there were a lot of singing groups, like the McGuire Sisters, the Fontaine Sisters, the Lennon sisters. Those years were all sister groups. The timing was perfect for us, and my mother knew that. If you added to your act, something extra, people would be wowed. That these Asian girls not only sing, not only dance, but also play different instruments. That was the key.
You were, in a way, the first K-Pop group. Do you see any similarities with current popular K-pop groups, such as BTS?
You know, those days we never disobeyed our mother's order. We knew she knew what she was doing and she gave me the responsibility. She told Min-Ja and Ai-ja, "You listen to Sue, whatever decision she makes."
I didn't date until I was 23 years old. My mother knew that when we started dating, the group is not going to stay the same. All that time we slept, we ate, we practiced, we performed. That was our life. We didn't have any other spare time to do anything. My daughter asked me today, "How was your teenage life?" We didn't have teenage life. So I understand what K-Pop is doing.
I was in Korea several years ago and every time I turned the TV on, a K-Pop group came on. I was amazed at how they look alike, and they are almost like from a mold, doing exactly what they were told. They are very talented and very good.
Why do you think K-Pop groups are successful?
Discipline. Without discipline, you cannot make it. It looks like whoever goes into K-pop groups, they have to have discipline. Something's got to give, so they sacrifice their personal life to be good.
Some kids cannot handle it, some kids handle it. We did not have a choice. We had to handle it because we had to survive at the time and we had to send money to Korea so our family could eat.
What was the biggest challenge for you, coming to America in the 1950s?
The food! Kimchi. Our biggest challenge was food. We couldn't eat our food here.
There's no grocery store, there's no kimchi. We didn't know how to make kimchi. And one of us, Ai-Ja, got sick without eating kimchi.
She got very sick. We finally had to fly into Los Angeles where we had a small Korean population. We would fly out there, eat Korean food, and fly back to perform.
We were so fortunate. Discrimination, we never came across. I heard a story about a black entertainer in Las Vegas. They couldn't walk through the hotel. They had to go around the back. That's how it used to be. And we never experienced that. When we went in New York streets, people who'd watched the Ed Sullivan show would look at us and applaud us.
I'd go, "How do they recognize us?" Of course, I'd forgotten. We were Asian so they knew exactly who we were.
My mother also told me that some people lost their sons in the Korean War, and to prepare for that. Hecklers might be in the audience, and we had to be prepared for that. We never ever experienced that. We were very fortunate.
Do you have a favorite performance, or one that's especially meaningful to you?
I could say one of my favorite ones was — television was good and all that — but I don't know if you know Louis Armstrong?
Louis Armstrong and us, we were working the football field, Soldier Field in Chicago. When we did that performance, I went up there on stage and looked at the stadium, 80,000 packed. I performed with one of the greatest performers, Louis Armstrong. We played three saxophones, we sang, we did 20 minutes. It was magnificent. That is something I'll always remember.
What do you want to see for Asians and Asian Americans, particularly those in the entertainment world, in the future?
All I know is we have to have more Asian performers. Like golf, I want the entertainment world to look that way. In my lifetime — I'm getting up there — it might not.
But in the future, with all the technology and all these things, and K-pop groups getting bigger and coming in and out of the USA, that's what I want. I'd like to see it.
If it's going to happen, I don't know.
This interview has been edited for length and clarity.
Follow NBC Asian America on Facebook, Twitter, Instagram and Tumblr.