Bittersweet is how Sergio C. Garcia described the moment when the Obama administration announced the Deferred Action for Childhood Arrivals program in 2012.
An undocumented immigrant at the time, Garcia was already over the age of 31 and thus unable to apply, he said. That was the bitter.
The sweet? Getting to see many exit the limbo he had been living in all his life.
"I truly felt that way," said Garcia, who was first brought to the United States from Mexico by his dad at the age of 17 months.
Garcia, 42, is now an attorney in California and a naturalized U.S. citizen. He said he has helped roughly 15,000 people apply to the Obama-era program, which temporarily removes the threat of deportation for certain undocumented immigrants who arrived as children and also grants them authorization to work.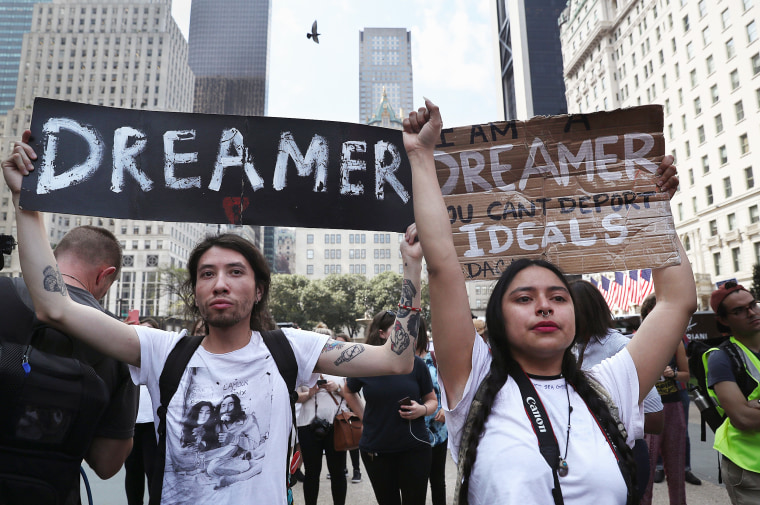 But owing to various eligibility requirements, not everyone can make the cut for DACA. And now the fate of the program is again in limbo after the Supreme Court agreed late last week to hear the case in its next term.
The upcoming high court hearing, considered a win for the Trump administration, comes after the Justice Department announced in 2017 it was ending the program, a move challenged in federal court. The Trump administration considers the program to be illegal and has not accepted new applications, though it has been processing renewals.
The program protects around 700,000 immigrants, most of them Latino.
An estimated 1.9 million immigrants are potentially eligible to apply for the program, though only around 1.3 million met all eligibility requirements that could be modeled, according to a 2016 report from the Migration Policy Institute, a think tank. That included age, age at entry, continuous U.S. residence, and high school attainment or school enrollment.
One 27-year-old man of Korean descent living in Chicago, who is now undocumented, said he couldn't apply because he was actually living lawfully in the U.S. on June 15, 2012. He spoke to NBC News on condition of anonymity because of his immigration status.
He said he came to the U.S. in 1996, around the age of 4, with his sister, mother and father. His father had enrolled in a university theology program on an F-1 student visa.
After his sister was diagnosed with autism, his parents decided to stay in the U.S. rather than return to South Korea, he said. Meanwhile, his parents continued renewing their F-1s, on which their children's visas were dependent. To make ends meet, his parents also worked without authorization, he said.
Then, around 2013, the government rejected their F-1 visa renewal request, and the family fell out of status, he said.
At that point, it was too late for the program.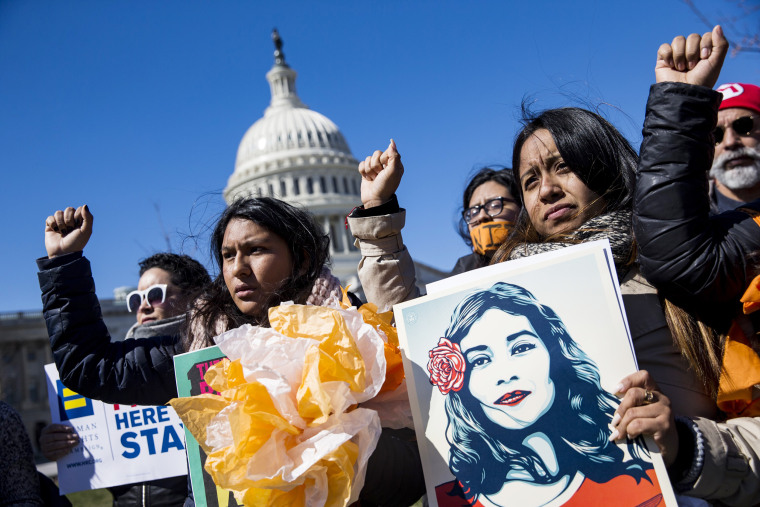 "They have incredible difficulty talking about this," he said, referring to his parents. "There's a guilt that is so difficult to express because they realize the situation they're in, their children are in, and they can't help but feel responsible."
For Garcia, the program could have been an option to temporarily resolve his undocumented status — had he not been too old.
When the program was announced, Garcia said he'd already been waiting almost two decades for a green card he applied for in 1994. That petition was made through his dad, who later became a U.S citizen and had adjusted his own status through amnesty granted in the 1980s to immigrants who came here illegally.
During that wait, Garcia earned a law degree and, after a fight that ended up in the California Supreme Court, was admitted to the California bar as an undocumented immigrant. He received his green card in 2015.
Just last month, Garcia became a U.S. citizen through his wife, taking the oath with 600 immigrants from 64 countries, he said.
"I believe diversity makes America great," Garcia said.
Meanwhile, passage of the American Dream and Promise Act in the House in June has given hope to some undocumented immigrants.
The bill would grant those who arrived in the country and entered or stayed illegally as children, known as "Dreamers," conditional legal residence status for 10 years. It would also allow them to become permanent residents after completing some college, military service or period of work.
The American Dream and Promise Act "would be the most expansive bill we've seen up to date," said Anthony Ng, immigrant policy rights manager at Asian Americans Advancing Justice - Los Angeles.
But the legislation, which would give more than 2 million undocumented immigrants a path to citizenship, isn't expected to advance in the Republican-controlled Senate. It also faces a White House veto threat.
Garcia said he believes a lot of so-called "Dreamers" would be happy with the act, but added that comprehensive immigration reform is what's needed.
"While I think it would be a good thing, there is certainly a concern that a lot of people would just become satisfied with that and be like, well, you know, I kind of got mine and that's good enough for me," he said.