The lunchtime line at Pokéworks in Midtown Manhattan has been constant since it opened three months ago. Every weekday, New Yorkers wearing puffy coats and woolen hats spill out of the tiny storefront, waiting for the chance to order a customized bowl of chopped raw fish atop a mound of sticky rice.
Poke, the Hawaiian invention ubiquitous on the islands, where it serves as the unofficial state snack, might seem like an odd meal to pair with a frigid East Coast winter. But over the last few years, the traditional dish — which tops fresh, lightly marinated seafood with condiments like limu and roasted kukui nuts — has transformed from pre-batched versions available by the pound at Hawaii's beach-side liquor and grocery stores into the United States' next build-your-own, meal-in-a-bowl movement.
"Enjoying something Hawaiian in New York helps transport the mind a bit, to a place more beachfront," Pokéworks partner Kevin Hsu told NBC News. "The moment you sit in your office and you're digging through a poke bowl, you feel like you're on vacation."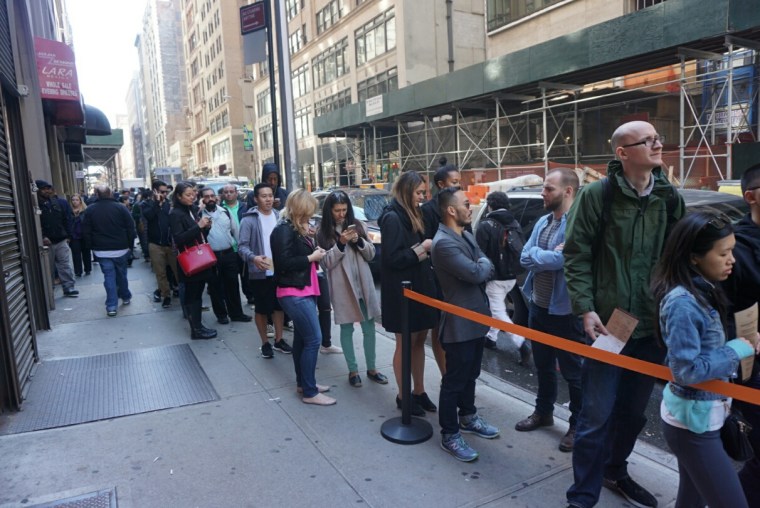 Nostalgia for Hawaiian vacations may be one reason why the hunger for poke has grown so great in such a short amount of time, but poke has been quietly mounting a mainstream takeover ever since its invention.
To ancient Hawaiians, cutting up the catch of the day and tossing it with salt and seaweed harvested from the ocean was an exercise in sustenance. Subsequent waves of contact and immigration — from Captain Cook to the sugar plantation era — influenced poke by infusing it with sauces, toppings, and flavors of Europe, Japan, and other Asian countries.
RELATED: Move Over Cronut, Meet the Milky Bun and the Men Who Made It
Soon, you could buy everything from shoyu poke made with soy sauce to spicy poke dressed in mayo and chili peppers and California roll poke with avocado, cucumber, and imitation crab at Hawaii's local fish markets, liquor stores, and, eventually, grocery stores.
"Poke has been a part of Hawaiian culture for as long as anyone can remember," Keoni Chang, corporate chef for Foodland, the first and only remaining locally owned grocery store chain in Hawaii, told NBC News. Foodland offers 20 to 30 different varieties of poke from deli counters at each of its 32 stores every day. Their award-winning pre-made poke includes options featuring salmon, mussels, Hawaiian crab, marlin, and other seafoods.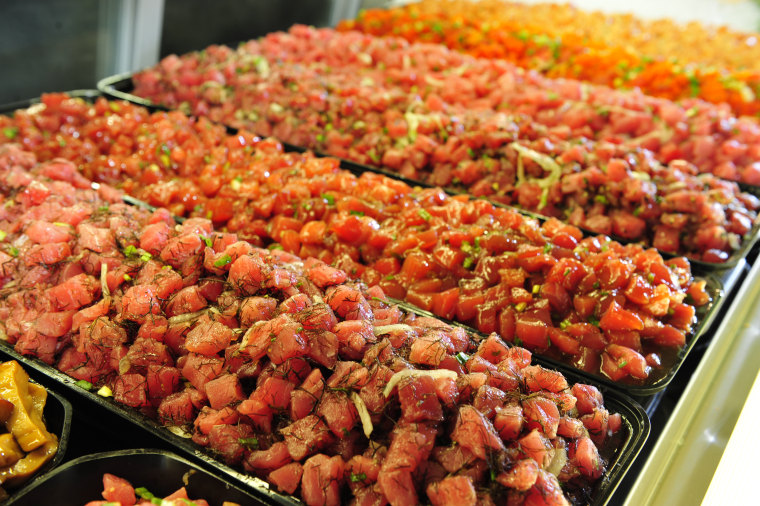 "Here, people buy poke as a relaxing, pau hana-time snack," Chang said. "After work, you buy a quarter or half-pound of two or three varieties and take it to hang out with friends. It's the perfect beer food. That's how it's eaten."
The dish was first introduced to many Americans via fine-dining chefs, who — following the Hawaiian-food-obsessed lead of Hawaii native son Sam Choy in the '90s — found poke an approachable Asian-fusion appetizer, an alternative to crudo and ceviche. Sushi had already been introduced to American palates by then and many diners felt comfortable (and classy) eating Asian-style raw fish. Poke was a logical next step.
But it wasn't until a few years ago that fast-casual spots dedicated to serving authentic Hawaiian-style poke first opened on the mainland. In Southern California, where many of these early businesses opened, bringing flavors from the Pacific to the masses was less about launching a trend and more of a natural outgrowth of the region's historic population of Hawaiians and native Islanders.
Stefanie Honda grew up in Los Angeles' South Bay region and remembers craving the poke she used to make with her father and grandfather, who were fishermen in Hawaii.
"My husband and I had just finished surfing one day and I said, 'Let's have poke,'" Honda told NBC News. "If you want to make it right, you have to go to different places and get all the good ingredients. It's kind of a hassle. I thought, 'There's got to be a place." But we looked and looked and there weren't any."
RELATED: From Dumplings to Bubble Tea, Asian Street Food Goes Artisanal
"Poke is now completely indexed in the conscious of the food world, and I think it's a good thing. As long as the person who is doing it has done enough research to understand the dish's history and whatever way they're deciding to interpret it, there remains a sense of respect for its origin."
Honda asked her family's permission to use their recipes and opened Jus' Poke in Redondo Beach in 2014.
An hour south in Huntington Beach, Orange County, North Shore Poke, one of the first on the mainland, had just opened two years earlier, and, according to Honda, there was only one other place in L.A. serving traditional poke from a deli-style counter like hers. Neither of them allowed for customization.
She said the educational factor was difficult at first, since most of her customers were first-time poke-eaters. However, every sample doled out was another chance for a new fan and the lines began to grow.
"We have people all the time who try to order it without onions or without something else. But everything's pre-marinated," she said. "This is how it was done historically, using whatever they had on the island, whatever they pulled from the sea. It's hard to tell people that without offending them, but we are proud to do it traditionally. If they like it, then they like it."
And like it they did. Thanks to Jus' Poke and other early shops like Honda's, poke quickly became L.A.'s health-food du jour, and by the summer of 2015, the fish dish had become so trendy that dozens of places with names like Pokinometry, Wikipoke, and Mainland Poke Shop could be found from Santa Monica and Downtown Los Angeles to the Sunset Strip in West Hollywood. Dozens more opened in bordering Orange County as well as up and down the West Coast.
The poke coming out of these new-school places, however, isn't the poke of the ancient Hawaiians, or even of Honda's father. Somewhere along the way, poke took on the build-your-own concept that emphasizes customization, empowering customers to customize their poke bowls like Subway did for sandwiches, Chipotle did for burritos, and Sweetgreens did for salads.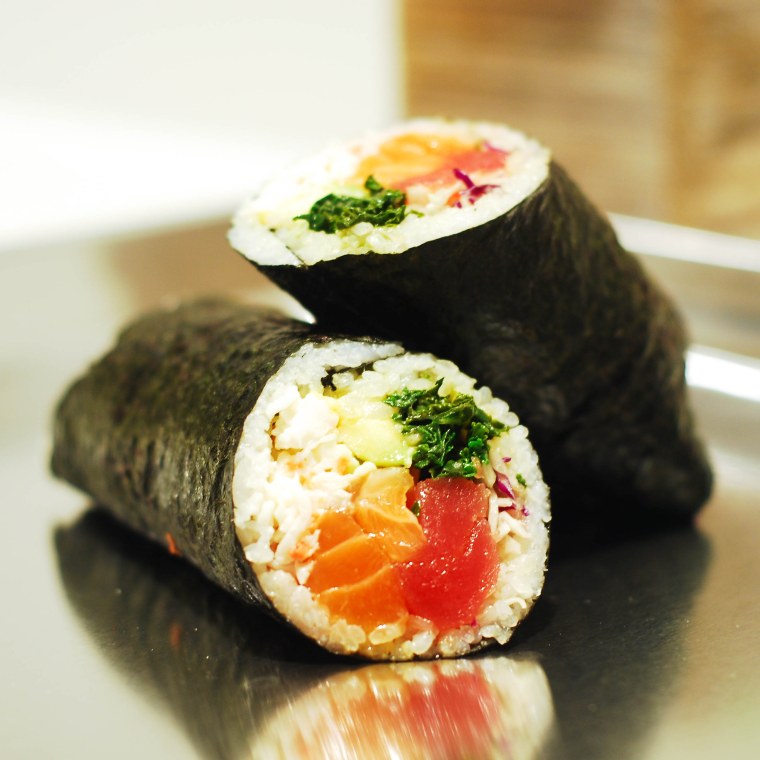 Now, instead of buying a trusted shoyu or California roll poke by the pound, you can pick your protein (usually ahi and salmon), choose some mix-ins (quinoa, kale, edamame, seaweed, mango, shiso leaves), add a few toppings (pickled ginger, imitation crab, sesame seeds), give it some crunch (macadamia nuts, rice puffs), toss it in a sauce (soy sauce, Sriracha aoli, coconut cream, Korean gochujang) and walk out with a colorful, loaded, pan-Asian poke bowl. At New York City's Pokéworks, you can even get your custom poke bowl wrapped up in a poke-ritto.
"We love traditional poke, but we also saw that there are other things that could go with it, so we decided to give the customer more freedom and invite them into what we call 'the kitchen,'" Mike Wu, another partner in Pokéworks, told NBC News. "We're drawing on the familiarity of people who eat sushi, which is usually predetermined for you. Whenever you have this freedom to create your own bowl, it's like having your own personal sushi chef."
RELATED: The American Dream Is Alive and Well in Taipei
Aside from a few dissenters, Hawaiians seem excited that the "surfer's sashimi" is spreading to new audiences across the country, even if it's at the hands of a non-traditional delivery method. As a cuisine that has itself evolved over centuries of shifting cultural influence, Hawaiian food seems ever-ripe for re-interpretations, which is good because the poke revolution shows no signs of slowing down.
"Poke is now completely indexed in the conscious of the food world," Foodland's Chang said. "And I think it's a good thing, as long as the person who is doing it has done enough research to understand the dish's history and whatever way they're deciding to interpret it, there remains a sense of respect for its origin."
Follow NBC Asian America on Facebook, Twitter, Instagram, and Tumblr.