As a child, Takashi "Halo" Hirose learned to swim in the canals of sugar cane plantations near his home in Hawaii.
Nicknamed "Halo" by his fellow swimmers as a child, Hirose, who died in 2002 at the age of 79, was a full-fledged celebrity in the late 1930s, author Julie Checkoway told NBC News.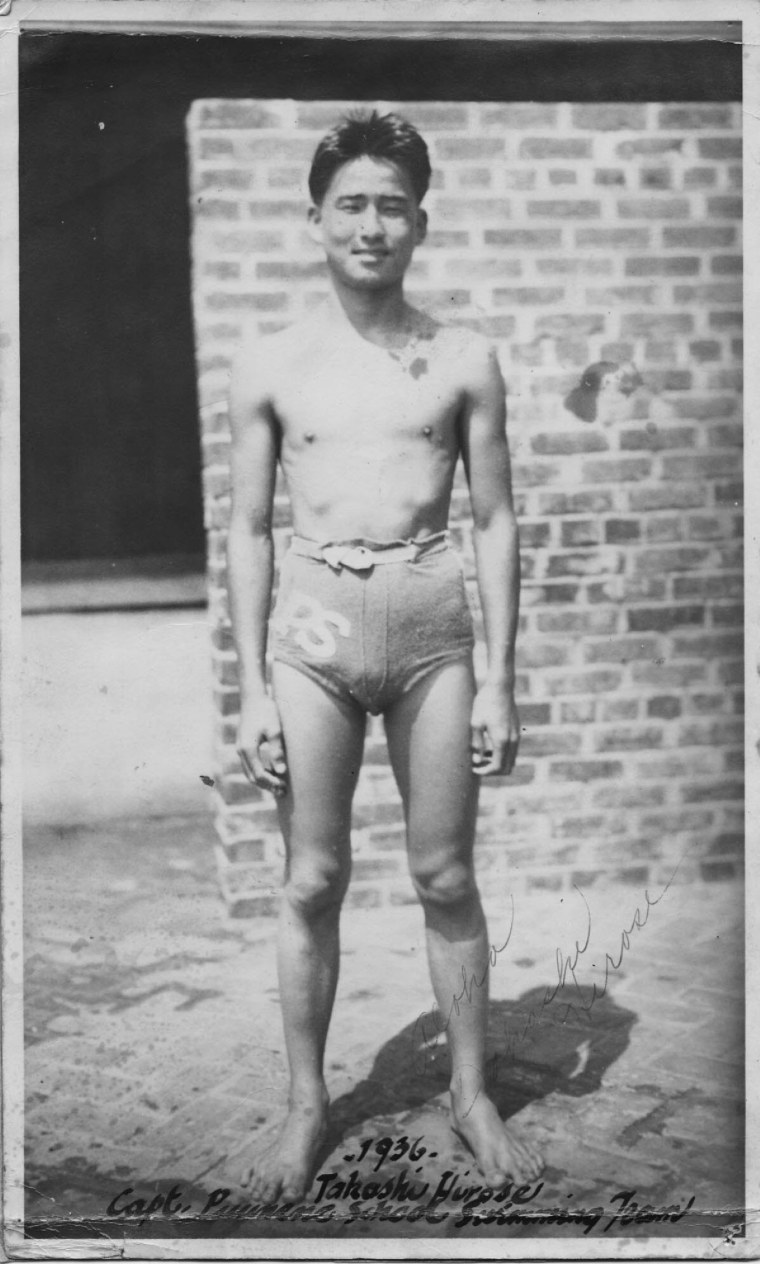 Checkoway's book, "The Three-Year Swim Club: The Untold Story of Maui's Sugar Ditch Kids and Their Quest for Olympic Glory," details the story of swimming coach Soichi Sakamoto and his proteges, a group that included Japanese-American swimming stars like Hirose and Keo Nakama.
Along with their coach, Hirose and Nakama would dazzle sports fans with their speed and pioneering swimming techniques, garnering glowing media coverage from papers across the United States and around the world. In August, Hirose will be memorialized in the International Swimming Hall of Fame.
"They were the most famous swimmers in the world," Checkoway said. "Keo has already been in the Hall of Fame for a while [he was inducted in 1975], and it's high time that Halo joined him."
After Sakamoto first discovered Hirose and Nakama and the other largely Japanese-American members of what would become the training program known as the Three-Year Swim Club, he realized that, with proper training and discipline, his athletes could compete in the 1940 Tokyo Olympics, which at the time were three years away.
"Halo had been swimming in the irrigation ditches of the plantation, swimming against the current," Checkoway explained, noting that Sakamoto had trained all of his students to swim against the current in order to build their strength and resistance.
When Hirose and Nakama — two of swim club's strongest swimmers — began competing in swim meets throughout Hawaii and the mainland United States, they quickly became "overnight sensations," Checkoway noted. After the men's outdoor swimming nationals in Louisville in 1938, the 16-year-old Hirose was invited to go to Germany as a member of the All-American swim team and was part of the 400-meter freestyle relay team that went on to set a world record.
"He was going to be an Olympic swimmer. He would have qualified for Tokyo."
The 1940 games would be canceled due to World War II. Instead of preparing to compete, Hirose enlisted in the Navy after the United States entered the war. Hirose's daughter, Sono Hirose Hulbert, said her father never talked about what might have been when it came to his Olympic career and rarely spoke of what life on the battlefield was like or his career as a swimmer at Ohio State, where he attended college on the G.I. Bill after the war.
"We never really understood what he did. [Fellow swimmer from Hawaii] Bill Smith had a room full of trophies in his house, but my dad kept everything in a box," Hirose Hulbert told NBC News. "It's a strange thing, because he's been a myth out here in Hawaii for generations, but he was just my dad to me."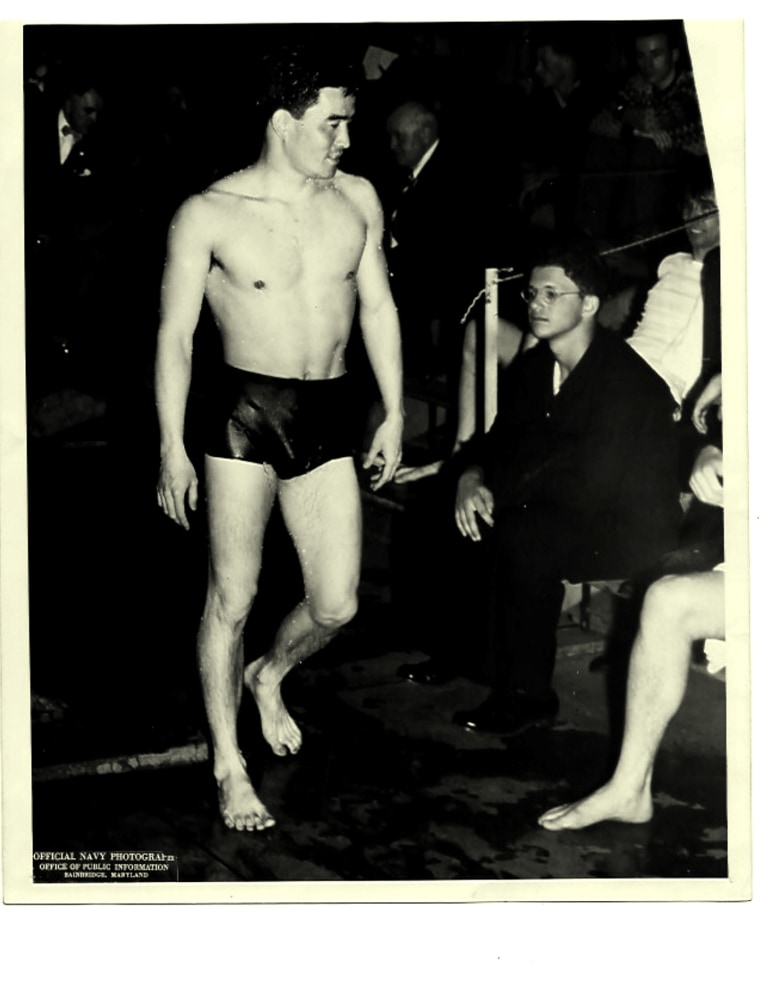 Hirose Hulbert added that while her father is rightly celebrated for his athletic career in his home state, she also wanted historians and fans to appreciate his career as a coach. "He left a huge legacy. He was a very different coach from the way he was coached by Coach [Sakamoto]," Hirose Hulbert recalled. "He realized that swimming is an individual sport, it's just you against the clock. The kid who was the slowest could work their way to become the fastest."
It was through his coaching and mentoring of future Hawaiian swimmers that fellow Hawaii Swimming Hall of Fame member Sonny Tanabe met Takashi Hirose as a teen.
"He gave back to the community," Tanabe told NBC News, noting that he met Hirose for the first time as a 15-year-old preparing to represent the United States in the 1956 Summer Olympics. "He did want to talk to a lot of the younger swimmers to encourage them and to explain the finer points of swimming."
Now in his 80s, Tanabe admits now that he did not fully grasp who Hirose was until much later. "I had never seen a swimming pool before that. When I first started swimming I didn't know any of the great swimmers," he said, noting that like Hirose, he grew up in the shadow of Hawaii's sugar plantations and had not heard about Hirose's and Nakama's exploits in the pool until much later.
"He realized that swimming is an individual sport, it's just you against the clock."
"It was eye opening," he recalled. "He would help officiate all of the swimming meets in Hawaii and people would start saying 'he did this' and 'he did that' and they became idols and role models for all of the young swimmers."
While Tanabe agreed that he did not often hear Hirose talk about what life was like serving during World War II, he said one anecdote stayed with him years later.
"I remember Halo telling me about his time in the military guarding a POW camp and this German guy [who was imprisoned] was calling his name," he recalled. "And Halo said, 'I think I know him.' And he said it was a swimmer he swam against in Germany in 1938."
Hirose's biographer Checkoway confirmed this was one of his favorite war stories to tell, but cautioned that she was not able to confirm it happened or what the German swimmer's name was. She added that she hoped as Americans begin to reassess the World War II era, more stories displaying the diversity of the Asian-American experience will emerge.
"The historical record is always incomplete. The Japanese-American story is a great story about immigrants whose children were really incredible contributors to the American experience," she said. "If Americans at the time had rejected that, we would never have had Halo Hirose's heroics in the pool or in the battlefield."
Follow NBC Asian America on Facebook, Twitter, Instagram and Tumblr.