Chuanyi Lin thought she'd made a $10,950 mistake. It was mid-November last year, and the 34-year-old from Taiwan was attending her first class at the International Culinary Center in Manhattan to become a certified sommelier.
Like many of her classmates, she was wading through in a dense lexicon of wine jargon wholly unfamiliar to her. What made it worse was that it was all in English.
"I did have the feeling that this was not for me," said Lin, whose first language is Mandarin.
These days, some Asian Americans like Lin are betting that an education in wine - and the prestigious appellation of "certified sommelier" - will pay dividends in their professional lives, especially as demand for fine wine soars across Asia.
One of them is Andrew Thitavasanta, a 25-year-old beer purchaser at Trader Joe's in Chelsea. Thitavasanta, who is half Thai and half Ecuadorian, winces when he goes back to visit Thailand in the summer and sees people pairing red wines like Cabernet Sauvignon and Bordeaux with spicy Thai food.
"If they drink wine, it's whatever sounds fancy or famous," he said.
Thitavasanta hopes to change that mindset. But more immediately, he's interested in someday working as a sommelier.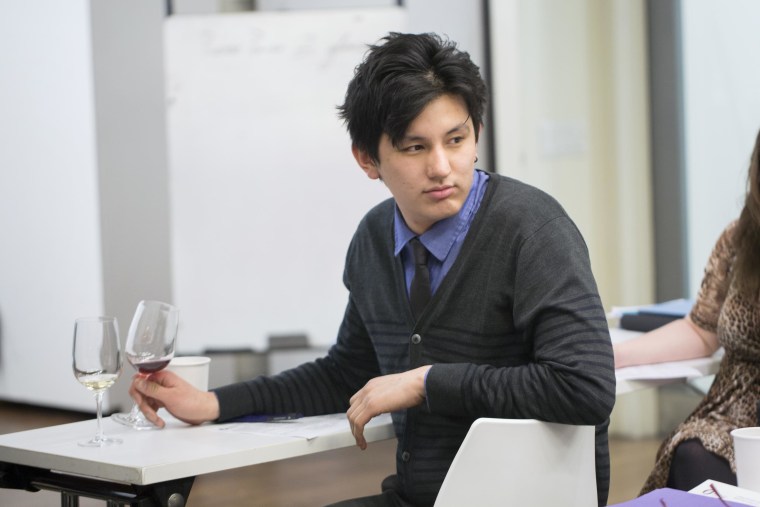 One of the ICC's goals is to teach future sommeliers like Thitavasanta the art and science of "deductive tasting" - objectively analyzing and describing wine based on sight, smell and taste. During the course, which is spread out over 10 or 17 weeks, students attend class three or five times a week, for four hours each day. Together, they get to apply deductive tasting to some 300 wines from major wine-producing regions throughout the world.
Michael Park, a 28-year-old Korean American and one of Thitavasanta's classmates, knew nothing about wine before beginning the course. He does know a thing or two about the food business, though. He is the vice president of Treehaus, a quick-service restaurant in Midtown that his mother owns, and he plans to use his wine education to make hiring decisions when they open up a wine market on 42nd Street in Hell's Kitchen sometime this fall, he said.
"I don't have enough wine knowledge to run the show on my own," Park said.
"I feel like the wine market started to boom in the past five years. So I feel like lots of people really don't have the knowledge or they don't have the platform to know the wine."
But Park held his own one evening when it was his turn to describe a 2008 Theo Minges Riesling Sekt, a bubbly white wine with bright acidity, not too sweet like some Rieslings. Park began by discussing what he saw. A blue mechanical pencil in his right hand, a crystal tasting glass in his left, Park held the stemware aloft, swirling the Riesling with a quick back-and-forth motion, as he jotted down some tasting notes before speaking.
"The wine is clear, presence of gas." He paused, swirling again. "Starbright...yellow…"
"Starbright is right," replied Scott Carney, ICC's dean of wine studies and one of 140 master sommeliers in North America. "Doesn't it have a great glean to it?"
The class nodded; Park continued.
"It has a hint of green," he said.
"Yeah, a little greenish hue," Carney replied.
"Medium concentration, watery rim, medium viscosity," Park added.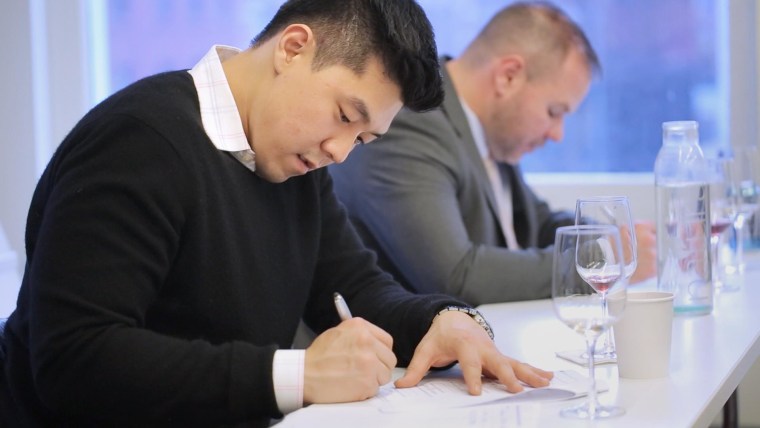 Lingering over the Riesling a bit longer, Park stared into the glass one last time, as if straining to identify something he may have overlooked. Carney, satisfied with Park's analysis, moved on to the next student, who described the wine's nose.
Practicing deductive tasting is essential preparation for one of two certifying exams students take at the end of the course, which includes a blind tasting, 40 questions on written theory and a service practical. The examinations are administered by the Court of Master Sommeliers, one of several well-recognized sommelier accrediting bodies. Established in 1977, the court is exclusively partnered with the ICC, whose faculty includes 11 master sommeliers, the court's highest rank of sommelier.
Despite Asia's growing interest in wine, Asian Americans still constitute a small percentage of candidates who sit for the Court of Master Sommeliers' first two exams. The court does not track ethnicities of examinees, Executive Director Kathleen Lewis told NBC News. But after a manual search of records from 2012 to 2014, the court identified 593 out of 14,625 - roughly 4 percent - who were Asian and who took the Level I introductory course and exam. During that same period, 233 out of 4,348 - roughly 5 percent - who sat for the Level II examination for certified sommelier were Asian.
"My mother was like, at least you're studying something"
One possible reason for the low numbers? Wine culture in the East is still largely in its incipient stage.
"Take Taiwan as an example," Lin said. "I feel like the wine market started to boom in the past five years. So I feel like lots of people really don't have the knowledge or they don't have the platform to know the wine."
But things are changing in Asia. Just last year, China, for instance, became the world's biggest consumer of red wine, outpacing both France and Italy. China, which values red wine for its reported health benefits and its auspicious color, has also stepped up its own domestic production, replicating French chateaus and turning out blends of Cabernet Sauvignon and Merlot.
Now in its third year in New York, the ICC's intensive sommelier training program, which prepares students for both Level I and Level II exams, is a popular choice among Asians looking to break into the field. From 2011 to 2014, 41 out of 223 students at its Manhattan location - or 17 percent - were Asian. At the ICC's Silicon Valley school, the numbers were roughly the same, with 48 out of 268 students - or 18 percent - identifying as Asian.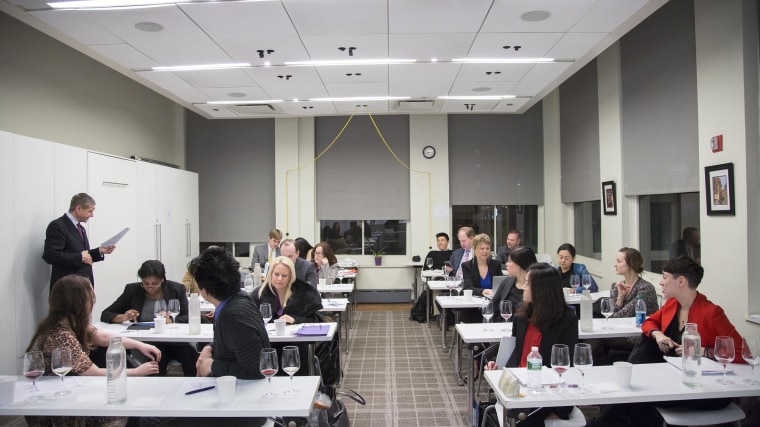 Even though wines from the West have not traditionally been a big part of modern Asian culture, Thitavasanta, Lin and Park all said their parents supported their decision to become certified sommeliers.
"My mother was like, at least you're studying something," joked Thitavasanta, whose father, who died three years ago, and mother had originally hoped he'd become an engineer before he dropped out of City College.
For Lin, who holds a master's in art and cultural management from New York's Pratt Institute and manages a Manhattan art studio during the day, the rigors of the course sometimes made her feel like she was in over her head.
"I knew at the end we would take the certified exam, but I didn't expect so much pressure," said Lin, who added that she spent virtually every weekend holed up at home studying.
But in the end, with the emotional support of her husband, family and friends, Lin pulled through and passed her Court of Master Sommeliers' exams. So did Thitavasanta and Park. All three graduated on March 25 and are now certified sommeliers.
Lin said she dreams of someday opening a restaurant with her husband. And while the couple hasn't yet decided on the cuisine, at least Lin knows who will be doing what.
"If he takes care of the cooking, I might be able to be in charge of beverages," she said.