LOS ANGELES — The feelings of loneliness and isolation began for Glor Parong at 15 years old. She was dealing with the pressures of being the first-born child in a Filipino household, where she was expected to be a role model and caretaker for her younger siblings. Then there were her parents, who she said were going through financial difficulties and frequently arguing.
But Parong was taught not to disclose any of her problems to anyone outside of her family, she said. As a result, she carried the weight of those emotions alone.
"I didn't say anything verbally, but deep down I wanted my mom's and my dad's attention. I wanted them to love me and to say it's OK," she said.
After three suicide attempts, Parong, now 46, said she eventually sought help to come to terms with a fact that hadn't been easy for her to accept: She was depressed. Seeing a psychiatrist was key to understanding depression, she added, which she continues to live with today.
Parong copes, among other things, by incorporating creative activities like dance into her life. She currently works at the Asian Pacific Counseling & Treatment Centers (APCTC), a mental health center in Los Angeles that was developed to meet the needs of the Asian Pacific population.
DEPRESSION AND SUICIDE IN THE ASIAN AMERICAN COMMUNITY
The suicide rate among Asian Americans and Pacific Islanders in 2016 was approximately half of the general population, according to Centers for Disease Control and Prevention (CDC) data. Suicide ranks as the ninth leading cause of death among Asian Americans and Pacific Islanders and the 10th leading cause of all deaths in the U.S.
But for Asian Americans and Pacific Islanders between the ages of 15 and 19, suicide was the leading cause of death in 2016, according to CDC data, accounting for 31.8 percent of all deaths.
The pressure to succeed academically, financially, and career-wise is considered a common cause for depression among Asian Americans, Silvia Yan, program director of adult services and training director at APCTC, said.
But that pressure isn't the culprit for depression across all subgroups in the population.
In the Korean-American community, for instance, depression due to isolation is pervasive among seniors, according to Connie Chung Joe, executive director of Korean American Family Services (KFAM) in Los Angeles.
"We know that the more isolated you get increases your risk factors for suicide," Joe said. "To reduce those factors, you need ... people you can talk to and go to for help; Having places to go to whether it's to go exercise or do hobbies. For Korean seniors, that gets very, very limited because there's not very many that are specific for the Korean community, and they also don't know how to access them."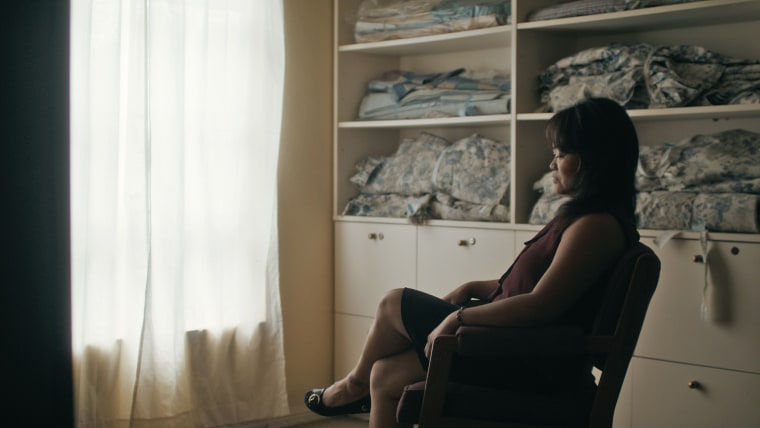 Southeast Asian refugees are another group that has battled depression and trauma as a result of their history with violence, according to Lan Nguyen-Chawkins, a psychologicst at APCTC. She noted that Cambodian Americans carry the experience of torture and working in labor camps, while Vietnamese Americans and Laotian Americans endured refugee camps after fleeing warfare in their countries.
"What they experienced was a massive problem with trust in human beings," she said. "It's like, 'Well, why do I need you? I survived under a hundred dead bodies. I don't need you.'"
Because refugees survived the war without talking, some may not see a need to talk about what they've gone through or their feelings about it, Nguyen-Chawkins said. And by the time many of them seek help, their depression is at chronic levels.
The issue of stigma, experts add, can also create hesitation among some to seek help. "If you're not used to talking to people to solve problems, it appears that you're sharing your 'dirty laundry' with others. And that is also shameful because you need to keep everything within the family and not present it in a shameful way to others," Jorge Wong, a psychology professor at Palo Alto University, said.
But, Wong added, discussing mental health and educating people about it is key to de-stigmatizing depression and suicide.
"When you're depressed and suicide comes up as an option, your thinking gets constricted and that person can see that's the only way out ... and I think that's why people need to identify symptoms as well as be able to talk and address mental health issues or depressive issues more openly," he said.
DISPARITY IN AVAILABLE SERVICES
As the Asian-American population — the fastest growing ethnic group in the country — continues to rise, it faces the challenge of accessing the culturally sensitive mental health services it needs.
One of the barriers Korean seniors face, according to Joe, is that nearly all are limited English proficient and low-income, and rely on publicly funded health services that aren't always culturally or linguistically tailored to them.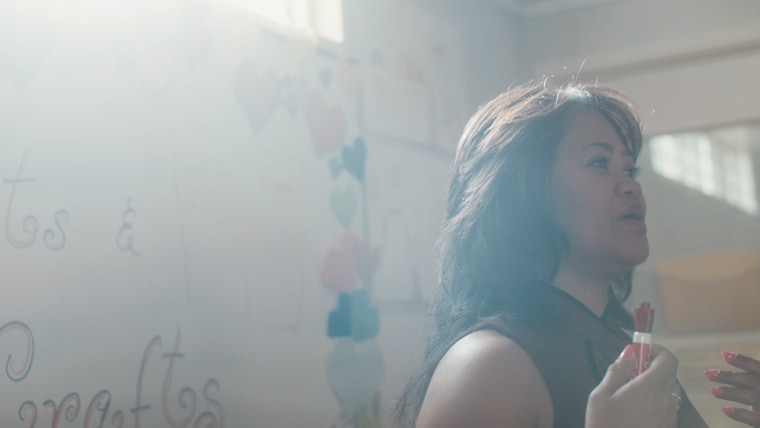 Groups like APCTC are among those that offer culturally sensitive mental health services. The nonprofit provides services in languages clients are most comfortable with and places greater emphasis on the family as opposed to the individual than mainstream providers. Yan said the center invites family members to participate in the process, from the initial evaluation to the development of treatment plans.
"Anyone who comes from an Eastern culture knows how important the family is and the family buy-in, especially of elders. And that is so important to the treatment," Joe said.
Another important piece to getting proper treatment is for people to know what symptoms of depression look like among Asian Americans. This is where the ability to recognize specific behaviors of certain ethnic groups becomes crucial, Wong said.
"That takes time and training to be able to detect quickly those nuances. And then do an intervention that is not threatening to the individual," he added.
For Korean-American seniors, providers at KFAM employ a method of treatment for adult and senior clients that combines counseling with Eastern practices such as acupuncture, saunas and spas, Joe said.
At APCTC, an effective intervention for Nguyen-Chawkins' Southeast Asian clients entails sharing meals together and celebrating cultural holidays. It's at these social settings that people begin feeling comfortable and trusting enough to open up about their trauma.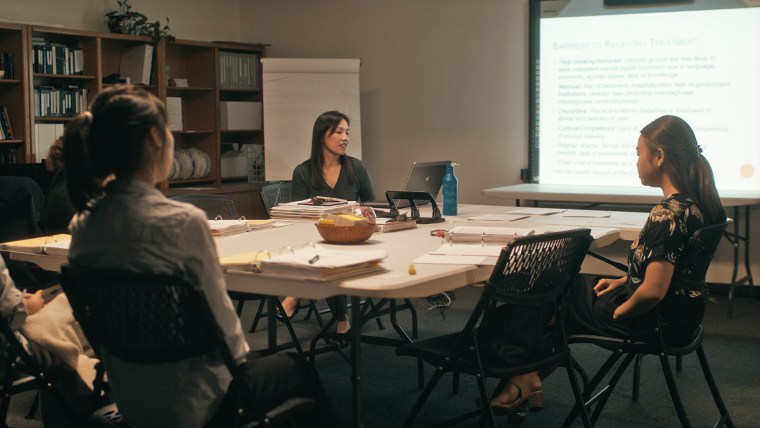 "To commemorate cultural experiences that are relevant to them, to commemorate American cultural experiences, that helps them move forward to experience being able to laugh, being able to smile, being able to have joy, being able to re-engage in this society," Nguyen-Chawkins said.
Wong said that another important step to ensuring access to culturally appropriate services for Asian Americans involves encouraging not only those who need help to speak up, but those who could help and who understand the community to consider a career in mental health.
"There's not enough people thinking of getting into mental health, especially API folks," he said. "And that needs to be changed. This is a profession. Yes, you can help people by talking."
If you or someone you know is in crisis, call the National Suicide Prevention Lifeline at 800-273-8255, text TALK to 741741 or visit SpeakingOfSuicide.com/resources for additional resources.
Follow NBC Asian America on Facebook, Twitter, Instagram and Tumblr.