Sen. Tammy Duckworth, D-Ill., gave birth to a daughter Monday, becoming the first U.S. senator to have a baby while in office. Her office confirmed the birth.
Her daughter, named Maile Pearl Bowlsbey, is the second for Duckworth and her husband, Bryan Bowlsbey. Their first, Abigail, was born on Nov. 18, 2014, when Duckworth was a member of the House.
The Chicago Sun-Times was the first to report the news.
"Bryan, Abigail and I couldn't be happier to welcome little Maile Pearl as the newest addition to our family and we're deeply honored that our good friend Senator Akaka was able to bless her name for us — his help in naming both of our daughters means he will always be with us," Duckworth said in a statement, referring to the former Sen. Daniel Akaka of Hawaii, who died on April 6.
The statement said that the senator and her family were doing well.
In January, Duckworth said in an interview that aired on Today that conceiving her second daughter was "a struggle."
"It was a very long journey," she said. "We're very, very blessed."
Duckworth is one of only 10 women since the nation's founding who have given birth while serving in Congress, according to the Office of the Historian and the Clerk of the House's Office of Art and Archives.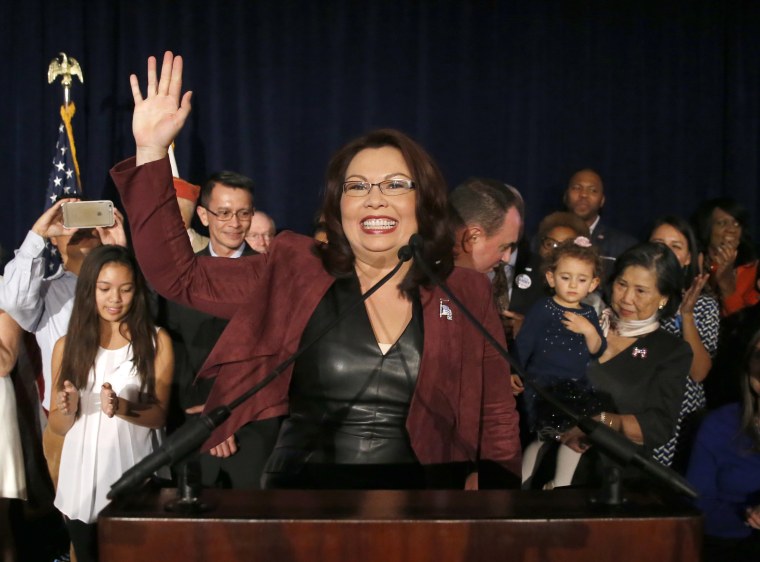 The statement from Duckworth's office added that her experiences as a working mother have given her a particular perspective serving in Congress, where she has worked on issues affecting working families.
"Parenthood isn't just a women's issue, it's an economic issue and one that affects all parents — men and women alike," Duckworth said in the statement. "As tough as juggling the demands of motherhood and being a Senator can be, I'm hardly alone or unique as a working parent, and my children only make me more committed to doing my job and standing up for hardworking families everywhere."
Follow NBC Asian America on Facebook, Twitter, Instagram and Tumblr.