While many tattoo artists struggle to build enough of a clientele to maintain a steady career, much less open their own studio, that wasn't enough Adam Vu.
For years, Vu's faithful customers have regularly filed into his private studio in Dana Point, California, eager to get one of the intricate blackwork designs he's become known for.
But recently, Vu, 30, began to feel more and more restless. What began as a few trips abroad quickly evolved into a mission. The Vietnamese-American tattooer has decided to become only the second person to ever tattoo on all seven continents, following in the footsteps of historic tattoo artist Lyle Tuttle.
Vu made the decision in January after four years of on-and-off traveling. He plans to finish his trip in about a year.
"Everyone needs a crazy life goal," Vu told NBC News between tattoos in Barcelona. "I just didn't want to daydream about it anymore. Traveling and life experience are the keys to creativity."
RELATED: 'Mural Muses' Honors History, Achievements of Female Asian-American Artists
During his travels, Vu's perception of his own hometown has changed a bit. The Santa Ana, California, native still has love for Southern California, but he feels he's at his best when he's pushed to his limits on the road. Being in an entirely new area forces him to learn more and create differently.
"I've realized home will always be there," Vu said. "Nothing changes, but you definitely do. I became too comfortable in my environment, and I needed to disconnect. I needed to be around people and surroundings that were completely different from what I'm used to."
As Vu sees it, the exact country he's tattooing in almost doesn't matter. Each place has a different relationship with tattoos, whether it's across an ocean or just a few miles away. Parts of Asia, where Vu will visit in March following his stay in Spain, tend to be on the accepting side of the scale, largely due to their history as one of the earliest tattooed societies, Vu said.
"Metropolitan cities and rural towns have a different dynamic to each other," Vu said. "There are too many variables to count. Some Asian countries tend to not care if a person chooses to get tattooed. Many Asian countries would rather take a picture of you and admire your work. Some people choose to cover their tattoos in public to avoid the stigma that goes with having tattoos in some areas — that if you have tattoos, you're probably a criminal."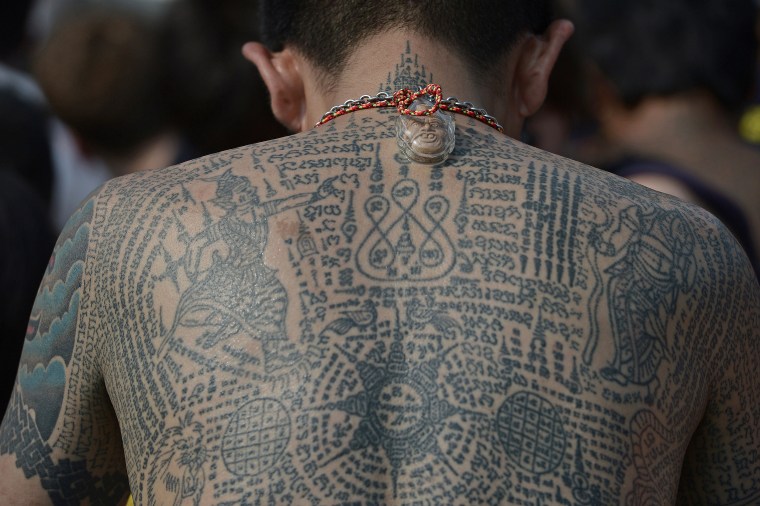 Vu said the rich history of Asian tattooing is one of the driving factors behind the art's popularity in the United States. From enormous Japanese bodysuits and the storytelling imagery they contain to traditional sak yant tattoos given by Thai monks and hand-tapped Tebori pieces taking over many of the country's top Japanese-style shops, the Asian influence in tattooing is undeniable.
"Asian tattooing has brought a countless number of artists to introduce a timeless style to American culture," Vu said. "But it's also allowed artists to give their own interpretations of the existing work, not just in America, but worldwide. The imagery from Asian art — whether it be Japanese, Thai, Chinese, or anywhere else — has inspired an infinite number of paintings and artwork."
RELATED: Benson Henderson Fights for His 'Love of the Game'
"Why wouldn't it do the same for tattooing?" he continued. "With their own legends, myths, and compositions, there's no wonder why so many people are attracted to it. To define 'traditional Asian tattooing' in one category is impossible. Every country has their own history and imagery that shapes its definition of art."
"Everyone needs a crazy life goal. I just didn't want to daydream about it anymore."
With the various styles of Asian tattooing growing more popular, some tattoo historians and purists believe that the cultural ties between Asian societies and their respective forms have become diluted. But in Vu's eyes, Asian artists have been intertwined with the rest of the world for far longer than tattooing has been popular, so nothing in the relationship has really changed.
"I don't think the cultural connection has changed at all," Vu said. "It's always been there. Japanese artists were painting Dutch sunflowers and Dutch artists were painting Geishas a century ago. To each their own. You should do what interests and inspires you."
Vu's all-black style is more similar to intricate prison tattoos rather than anything coming out of Asia and represents the art and culture he grew up with.
"I am influenced by so many different things and styles of art that I can't identify myself with just one because of the color of my skin," Vu said. "I am from California. I grew up in many different neighborhoods. Though they all have inspired certain aspects of my art, to disregard the music I listen to, the movies I enjoy, and the countless moments of life experience that have influenced my work would be disregarding 90 percent of why I even pick up a pencil. I don't think anyone in the year 2016 thinks that because I'm Asian, my art should be Asian as well. I'm doing what I know, what I think I know, and what I want to know."
"Japanese artists were painting Dutch sunflowers and Dutch artists were painting Geishas a century ago. To each their own."
Growing up, Vu's spent time painting, writing and performing music, and dabbling in just about any other art form he could find between Orange County and Los Angeles. Regardless of what artistic avenues Vu wanted to pursue, his family has embraced him.
"My family has always been supportive of whatever creative endeavors I've been a part of as long as I didn't get in too much trouble," Vu said. "Whether it was playing music in punk bands or attempting any medium of art, they always pushed me to do better in their own ways."
These days, Vu has one other creative outlet that developed during his time traveling. He draws additions to decorative paintings found in inexpensive hotels, such as adding the Loch Ness monster into a lake, or a UFO into the sky of an otherwise unremarkable scene. Since he rarely travels with art supplies, Vu often makes these additions using whatever is available to him and will easily wash off with water — even if it's cigarette ashes.
"Cheap hotels are what I call home many nights, so I try to just admire the funny decorative artwork on the walls first when checking in to a room," Vu said. "I would take the decorative painting off the wall and paint something on it, using what the original artist had already completed to add to the painting. In a way, it's kind of a collaborative painting with myself and another artist I've never met, to create a combined narrative. I always hope that the next couple of folks that get that room notice whatever additions I made to the painting."
Follow NBC Asian America on Facebook, Twitter, Instagram, and Tumblr.