Breaking down on the witness stand several times, New York Police Department (NYPD) Officer Peter Liang told a Brooklyn jury Monday what he remembered happening the night he killed an unarmed man in a Brooklyn housing project and why he didn't step in to perform CPR.
Liang, who is on trial for fatally shooting 28-year-old Akai Gurley in November 2014, testified for almost two hours in a packed courtroom in State Supreme Court in Brooklyn. The rookie officer and his partner, Shaun Landau, who was given immunity and testified last week, were conducting a vertical patrol of a stairwell in the Louis H. Pink Houses when Liang fired his gun.
The single shot ricocheted off the wall and struck Gurley, who had entered the stairwell from the seventh floor with his friend Melissa Butler. NYPD Police Commissioner William Bratton said at the time of the shooting that the fatal shot "appears to be an accidental discharge" of Liang's gun.
RELATED: Trial Begins for NYPD Cop Charged in Killing of Unarmed Man
Liang, 28, has been on modified, administrative duty and has pleaded not-guilty to second-degree manslaughter, criminally negligent homicide and other charges. He faces up to 15 years in prison if convicted.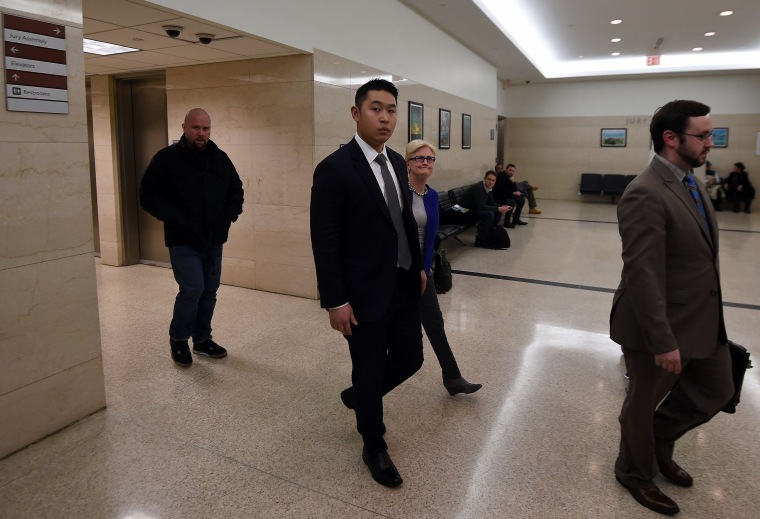 On Nov. 20, 2014, Liang said he had been ordered to work overtime because of recent shootings and robberies at the Pink Houses. After having dinner at Checkers, a fast food restaurant, Liang's sergeant drove him and his partner to their post at the Pink Houses a little after 10 p.m., Liang testified.
They completed a patrol of one building in the complex, Liang said, and then headed to another where Gurley was visiting Butler. Liang told the jury they took the elevator up to the eighth floor to begin a vertical patrol, during which officers first check the roof area for criminal activity and then work their way down the stairs. (Last week, two NYPD officers were shot while conducting the same type of patrol in a Bronx housing project; both are expected to survive.)
"I was just panicking so much," Liang said. "I couldn't process it in my head."
When Liang and Landau got off the elevator, Liang said they passed one staircase, which was lit, and made their way to another where they would begin the vertical patrol. Peering through the door window, Liang noticed the stairwell was dark, so he took out his Glock 9 mm and placed his finger on the side of the weapon, he testified.
"I've done hundreds of verticals, and this is how I always do it," Liang said.
Rae Koshetz, one of Liang's defense attorneys, asked Liang about his police training for unholstering a weapon. "When you fear for you and your partner's safety, I would take my weapon out," Liang said, adding that crime often occurs on the roof of housing projects.
Holding his gun in his left hand and his flashlight in his right, Liang said he turned the knob of the heavy red metal stairway door with his right hand, but it didn't open. So he gave it a push with his right shoulder, he said.
"And as soon as I got in, I heard something on my left side," Liang said. "It was a quick sound, and it just startled me. The gun just went off."
Liang, who said he was unaware his bullet had hit anyone, went back into the hallway and paced back and forth, discussing with Landau who should call in the discharge, he said. Liang said he told Landau he accidentally fired a shot and asked Landau for his cellphone, which had their sergeant's number stored in it.
But after dialing, Landau took the cellphone away and put it back in his pocket, Liang told the jury.
When Koshetz asked Liang why he used a cellphone instead of a radio, Liang responded that he didn't want to alert all the other officers about the discharge. "I just wanted to deal with it with my sergeant," he said, adding that he's been told if there's "a problem" to give a call.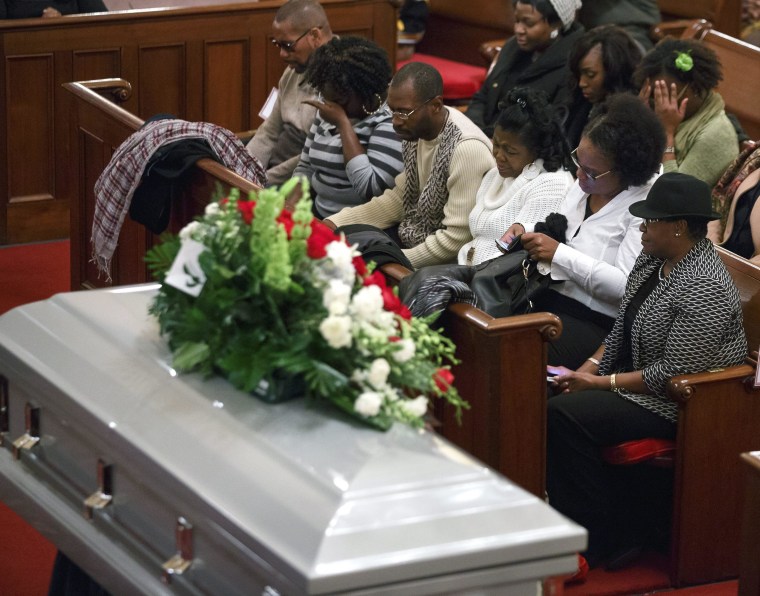 His gun now holstered, Liang later went back into the stairwell with his flashlight, he said, and when he got to the seventh floor, he heard a woman's voice and someone crying.
"I said, 'Oh my god, someone's hit," Liang recalled saying that night. That's when Liang said he radioed in for an ambulance.
At that point in his testimony, Liang clutched his forehead with his left hand and swiveled his chair toward the judge. A court officer handed him a box of tissues.
"You alright?" Koshetz asked after some silence.
Liang didn't respond.
"And as soon as I got in, I heard something on my left side," Liang said. "It was a quick sound, and it just startled me. The gun just went off."
Justice Danny Chun allowed Liang to leave the witness stand and go behind a wall behind the judge's bench to regain his composure. Holding crumpled tissues in his left hand, Liang tripped as he walked out. A minute later, he returned.
Liang continued his testimony, telling the jury he reported over the radio that a male had been shot at his post and to send an ambulance. He said he asked Landau for the address, but Landau didn't know it. He also asked Butler, who was on the fifth-floor landing performing CPR on Gurley, and Melissa Lopez, a neighbor who dialed 911 and was relaying CPR instructions to Butler.
"I was just panicking so much," Liang said. "I couldn't process it in my head."
When Liang bent over to look at Gurley, he said he could tell he was seriously injured. Gurley's eyes, Liang said, were rolled back. "He was laying there, pretty still," Liang said, wiping away tears.
Prosecutors maintain Liang violated key critical life-and-death training by not calling in the shooting and by not performing CPR, as required under NYPD rules. The defense, in its opening statements, said Liang later made radio transmissions that were incomplete or didn't go through.
Liang testified he was "sort of" trained in CPR at the Police Academy, from which he graduated in January 2014. He added that he never had a chance to practice on a dummy. He also said instructors gave them answers to the written CPR test, though not for the last 10-or-so questions to avoid making it look like everyone answered the same way. Landau gave similar testimony last week.
RELATED: 'Scapegoat': Supporters Rally for Indicted NYPD Officer Liang
Brooklyn Assistant District Attorney Joseph Alexis questioned Liang about his training, reading aloud guidelines from an NYPD patrol guide and asking Liang to confirm his knowledge of them to the jury. He also asked Liang if he had been provided answers to other exams, to which Liang replied no.
Alexis pressed Liang about his decision to phone his sergeant about the gun discharge instead of calling it in over the radio, a transmission his sergeant would have likely heard.
Liang, however, said he didn't want other officers to flood the building. "It's unnecessary to have everyone come over and abandon their post," he said. "I can handle this through the cell phone. That's what my thought process was at the time."
When Alexis asked Liang if he or Butler, Gurley's friend, was in a better position to perform CPR, Liang replied, "I don't know what [Butler] does for a living so I couldn't tell." Liang also said that trying to get the address of the building stopped him from performing CPR.
RELATED: March Planned to Mark Anniversary of Death of Akai Gurley
At a news conference outside the Brooklyn courthouse Monday afternoon, Akai Gurley's mother, Sylvia Palmer, accused Liang of walking away and leaving her son to die.
"The sadness and emptiness in my heart is overwhelming," she said.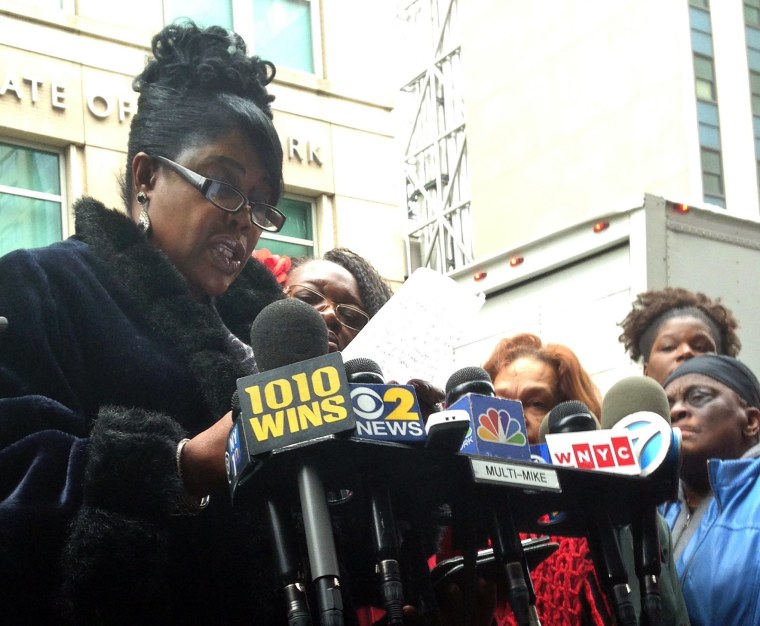 Doug Lee, one of a dozen-or-so Liang supporters who attended the trial Monday, told NBC News that Liang's testimony was a "positive surprise."
"In terms of intention, it was a total accident," Lee said.
Closing statements are scheduled for Tuesday morning. The jury could begin deliberations as early as Tuesday afternoon.
Follow NBC Asian America on Facebook, Twitter, Instagram, and Tumblr.