Because Thanksgiving is often regarded as the quintessential American holiday, the celebration's traditional fare has sometimes been a struggle for first and second generation cooks unfamiliar with turkey, cranberries, or the intricacies of stuffing.
"I first celebrated Thanksgiving my freshman year of college when I stayed with a friend who lived in Ohio and I didn't completely get it," television host and cookbook author Aarti Sequeira told NBC News. "But it's a holiday built around the table and I really loved it."
"I first celebrated Thanksgiving my freshman year of college when I stayed with a friend who lived in Ohio and I didn't completely get it. But it's a holiday built around the table and I really loved it."
One of the things Sequeira, who was born in India and grew up in Dubai, did not totally understand at her first Thanksgiving was cranberry sauce, which she remembered being served "right out of the tin."
Since then, Sequeira has worked to put her own spin on Thanksgiving each year. "Because we live in LA, our Thanksgiving has always been 'Friendsgiving,' where I just say, 'Come over, I just want you to enjoy,'" Sequeira explained. "I've done a tandoori turkey, which adds flavor to turkey, which is normally so bland."
For those interested in trying to do a tandoori-style turkey, Sequeira recommends getting an heirloom turkey. "They tend to be gamier," she noted. "I usually look into cooking it in one of those big [oven] bags."
But it's while making side dishes that many families with recent immigrant roots really get creative.
"When I was growing up, one whole side of the table was things like turkey and cranberry sauce and the other side was all Indian," Anupy Singla told NBC News of her childhood in the Philadelphia area.
The author of "Indian for Everyone: The Home Cook's Guide to Traditional Favorites" has in recent years been creating her own fusion recipes with her children.
"We've been cooking like this since they were really young," Singla said of her 14 and 12-year-olds. "My daughter likes it when we put chai masala in the banana bread and cranberry sauce is so much better when you add ginger and cardamom pods."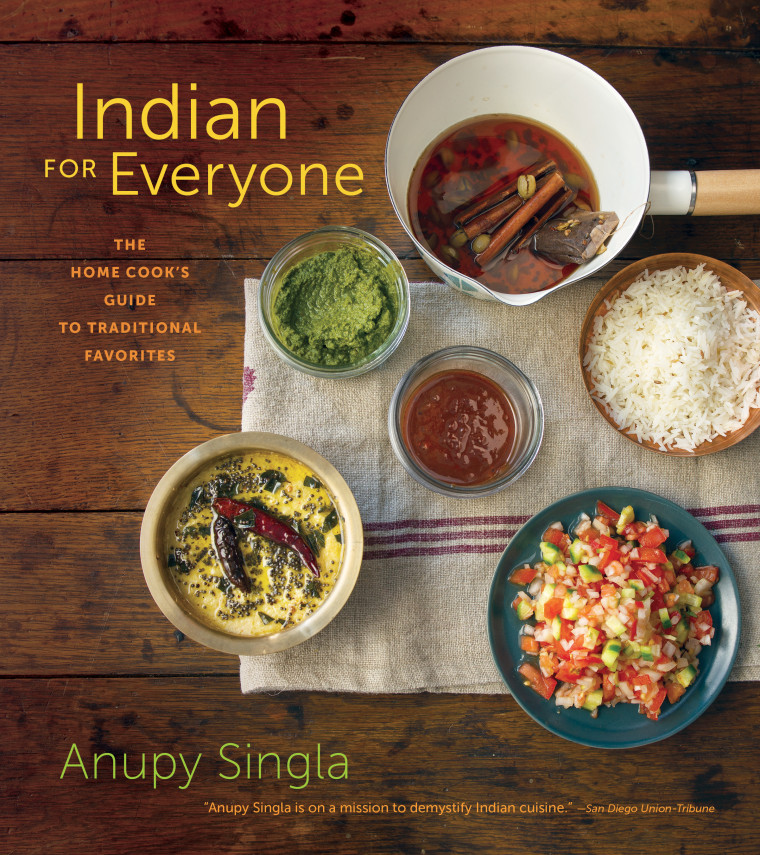 Singla's Thanksgiving table also features dishes like garam masala brussel sprouts and pumpkin biryani, which has the advantage of being able to be prepared many hours ahead of time.
"Most people wouldn't put garam masala and brussel sprouts together, but those flavors are very fall and Thanksgiving," she said. The Thanksgiving-themed pumpkin biryani is a newer addition to Singla's repertoire.
"I thought it would be fun to do something sweet and savory and translates to Thanksgiving. Some of the pumpkin biryani recipes out there didn't speak to me," Singla added. ""I wanted to make something that has that Indian taste profile and incorporates Thanksgiving traditions."
This blending of South Asian cooking and Thanksgiving recipes represents the continuing evolution of South Asian American identity to writer Wajahat Ali. In 2011, Ali wrote an essay for Salon entitled "How turkey came to our Thanksgiving table" that detailed how his Pakistani-American family learned how to embrace the holiday (and its cuisine).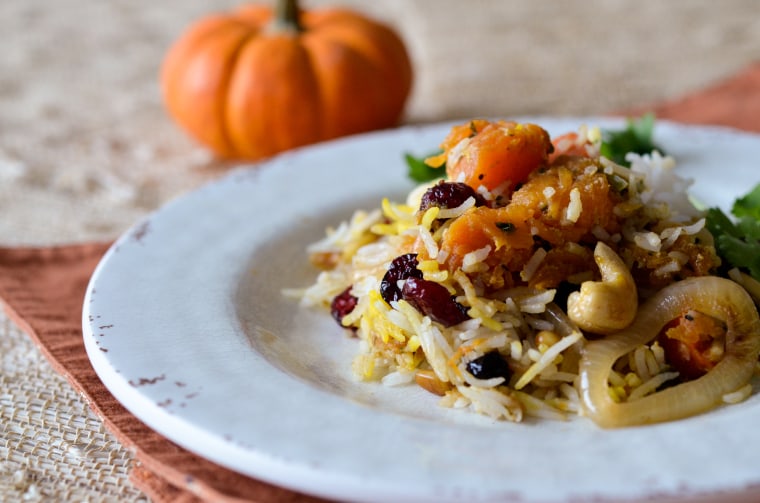 Ali wrote about how, as a child, he would beg his mother to prepare turkey for Thanksgiving, only to be denied. "For my parents' generation, they'd say 'Oh, you're being American,' which really means 'you are being white.' But we are American," Ali told NBC News. " And as these things kind of happen, you see this type of culinary integration over time."
Ali was in college by the time his parents gave in to his wish for a Thanksgiving turkey. It helped that Ali's parents appreciated the general theme of the holiday.
"Pumpkin pie is not a thing in India or Pakistan. It's been a slow moving process."
"It's a national holiday about good moral values," he said. "But my mom is not a fan of turkey at all, so she'd make whole roasted desi chickens as a compromise. Pumpkin pie is not a thing in India or Pakistan. It's been a slow moving process."
Since then, the Ali family has been serving turkey alongside more traditional favorites like chicken korma and lamb keema. "There's masala in the turkey and it's come to be this really nice thing about family and gratitude," Ali said. "You see that immigrants have made the decision [to say], 'This is home.'"
But that sentiment does not mean that all flavors naturally go together. Both Singla and Sequeira said they do several recipe trial runs to make sure the balance is just right.
"What I might try this year is a pumpkin pie with a spicier version of garam masala And since I grew up in the Middle East, I'm also trying some Middle Eastern flavors, like cardamom and rose water in pumpkin pie," said Sequeira. "I don't know if it will work in pumpkin pie, but I guess we'll find out."
Follow NBC Asian America on Facebook, Twitter, Instagram and Tumblr.
Pumpkin Biryani by Anupy Singla
Note: To make an Indian dish correctly, you should have a variety of spices on hand. However, if you can't find something, just omit it for now. This is the perfect dish to assemble ahead of time, refrigerate, and then pop into the oven about an hour before your meal.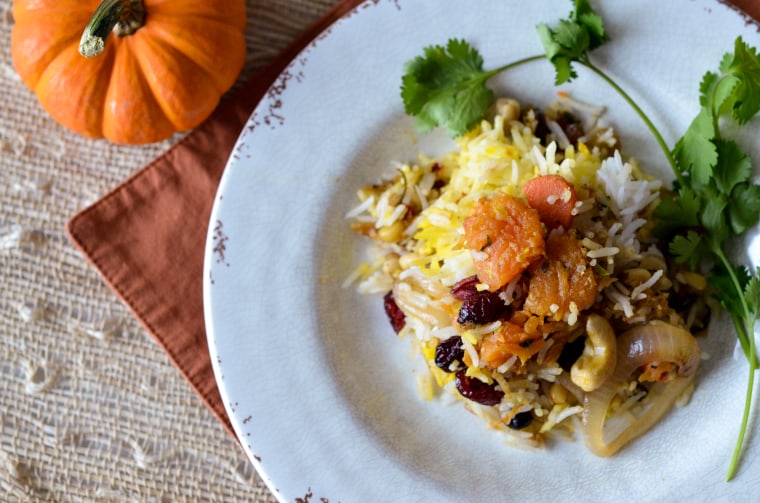 Ingredients
3 pinches saffron
¼ cup milk or milk alternative, warmed
2 cups basmati rice, washed
4 black cardamom pods, 2 whole and 2 slightly crushed
4 bay leaves
3 cups water
4 tablespoons and 1 teaspoon Ghee or vegetable oil, divided
¼ cup raw, unsalted cashews, roughly chopped
¼ cup raw, unsalted pine nuts
¼ cup golden raisins
¼ cup dried cranberries
1 large yellow onion, thinly sliced in rings
5 green cardamom pods, slightly crushed
5 cloves, slightly crushed
2 cinnamon sticks
¼ teaspoon fenugreek seeds
½ teaspoon shah jeera or caraway seed
½ teaspoon anise seed
1-inch piece ginger, peeled and grated or minced
6 cloves garlic, grated or minced
5 cups diced pumpkin
1 medium Russet potato, peeled and diced
4 green Thai chiles, stems removed and sliced lengthwise
12 mint leaves, finely chopped
¼ cup cilantro, chopped
1 cup plain, unsweetened yogurt
½ teaspoon ground mace
1 teaspoon turmeric powder
2 teaspoons red chile powder or cayenne
2 tablespoons garam masala
1 tablespoon salt
Method
Place oven rack second from the top and pre-heat oven to 375 degrees Fahrenheit.
Put the saffron strands in the milk and set aside.
In a saucepan add the rice, 2 whole black cardamom pods, two bay leaves, and water. Simmer over medium-high heat just until the water evaporates. The rice should be al dente. Turn heat off and set aside.
Heat 1 teaspoon of ghee or oil in a 4-quart sauté pan. Sautee the cashews, pine nuts, raisins, and cranberries together until they are slightly brown, about a minute. Remove with a slotted spoon and set aside.
Add 2 tablespoons of ghee or oil in the same pan. Add sliced onion and a pinch of salt, and fry over medium-high heat until brown and slightly crispy, about 10-12 minutes. Remove with a slotted spoon to a plate and set aside. The key here is not to crowd the onions, so use a wide sauté pan, and don't mix the onions too much – mix once they start to brown to avoid them getting mushy.
Add another 2 tablespoons of ghee or oil. Add slightly crushed green and black cardamom pods, cloves, bay leaves, cinnamon sticks, fenugreek seeds, shah jeera, and anise. Cook about a minute until the spices start to bloom and become fragrant.
Add the ginger and garlic. Cook about a minute, mixing.
Add pumpkin, potato, and chiles. Cook a total of about 10 minutes, adding about ¼ cup of water in the middle and placing the lid on the pot so that the vegetables cook a bit; though, they should be al dente.
Add the mint, cilantro, yogurt, mace, turmeric, red chile, garam masala, and salt. Cook another minute, mixing well.
Remove half the product and set aside.
Place half the nuts and dried fruit from Step 4 into the vegetables in your pan. Add half the onions from Step 5 and add half the rice. Press down gently.
Add the remaining vegetables, the remaining rice, and then layer the remaining nuts, dried fruit, and onions on top of the rice.
Pour the milk-saffron mixture over top. Seal your container with a lid or aluminum foil.
Place in the oven and cook 40-45 minutes. If you pull the biryani out and the rice is slightly undercooked, put it back in the oven for another 10-15 minutes. Serve immediately with a dollop of plain, unsweetened yogurt.