PROMONTORY, Utah — Railroad descendants, history buffs, dignitaries and elected officials were among the thousands gathered Friday in Promontory, northwest of Salt Lake City, to commemorate the 150th anniversary of the completion of the first transcontinental railroad.
Linking together the nation's coasts, the line was a monumental engineering feat that reduced travel time across the continent from several months to about a week. It was also a boon to the economy of a nation recovering from the Civil War.
Friday's anniversary ceremony strove for inclusiveness, billed by organizers as an effort to tell the "whole story" of the railroad that transformed America and those who made that happen.
"This anniversary is also important because we're finally giving those who did the bulk of the heavy labor their proper recognition," Utah Governor Gary R. Herbert told the audience.
The event recognized, among others, the Chinese and the Irish — the two main immigrant groups who constructed the line. Both faced prejudice and discrimination during the railroad's construction and after its completion.
It also featured a Native American prayer and blessing. Native Americans and their way of life suffered as tracks cut through their traditional hunting ground, contributing to the loss of the bison they depended on.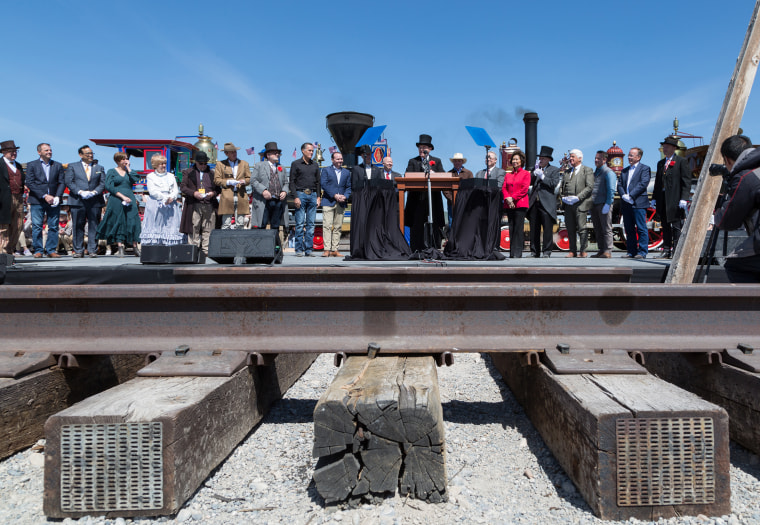 Friday's commemoration, which officials said drew an estimated 20,000, contrasted from the one held in Promontory in 1969 for the 100th anniversary celebration, when nothing more than a "passing mention of the Chinese" was made. Then Transportation Secretary John A. Volpe referenced the work done by the more than 10,000 Chinese as the labor of "Americans," even though federal law had barred them from becoming naturalized U.S. citizens.
Connie Young Yu's parents were part of a small group of Chinese Americans who attended that 1969 ceremony. They were disappointed and very upset that the Chinese railroad workers didn't get their due, she recalled.
This time around, Yu, whose great-grandfather was a foreman for the Central Pacific Railroad Company, was invited to take the stage at the very beginning of the ceremony and set things straight.
"We take this opportunity at the 150th to reclaim our place in history," Yu said.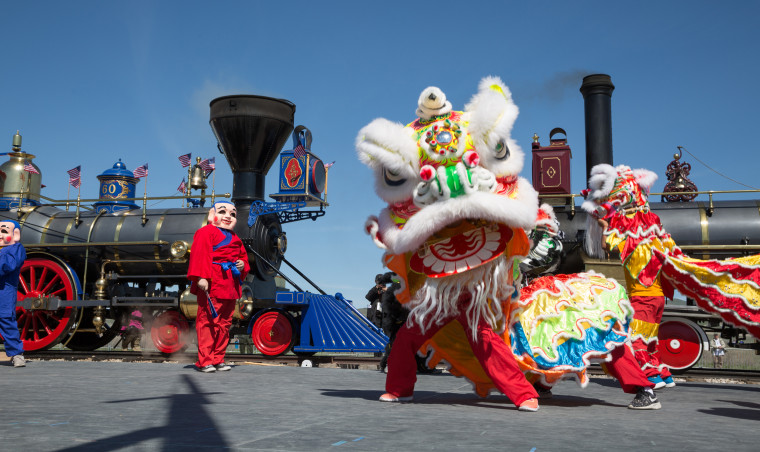 In an interview before her speech, Yu told NBC News she knew this was the moment.
"It's sort of like the completion of an arc," she said. "And I know I have this huge responsibility weighing on me to get it right."
For Chinese American advocates, the railroad's 150th anniversary has been a chance to write the Chinese laborers and their heroic contributions back into the annals of history.
"The railroad they built or helped to build unified the country," said Russell Low, 66, whose great-grandfather and great-grandfather's brother worked for the Central Pacific. "It made us one nation for the very first time — socially, psychologically, economically — and that is important. But the lasting impact is the people."
A RAILROAD IS BUILT
The Union Pacific and Central Pacific both broke ground on the first transcontinental railroad in 1863.
Connecting with existing eastern lines, the Union Pacific built west from Council Bluffs, Iowa (bordering Omaha), relying on workers who included Civil War vets and East Coast immigrants. Many of them were Irish, though none were Chinese.
Pushing east out of Sacramento, California, the Central Pacific had a labor force that was predominantly Chinese. Many were contracted migrants who arrived on ships from China.
Acts of Congress provided both companies with land grants and financing.
Facing a labor shortage, the Central Pacific hired Chinese living in California as an experiment in 1865. Once it exhausted that pool of laborers who had arrived in the early 1850s to work in mining and other sectors of the West, the railroad began recruiting directly from China, mostly from Guangdong province in the south.
By February 1867, around 90 percent of the Central Pacific workforce was Chinese, according to the Chinese Railroad Workers in North America Project at Stanford University. The rest were of European American descent, mostly Irish.
At its highest point, between 10,000 and 15,000 Chinese were working on the Central Pacific, with perhaps as many as 20,000 in total over time.
An estimated 10,000 to 12,000 Irish also helped build the railroad. Smaller numbers of Mormons, Civil War vets, blacks and other nationalities, including Italians and Germans, were employed as well.
Hundreds, possibly more than a thousand, Chinese died during the line's construction.
Their hard work and industriousness won over the Central Pacific's top brass, including railroad president Leland Stanford, whose anti-Chinese views were central to his campaign for California governor.
Still, despite their accomplishments, the Chinese laborers have often been reduced to blurbs in American history classes and textbooks, a point that advocates and educators have been working to change.
"These stories...are American stories," Low said. "They're not Chinese American stories. They're stories that belong to you, to all of us."
RECLAIMING A PLACE IN HISTORY
At Promontory Summit, a secluded expanse around 5,000 feet above sea level where the tracks met, Friday's celebration kicked off with a lion dance, a Chinese tradition to bring good luck and to get rid of evil.
Transportation Secretary Elaine L. Chao also spoke about the contributions of the Chinese railroad workers.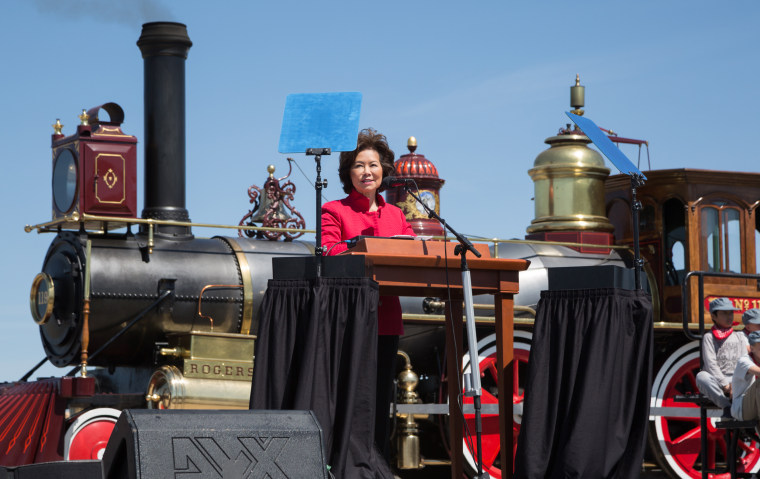 "As the first United States secretary of Transportation of Chinese ancestry, I have the unique and moving opportunity to fully acknowledge and recognize the contributions and sacrifices of these laborers of Chinese heritage to the construction of the transcontinental railroad," Chao said, drawing applause from the crowd.
A separate ceremony on Thursday held by the Union Pacific in Ogden, Utah, roughly 40 miles north of Salt Lake City, featured the tapping of a ceremonial golden spike by Margaret Yee, whose two great-grandfathers from China worked for the Central Pacific, and Sandy Dodge, a descendant of Gen. Grenville Dodge, the Union Pacific's chief engineer. The spike symbolized the joining of the two rail lines.
"When they came over here a long time ago, they had no idea they could transform the USA," Yee, 79, said of her relatives in an interview.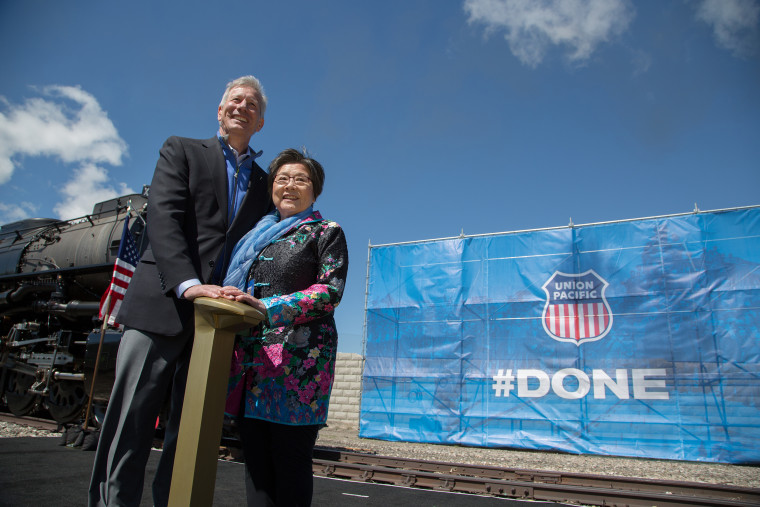 After completing the first transcontinental railroad, Chinese laborers fanned out across the United States to work on at least 71 other rail lines, including the Union Pacific, according to Stanford professor Shelley Fisher Fishkin, co-director of the Chinese Railroad Workers Project.
This came amid rising anti-Chinese sentiment and violence in the U.S., as whites blamed the Chinese for squeezing them out of jobs by accepting work at lower wages.
Owing to white hostility, tens of thousands of Chinese were forced to leave the U.S. by 1882. That same year, Congress responded by passing the Chinese Exclusion Act, the first and only major federal law to explicitly suspend immigration for a specific nationality. It wasn't repealed until 1943.
Chao, who spoke at a dinner Thursday night for the Golden Spike Conference, organized by the Chinese Railroad Workers Descendants Association, also issued a proclamation honoring the Chinese laborers.
"The Central Pacific Railroad needed industrious, tireless workers, and the Chinese workers answered the call with great skill and dedication," Chao said at the dinner. "And theirs is an amazing story of endurance, of sacrifice, and of lasting and amazing legacy."
Those were likely some of the words Philip P. Choy, then-president of the San Francisco-based Chinese Historical Society of America, and Thomas W. Chinn, one of its founders, had hoped to hear back in May 1969.
While that acknowledgement did not come that day, the late Choy and other activists did have commemorative bronze plaques dedicated to the Chinese railroad workers in Sacramento and at Promontory. And they continued to fight.
Sue Lee, a former executive director of the society, knew Choy. She said he felt for a long time that he had failed in 1969 to get the Chinese the recognition they deserved.
Lee looked at it differently.
"I said, 'You know Phil, for whatever reason it unfolded the way it did, you didn't fail because it's become kind of a rallying cry — an inspiration for people to make sure that that history is recognized,'" she said.
Follow NBC Asian America on Facebook, Twitter, Instagram and Tumblr.