Several thousand protesters, most of them Chinese Americans, packed a park in downtown Brooklyn Saturday afternoon to show support for Peter Liang, a former New York Police Department (NYPD) officer who was convicted last week of second-degree manslaughter and official misconduct in the shooting death of an unarmed man in a Brooklyn housing project.
The rally, inside Cadman Plaza Park not far from where Liang's trial took place, was one of more than 30 planned in cities throughout the country Saturday, including Ann Arbor, Los Angeles, San Francisco, Chicago, Philadelphia, and Boston. The rally in New York began a little before noon with a moment of silence for 28-year-old Akai Gurley, who was killed by a ricocheting bullet fired from Liang's gun in November 2014.
While demonstrators expressed sympathy for Gurley's family, they also criticized the jury's verdict, saying the shooting was unintentional and that Liang, 28, wasn't acting recklessly when his gun went off while patrolling a pitch-dark stairwell at the Louis H. Pink Houses in Brooklyn.
"I have the same opinion as last year," Gordon Zhang, of the Long Island Chinese American Association, told NBC News. "I think both Akai Gurley and Peter Liang are victims of a system that failed."
RELATED: Former NYPD Cop Peter Liang's Guilty Verdict Leaves a Community Divided
At the Brooklyn Rally, a steady stream of shuttle buses from Brooklyn, Manhattan, and Queens dropped off Chinese-American demonstrators, some of whom entered the park carrying American flags and signs that read "One Tragedy, Two Victims." Many said they believe Liang, who is Chinese American, has been made a scapegoat to compensate for the number of white officers not indicted in police incidents in 2014 in which unarmed black men were killed — those include Eric Garner, a Staten Island man placed in a chokehold, and Michael Brown, a teenager shot by police in Ferguson, Missouri.
"We are here because we are afraid what happened to Akai Gurley and Peter Liang could happen to us and to our children."
"A lot of white officers have also killed people," Zhang Yuan, who brought along his 18-year-old daughter Jing to the Brooklyn rally, told NBC News in Mandarin. "Why don't they prosecute them? Why only Peter? It's not fair."
Another Chinese American who attended and gave only his surname as Cao told NBC News in Mandarin that he thought the verdict was wrong. "It really was an accident," he said.
Victoria Han, one of the organizers of the Michigan rally, attended by more than 400 people from as far away as Indiana, told NBC News the issue is not that Liang shouldn't be held accountable, but that there should be fair and equal justice for all.
She added she was upset that NYPD Sgt. Kizzy Adonis, a 14-year veteran, was brought up on departmental charges in January for failing to supervise officers during the confrontation with Garner. Adonis is black; the officer who applied the hold, Daniel Pantaleo, is white. Pantaleo remains on modified duty and has not faced departmental charges.
"This conviction is undermining our system," Han said, referring to the Liang verdict. "It has and will destroy more and more immigrants' faith and hope in this country."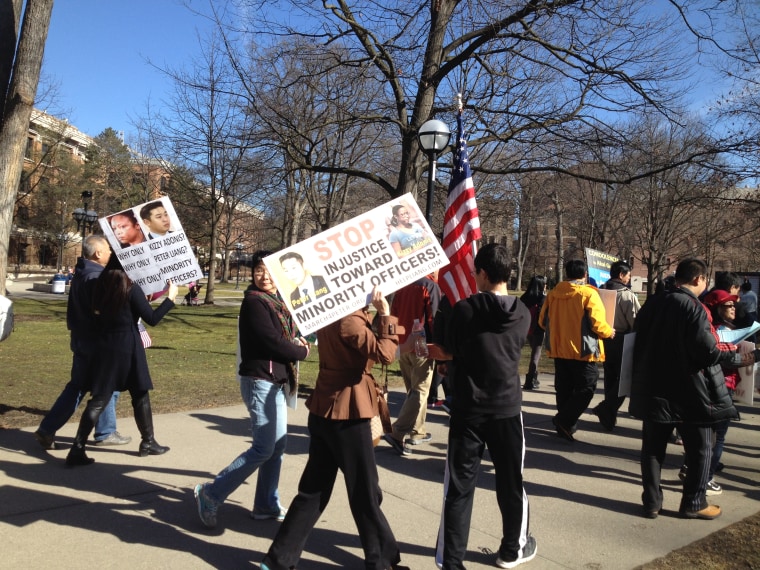 "We care about the tragic loss of Akai Gurley, and we care about the future of our children," Jamie Zhang told NBC News at the rally in support of Peter Liang in Ann Arbor, Michigan.
Decrying the problem of police brutality as well as the selective prosecution of police officers of color, Zhang continued, "We are here because we are afraid what happened to Akai Gurley and Peter Liang could happen to us and to our children."
Many protesters in Brooklyn, chanting "Don't be a scapegoat" and "Justice for Peter Liang," also directed their anger and frustration at Brooklyn District Attorney Ken Thompson and his decision to try Liang. After the verdict, an online White House petition was created, accusing prosecutors of indicting Liang for political gain and demanding that Thompson withdraw the indictment.
As of Saturday, roughly 124,000 people had signed the petition, prompting the White House to respond by saying it has no role in the decision of local or state prosecutors whether to prosecute a case.
Thompson — Brooklyn's first African-American DA whose mother is a retired NYPD officer — has denied that politics played any role in bringing charges against Liang.
RELATED: NYPD Officer Peter Liang Guilty of Second-Degree Manslaughter in Akai Gurley Killing
"While we know that Peter Liang did not intend to kill Akai Gurley, he was convicted because his reckless actions cost an innocent man his life," Thompson told NBC News in an email Friday. "This case is about what happened in Brooklyn, not Ferguson or Staten Island, and the jury convicted on the basis of these unique and tragic facts. My office will continue to pursue equal justice for all of Brooklyn."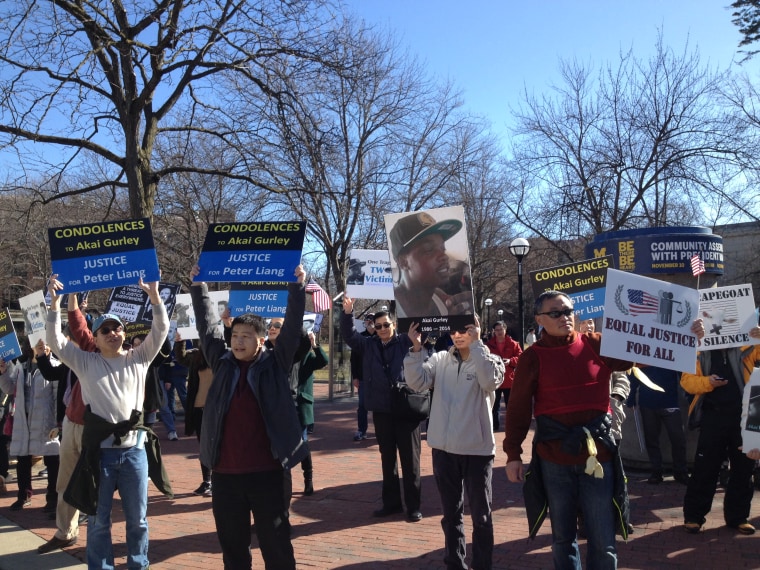 On Nov. 20, 2014, Gurley entered a stairwell from the seventh floor with his friend Melissa Butler shortly after 11 p.m. when Liang, who was beginning a vertical patrol from the eighth floor with his partner Shaun Landau, fired a single shot. The bullet bounced off a wall and struck Gurley, who made it down to the fifth floor with Butler where he collapsed and died, according to testimony.
NYPD Police Commissioner William Bratton said at the time of the shooting that the fatal shot "appears to be an accidental discharge" of Liang's gun.
Liang, who remains free without bail, can receive up to 15 years in prison when sentenced by State Supreme Court Justice Danny Chun on April 14. Liang's attorneys, Rae Koshetz and Robert Brown, have said they will appeal the conviction if Chun does not grant a motion to set aside the verdict, delivered on Feb. 11 by a jury of seven men and five women.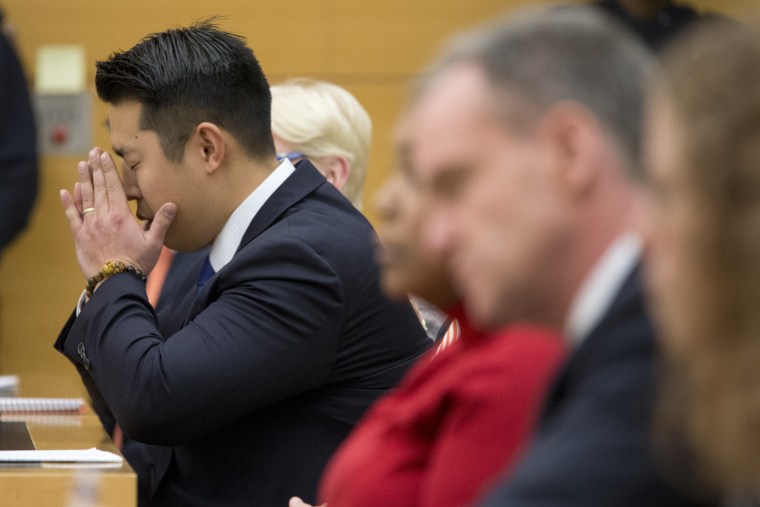 RELATED: In Tears On Stand, NYPD Cop Recalls Fatal Shooting of Akai Gurley
"Another tragedy like this must not be allowed to occur ever again."
Reaction to Liang's conviction was swift and decisive in many Chinese-American communities across the country. Within days, Chinese-American organizations banded together to plan Saturday's nationwide protests and to launch fundraising efforts to help pay legal fees for Liang, who along with Landau was fired from the NYPD. Relying heavily on social media, including Facebook and WeChat, a popular Chinese-language platform, they quickly galvanized support for the rookie officer among many Chinese Americans.
But some in the Asian-American community believe Liang and Landau did not carry out their duties as NYPD police officers that November night. Cathy Dang, executive director of CAAAV Organizing Asian Communities, a group that addresses police and hate violence toward Asian immigrants and that has been vocal in calling for Liang's conviction, said in a statement after the verdict that district attorneys must be held accountable to also prosecute white police officers.
Before Liang, the last NYPD police officer convicted in a fatal civilian shooting was in 2005. Bryan Conroy, who is white, was sentenced to probation and 500 hours of community service for killing an African immigrant during a police raid.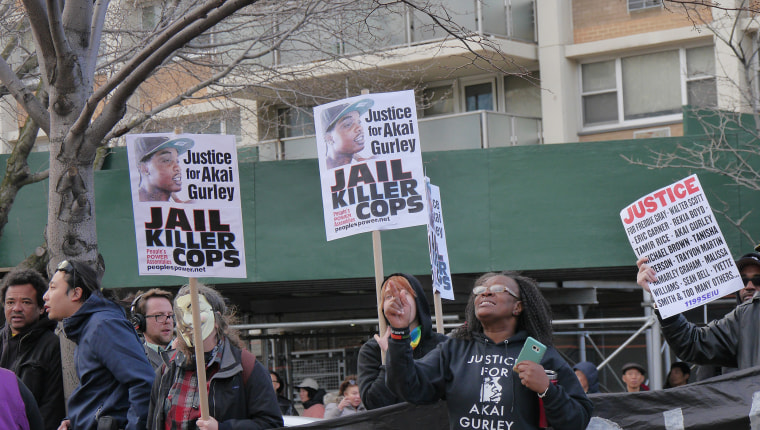 "All the evidence presented before the jury demonstrates that Officer Liang is in fact guilty," Dang said. "Now, what we have left is to hold the entire system accountable."
The Brooklyn rally also drew more than a dozen former and current local, state, and federally elected officials, including state Assemblyman Ron Kim and U.S. Rep. Grace Meng, both of Queens.
"We simply cannot afford to look the other way and allow Peter Liang to be persecuted under a different set of standards and to be used as a scapegoat for the institutional racism and failures of our system," Kim said.
Meng said that on the night of the shooting, the lights shouldn't have been out in the stairwell, and the two rookie officers shouldn't have been paired up to patrol the housing project, overseen by the New York City Housing Authority.
"Another tragedy like this must not be allowed to occur ever again," she said.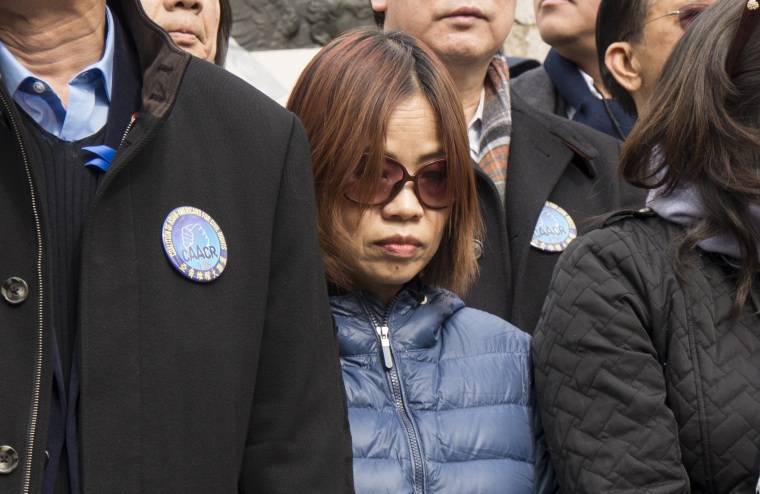 Brown, Liang's attorney, told the crowd that Liang expresses his condolences to the Gurley family and that the rallies were helping to uplift his spirits. Liang's mother, Fanny, also attended and thanked supporters in Cantonese.
City Council member Margaret Chin of Manhattan — who last year was vocal in pressing for an indictment in Gurley's death and did not attend the Brooklyn rally — said in a statement Thursday that she is asking for leniency when Chun sentences Liang in April and is encouraging her fellow council members to do the same.
After the verdict last week, several jurors who spoke with the New York Daily News and New York Post — including 69-year-old Carlton Screen, the only African-American — said the shot was the most important part of the case.
RELATED: Chinese Community Divided Over NYPD Officer's Indictment
During the three-week trial, prosecutors allowed jurors to pull the trigger of Liang's Glock 9 mm off to the side of the jury box. On the second and final full day of deliberations, jurors asked to handle Liang's gun a second time. Liang's attorneys have argued that the trigger spring may have been defective, requiring less pressure than what's necessary to fire an NYPD-issued Glock 9 mm.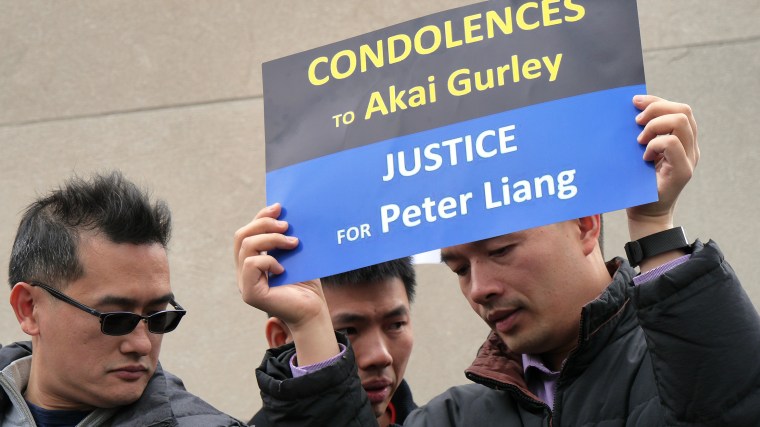 Prosecutors, however, disputed that claim, saying Liang's weapon was on the higher end for trigger-pull pressure of an NYPD Glock 9 mm, at 11.5 pounds. Liang had testified in his own defense that his finger was on the side of the weapon and not on the trigger when he took it out.
RELATED: Race 'Doesn't Matter': Reactions to Officer Liang's Indictment
But jurors disagreed.
"From the experts, through their testimony, a shot cannot be discharged unless your finger is on the trigger," Screen told the Daily News. "If the shot never occurred, we wouldn't be talking now."
Liang testified on Feb. 8 that before entering the unlit stairwell, he had unholstered his gun, saying it's up to officers when to draw their weapon. Vertical patrols require that officers first check the roof, where criminal activity often occurs, and then descend the stairs floor by floor, according to testimony.
His gun in his left hand, a flashlight in his right, Liang tried turning the stairway door knob with his right hand, but the door wouldn't open, he said. So he gave it a push with his right shoulder.
Liang said he heard a "quick sound" to his left — a sound that startled him — and his gun went off.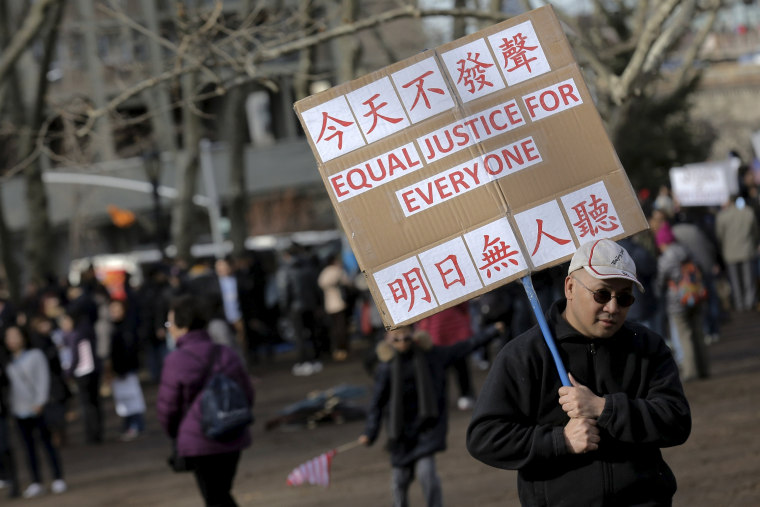 Gurley, who had been hit, collapsed after making it down to the fifth floor landing, the bullet having pierced his heart and lodged in his liver, according to testimony. Butler knocked on the door of a resident, Melissa Lopez, who called 911 and passed along CPR instructions to Butler, according to testimony.
"This phrase is called, 'not a Chinaman's chance'...It means, if you're Chinese, there's no hope for you."
Butler filed a lawsuit against the city Friday, saying her constitutional rights were violated because Liang and Landau didn't follow directives while conducting their vertical patrol, according to the New York Daily News. Gurley's family is also suing on behalf of Gurley's daughter and mother, naming Liang, Landau and the New York City Housing Authority as defendants.
Prosecutors said that after the shot rang out, neither Liang nor Landau called it in to supervisors, even though both had working radios and cellphones. Brown and Koshetz argued during the trial that Liang was in a "state of shock" after his gun accidentally went off, that he was unaware his bullet had struck anyone, and that he tried to make several radio transmissions about the shooting that were incomplete or did not go through.
Liang also testified he felt unqualified to perform CPR on Gurley because he was given answers to the exam at the Police Academy and never had a chance to practice on a mannequin. Landau, who received immunity, offered similar testimony.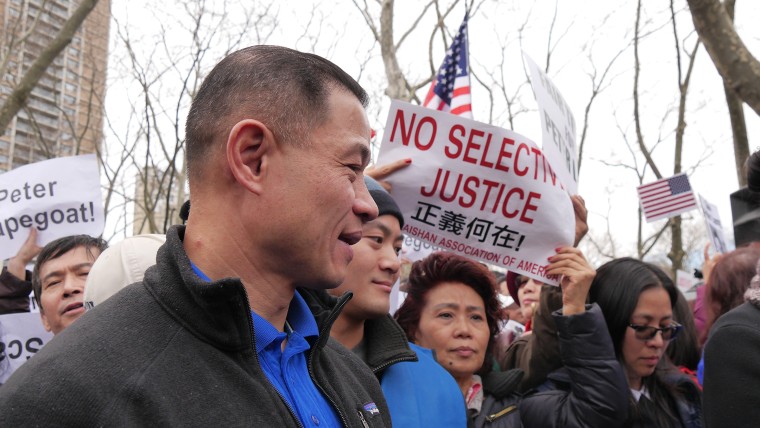 But prosecutors portrayed Liang's actions in a different light, telling jurors in opening arguments that Liang violated key critical life-and-death training when he recklessly pulled out his weapon, fired without reason, and then argued with his partner over calling for help as Gurley lay dying.
Former city Comptroller John Liu, the first Asian American elected to citywide office, told attendees that Liang shouldn't have been convicted of manslaughter, but added that "we feared the result from the beginning."
"For 150 years, there has been a common phrase in America," he said. "This phrase is called, 'not a Chinaman's chance'...It means, if you're Chinese, there's no hope for you."
Frances Kai-Hwa Wang contributed to this report.
Follow NBC Asian America on Facebook, Twitter, Instagram, and Tumblr.