Perhaps the most poignant dynamic in the upcoming Netflix film "Tigertail" is the arranged marriage between impoverished Taiwanese factory worker Pin-Jui and Zhenzhen, his factory boss' daughter.
Depictions of such relationships often remain archaic: the husband an oppressive, dominating figure, the wife a subservient, quiet caregiver. But writer and director Alan Yang told NBC News in a phone interview from his Los Angeles home that he sought to complicate the concept of the arranged marriage by giving the spouses more equal weight in the storyline and drawing from his observations of his own mother.
"My goal in creating any show or movie is really to just be as empathetic as possible to every character and treat every character as if they're the main character of the movie," Yang said. "I think one of the reasons I was able to do that in this movie is because in some ways that represents my mom," he said of Zhenzhen.
"It's not literally her, but I know what my mom went through and I know what happened after my parents got divorced. And I know how hard she worked and how she built her own life in this country and put herself through college and became a teacher."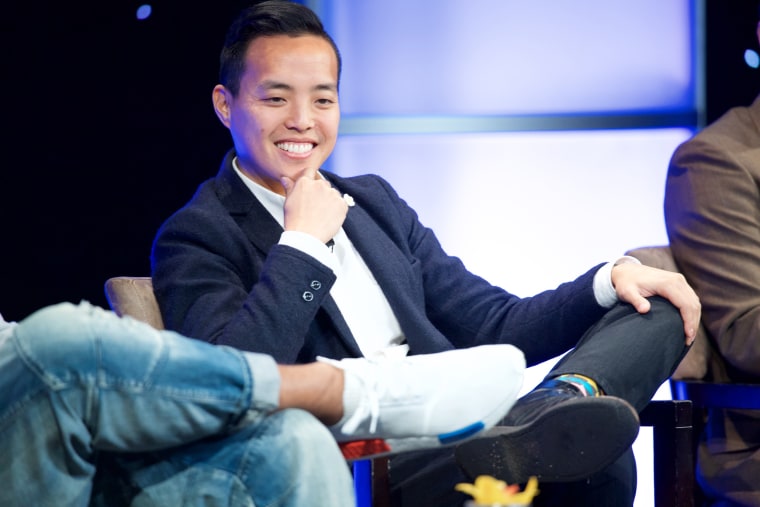 While many Asian Americans from immigrant families are aware of the massive upheaval their parents endured en route to the United States, they are often unfamiliar with the full breadth of loss tied to the old country and the trauma of adjusting to foreign surroundings. Detailed accounts of parents' frequently devastating experiences are kept mysteries, locked away behind a complicated mix of cultural barriers and a will to forge ahead in their new world.
"They don't have the tools. It's not necessarily their fault," Yang explained. "It's the way they were raised."
"Tigertail," Yang's self-proclaimed "love letter" to his family, takes an intimate look at Pin-Jui, a Taiwanese immigrant — the younger version played by Hong-Chi Lee and current version portrayed by Tzi Ma — the love he left behind in his home country, and the generational gap in communication within his family. The director, whose movie is a heavily fictionalized portrayal of his own father's "coming to America" story," said that the project was an organic part of deepening his own understanding of his parents' lives and humanizing them beyond their roles as authority figures.
"Making the movie went hand-in-hand with a process of getting to know my parents better already … We were on that trajectory and the movie helped. I think there's no doubt about that," Yang said. "I think it's a two-way street. It's me reaching out and being more open with them and them doing the same with me, and I feel closer to them than ever before. ... It's becoming an adult and realizing that your parents are people, too."
Told through a series of flashbacks to a young Pin-Jui's life in Taiwan and his early years in America, "Tigertail" is littered with distinctive cultural references woven together by Taiwanese, Mandarin and English.
As specific as the arranged marriage reference feels in a Hollywood movie, Yang says he didn't feel pressured to bend away from the cultural marker, or any of the others in the film, or make the film more palatable to those outside the Asian community. He argues that audiences may not have any historical knowledge of Taiwan, or skill in Mandarin or Chinese, but can value raw and real material.
"There's something about the real thing and having some level of authenticity that people respond to," he said. "I watched this movie 'The Battle of Algiers' the other day. It's one of the masterpieces. I didn't know very much about the Algerian War, but you watch it, you get the people who made the movie knew what they were doing and they did the research and you feel safe in their hands, and then you can start following the human emotional stories that are taking place in that context."
Yang admits that it's an odd time to promote a movie, with the ongoing COVID-19 pandemic still affecting populations across the world. It's even more so daunting to be sharing a very Asian American story during a time in which hate attacks toward those in the community have been on the rise. Ma himself was outside a grocery store in Pasadena, California, when a driver rolled down his window and told him that he "should be quarantined."
But maybe, Yang said, a movie like "Tigertail" is timely given the surreal circumstances so many are living in. It can give the Asian American community some sense of unity, he believes.
"I had really wished that the country had progressed beyond this point, but it clearly hasn't," he said. "I think that film can be a way for Asian Americans to come together and watch something that reinforces their strength and their perseverance and their level of sacrifice and coming to this country."
For those outside the Asian American community, Yang said there are universal themes that transcend race.
"You know, it's about how we show love to our families, how we talk to the people we love, how we're honest with them, or not honest with them and vulnerable with them or not vulnerable with them," he said. "It's a universal story of love and passion and love lost and regret."