Miki Yamashita calls herself a "tiny Asian Tina Fey who can sing and dance." A Los Angeles Opera singer and teaching artist, Yamashita is currently working to dispel stereotypes about Asian-American women — and opera singers — on and off the stage.
The soprano was raised in South Hadley, Massachusetts, and took an early interest in the performing arts and entertainment industry.
"The first time I saw David Letterman, I thought, 'What can I do to be part of this?'" Yamashita told NBC News. "As a kid, you have no idea that because you don't look like that, there could be hurdles for you that aren't there for David Letterman."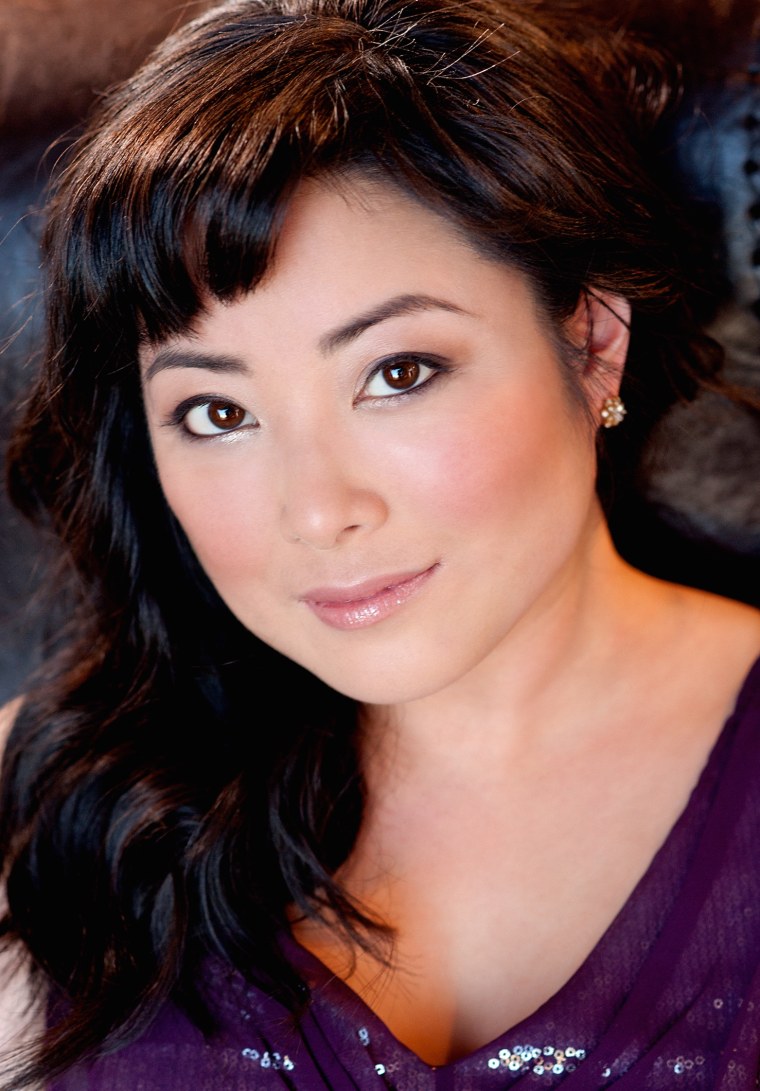 With the support of her Japanese immigrant parents, Yamashita practiced everything from ballet and figure skating to singing and comedy while growing up.
In high school, where she was one of a few Asian-American faces, she sang the national anthem at Fenway Park during a Red Sox game. Eventually, she performed 75-plus renditions at various venues and was accepted to the New England Conservatory of Music.
But feeling a pull to her other life passions, she dropped out of the music school to pursue acting and comedy in New York.
"I didn't quite feel that I belonged there because they were really adamant about my being focused on classical music and although I loved it very much, I was interested in so many other things and they considered that to be an indicator that I wasn't serious about classical music," she said. "To their credit, they were kind of right, but it was a lot more dramatic in my mind and I took that to mean I was being kicked out of classical music."
"I was frustrated by the lack of opportunity, which was directly tied to me not being white — something I couldn't change. In other professions, that's pretty much illegal."
While in New York, Yamashita began working regularly in musical theater, often playing Tuptim in "The King and I," Maria in "West Side Story," and Connie in "A Chorus Line," while also auditioning for film and television roles, she said.
She said she knew getting acting work would be competitive, but Yamashita was taken aback by just how few options there were for a young Asian-American woman in the early 2000s.
"As ambitious and organized and determined as I was, there were so many limits placed on me that I would never have placed on myself," she said. "I was frustrated by the lack of opportunity, which was directly tied to me not being white — something I couldn't change. In other professions, that's pretty much illegal."
RELATED: Ali Ewoldt Takes Stage as First Asian-American Female Lead in Broadway's 'Phantom'
She channeled her frustrations and experiences into a one-woman show, "The Geisha Next Door."
First performed at the now shuttered Performance Space, NBC in New York and later on university campuses and the Upright Citizens Brigade Theatre in Los Angeles, the show tackled racism, sexism, and stereotyping. It proved therapeutic for Yamashita.
"It was around the time of 'Memoirs of a Geisha' being made into a movie with Chinese actresses," she said. "At the time, I considered geishas to be horribly embarrassing stereotypes of Japanese women, but I did a lot of research and realized they were professional artists who sing and dance and work on their craft. There were so many parallels to my own life and here I was stereotyping them."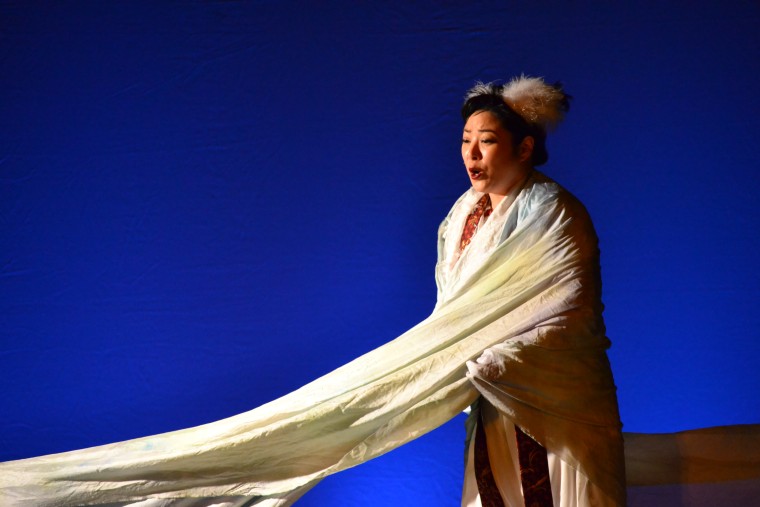 Another highlight of her time in New York was being cast as a lead comedy actress for an Oxygen television pilot. But when the show failed to make it to air, Yamashita decided to get her college degree, majoring in English at Mount Holyoke College, where her father was a theology professor and her mother taught Japanese and Japanese Tea Ceremony.
"I think my parents felt it was a worthy pursuit to be interested in the arts, especially through college and bit after," she said. "But I think they have trouble understanding that it's not just a fun thing to do; it's a calling for me."
Unable to ignore her love of the arts and performing, she moved to Orlando, Florida, in 2006, to work as a professional improv and sketch comic at The Walt Disney World Resort.
Two years later, she moved to Los Angeles, where she experienced "the shock and surprise and beauty" of seeing a larger and established community of Asian-American artists.
The West Coast also marked a return to her singing roots. She made her LA Opera debut in "Figaro 90210," a multicultural adaption of Mozart's masterpiece.
By 2010, she had her big break: she was cast as the principal role in LA Opera's "The White Bird of Poston," set in a Japanese internment camp, for two different stagings of the opera.
"To this day, I think it's the most beautiful piece I've been involved in, from the writing to the production," she said.
Following the performance, LA Opera invited Yamashita to perform and teach with their Community Engagement Department, she said. In her outreach work, Yamashita works with everyone from schoolchildren to Japanese-American retirement communities.
"We're trying to reach regular people who think opera is scary and alienating and just for white people," she said. "We want people in the community to feel as welcome at Dorothy Chandler [Pavilion] as anyone else."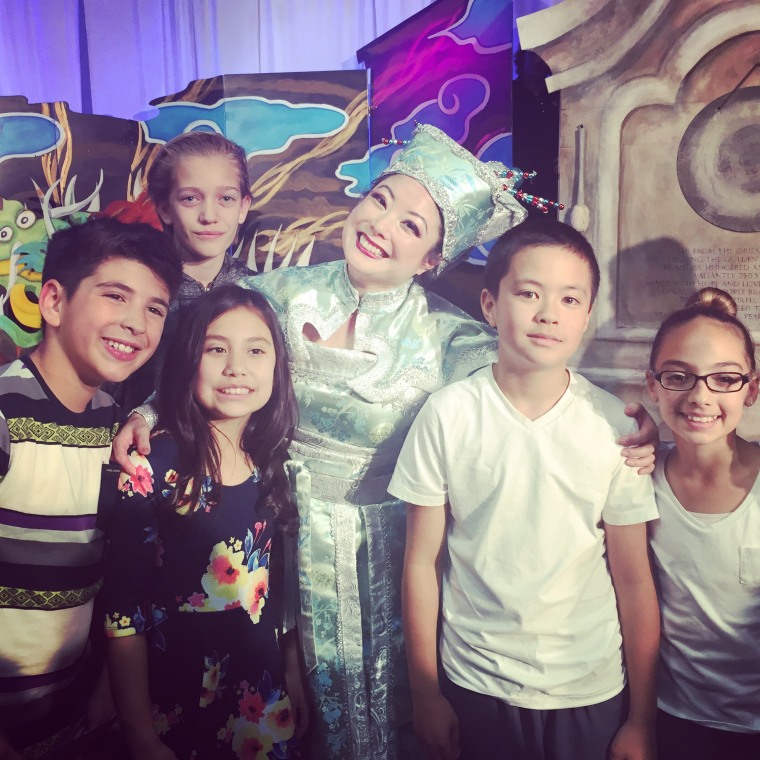 Separate from LA Opera, Yamashita hosts events like "Opera Off the Cuff," where she's found a way to combine her numerous talents. "I may sing an aria and then do 10 minutes of stand-up," she said.
"I'm also committed to showcasing other opera singers who are minorities or LGBT because there's still this pervasive stereotype that opera singers and patrons are all Caucasian and that's not the case at all."
Over the last two decades working in the industry, Yamashita says there has been a slight improvement when it comes to diversity and inclusion on stage and on the screen.
"For the longest time, it was just accepted that there would be extremely limited opportunities," she said. "'Hamilton' really got people to think different. The cast looks just like who you see when you walk out of the theater and into the street. People are getting used to the idea that theater, TV, and movie casts should look like the people in your life."
Follow NBC Asian America on Facebook, Twitter, Instagram, and Tumblr.