Whenever Nick Faris picked up the phone at work to answer a call from his wife Jesse Faris, he would always ask, "Is this about a liver?" Jesse Faris would invariably answer no, and Nick Faris, a 34-year-old cancer researcher, would tell his wife he'd call back after his meeting.
When Nick Faris' phone rang on Feb. 24, it was his wife again. "He picked up, and I said, 'I don't know any other way to say this, but we got the call,'" Jesse Faris, 35, told NBC News.
The call came at 1 p.m. from the Ann & Robert H. Lurie Children's Hospital of Chicago. This past summer, the couple's two-year-old daughter Brooklyn, who they had adopted from China last January, was diagnosed with Alagille syndrome, a rare genetic disease that causes liver damage. She needed a transplant and since her adoption, the family had trekked from their home in Memphis, Tennessee, to the hospital in Chicago every three months for checkups. Now, Brooklyn would finally get a new liver.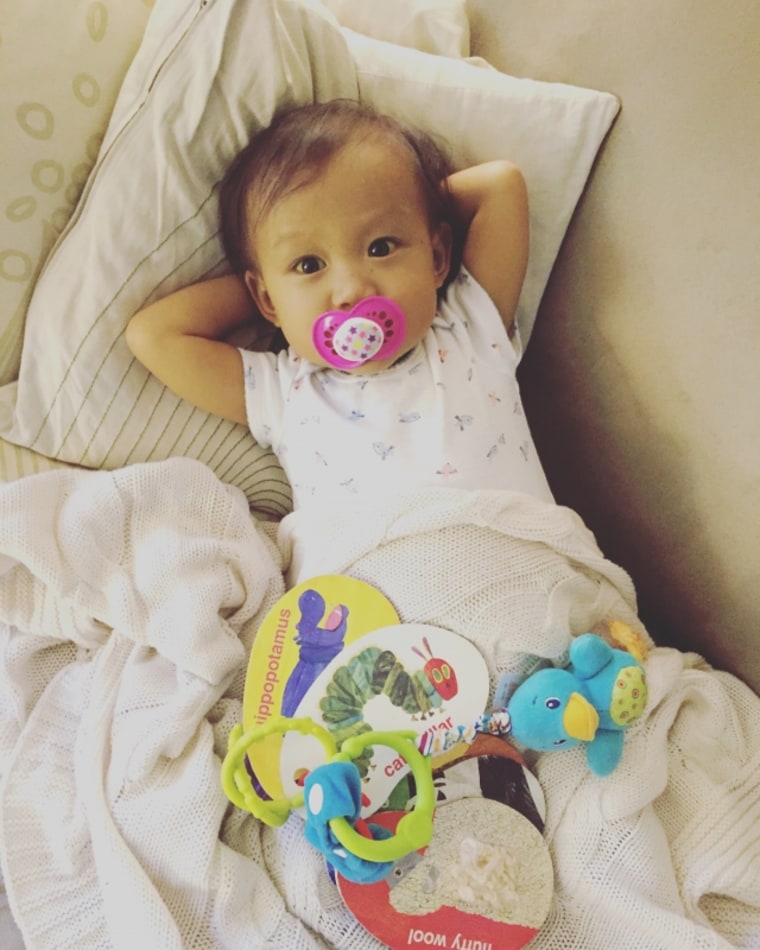 But there was a potential snag, the man who phoned from the hospital said.
"He said, 'We have a liver available for Brooklyn, but the only problem is that we're having a blizzard in Chicago, and so I want to know if you're interested in trying to come here?" Jesse Faris said.
The word "blizzard" didn't at first register with her. "So I just said, 'Absolutely, we want to try to make it,' and he was reiterating that our safety was his first concern," she said. "They absolutely wanted to offer us the chance to get there, but he didn't want to put us at risk."
RELATED: 24-Year-Old Inspires Global Campaign to Seek Mixed Race Bone Marrow Donors
Nick Faris left work and Jesse Faris let Brooklyn play at home for a while since they weren't sure when they would leave, she said. After phoning a travel agent to inquire about booking a flight, Faris learned there were few options because of cancellations from the impending storm. Although they could take connecting flights through other cities, the agent was confident that those too would be cancelled.
"It became apparent we were going to have to be pretty creative," Faris said.
The family ran through their options. They talked about driving, their backup plan if flights were unavailable, but they knew it would take a good eight hours without stopping. Factor in the weather, they reasoned, and it would probably take even longer.
They also considered taking a train. The railroad might not experience the same weather-related delays as airplanes and cars, they thought, but it was still a slower means of transport and would deliver them to Chicago by approximately 9 a.m. the next day. That, they feared, would be too late.
"When they heard that we needed to get there sooner, they said, 'well if they can get to the airport in the next 30 minutes, we can have someone take them then.'"
Helping the Farises plan was John Carroll, a well-connected family friend. He kept calling them with new travel ideas, Faris said. Those included offers of help from people with private jets who would fly the family to Chicago, an option viable only if the airports remained open.
Carroll also suggested chartering a jet, Faris said, and an anonymous donor agreed to foot the $10,000 expense. But it wouldn't get them to Chicago until 2:30 a.m on Feb. 25.
"After talking to our team at Lurie, they said that has to be your worst case scenario," Faris said.
Then Carroll mentioned FedEx. Someone had told him that the Memphis-based shipping company would sometimes fly patients in emergencies from St. Jude Children's Research Hospital, also in Memphis. Unlike passenger carriers, FedEx can decide about scheduling flights and landing in inclement weather, Faris said.
The family contacted a FedEx employee authorized to make such a decision. After learning about Brooklyn and the family'' story, FedEx agreed to arrange a flight for them the following morning, Faris said.
But the family needed to leave that night.
"When they heard that we needed to get there sooner, they said, well if they can get to the airport in the next 30 minutes, we can have someone take them then," Faris said.
With their bags packed hours before, Jesse, Nick, and Brooklyn drove to Memphis International Airport, the worldwide hub for FedEx Express, where a jet awaited them, according to Faris. The flight departed around 8 p.m. and got the family to Chicago Midway International Airport in about an hour. The flight was smooth, save for a few bumps as they approached Chicago.
"I do remember looking at Nick, and we were just shaking our heads because it was just completely surreal, the entire afternoon and evening events," Faris said.
April Clark, a missionary living in Chicago who worked at orphanages in China and introduced the family to Brooklyn, picked the family up from the airport and drove them to the Ann & Robert H. Lurie Children's Hospital of Chicago. Once checked in, Brooklyn was changed into her patient's gown, and the staff took her vitals. The family later retired for the night.
The next morning, the surgery began at 10 a.m. and lasted 10 hours. She received a portion of a liver from a donor who was not identified, the rest going to an adult at Chicago's Northwestern Memorial Hospital, according to Faris. The operation was a success.
"We were just incredibly — I feel 'thankful' is not a strong enough word — but thankful for the gift of life that [the donor's] family had chosen in the midst of their sorrow and grief," she said.
Brooklyn, whose six-year-old sister Rhet is an adoptee from Ethiopia, was discharged on Monday, but she needs to remain in Chicago until late March for weekly checkups. After the Farises return to Memphis, they'll have to travel back every week for some time, then every other week, then monthly until the end of the year, Faris said. While in Chicago, they've been staying at the Ronald McDonald House, which cares for families of children with complex medical needs.
Insurance covers a portion of Brooklyn's medical expenses, Faris said, and the Children's Organ Transplant Association has helped the family raise approximately $45,000 in funds so far. The Farises' goal is $75,000, she said. Any leftover money would be available to Brooklyn her entire life, to cover anything that insurance might not, Faris said.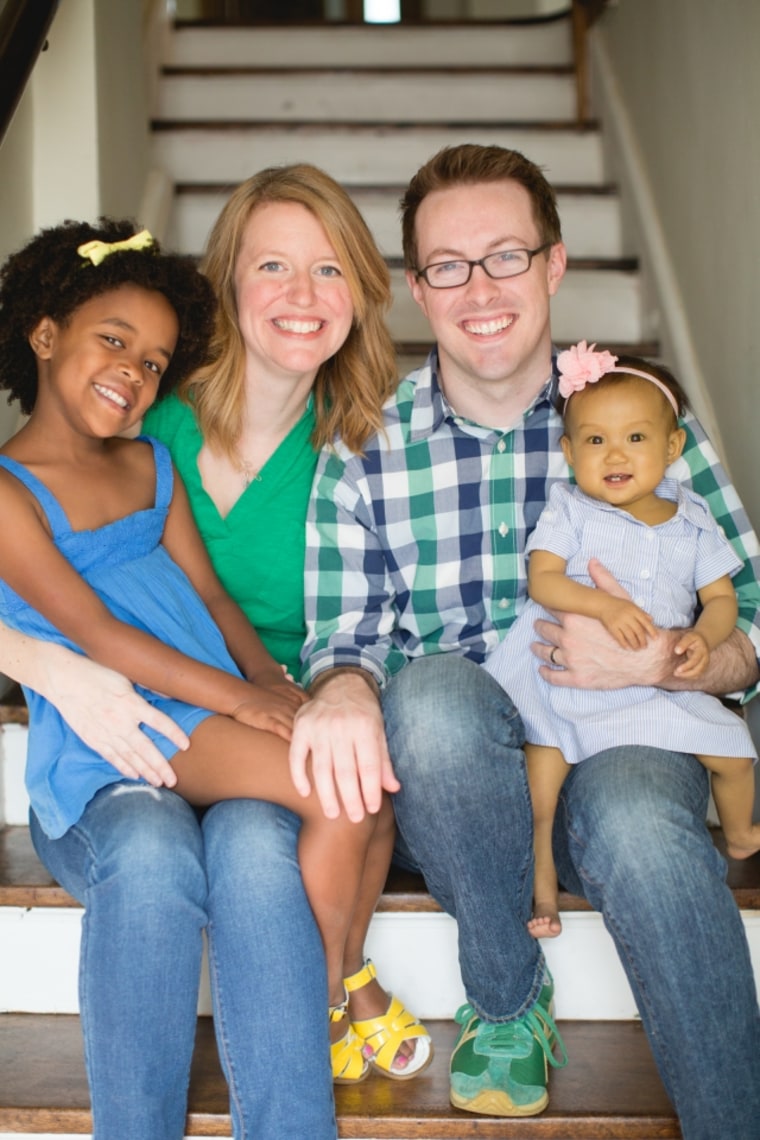 "I feel like in addition to just feeling like the hand of God was with us in this situation, we also felt a tremendous amount of support from our community," Faris said. "The way the story has resonated with people and inspired people — we've just been really overwhelmed with the way people have cared about Brooklyn and about our family."
Follow NBC Asian America on Facebook, Twitter, Instagram, and Tumblr.