Burmese-American mother-daughter duo Jocelyn Law-Yone and Simone Jacobson couldn't regularly find "falooda," Law-Yone's favorite Burmese dessert, in Washington, D.C., so they decided to make it themselves. Now, the two are teaming up to "sweeten snack time" with a business called "Toli Moli," starting with a trial run at Washington, D.C.'s Union Market food hall.
"Toli moli means a little of this and a little of that," Jacobson told NBC News, describing the layered composition of falooda, which includes basil seeds, pudding, jellies, flavor syrups, nuts, and ice cream. "It's a phrase they use in Burma, but it's actually an Anglo-Indian phrase."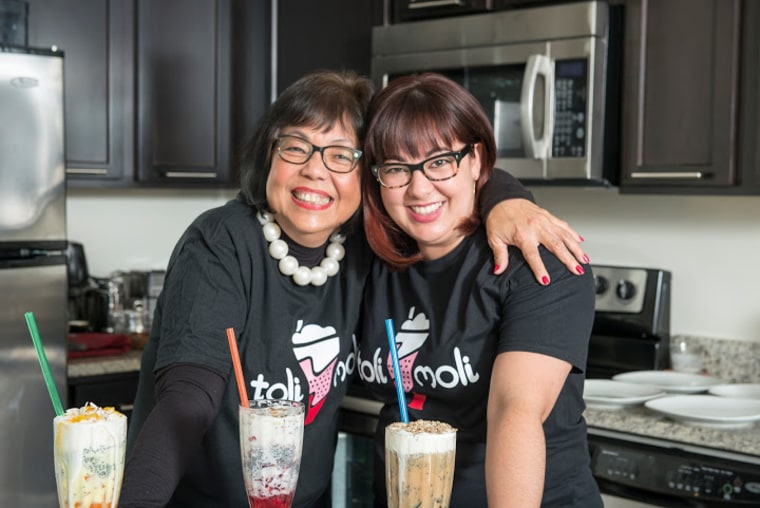 According to the pair, falooda's origins date back to ancient Persia, making it one of the oldest known desserts. Originally, the basic ingredients of falooda included vermicelli noodles, rose water, and semi-frozen sugar syrup. With Turkish conquests, Muslim merchants introduced the food to India. The present day version of falooda is generally consumed as a dessert or a sweet, cold drink enjoyed between meals.
"I actually didn't even know that falooda is something people ate in other countries — people in Iran, Iraq, Pakistan, and all over Southeast Asia," Jacobson said.
RELATED: From Dumplings to Bubble Tea, Asian Street Food Goes Artisanal
Growing up in Rangoon, Burma, some of Law-Yone fondest memories involved having falooda with family and friends. "When the conversation [after dinner] would kinda be winding down, someone would say, 'Oh, let's go have some falooda.' And everyone would jump up and run to the car," Law-Yone told NBC News. "No matter what, it was just something wonderful to go and have."
"Falooda is such a good fit because it reaches all generations. It's not an alcoholic beverage, although we can add some bourbon."
Law-Yone and Jacobson are channeling the communal falooda experience in Burma through Toli Moli. They say they're on a mission to change snack culture in the United States by "bringing people together" over falooda. Rather than eating on-the-go or snacking through work, Jacobson hopes people can view snack time as an opportunity to stop their day and get together over something cold and sweet. "Falooda is such a good fit because it reaches all generations," Jacobson said. "It's not an alcoholic beverage, although we can add some bourbon."
The pair said they decided to start Toli Moli after brewing on different business ideas for ten years. They said a falooda shop felt like the right move due to their mutually fond connection to the product. In addition, they weren't able to find falooda on a regular basis anywhere in Washington, D.C. "Trust me, we've tried," Law-Yone said. "It's one of those random things if you're in an Indian restaurant or a Burmese restaurant, it's like 'Falooda on Sundays' but it's not really on the menu."
Jacobson had been managing restaurants for the last few years and entertained several fast casual concepts for Burmese food. In the end, she decided that the overhead costs for a restaurant were too risky, as well as the fact that her mother Jocelyn was getting too old to work in a hot kitchen.
"I wanted something that would be a lot of fun, we could enjoy ourselves and bring some joy to other people," Law-Yone said.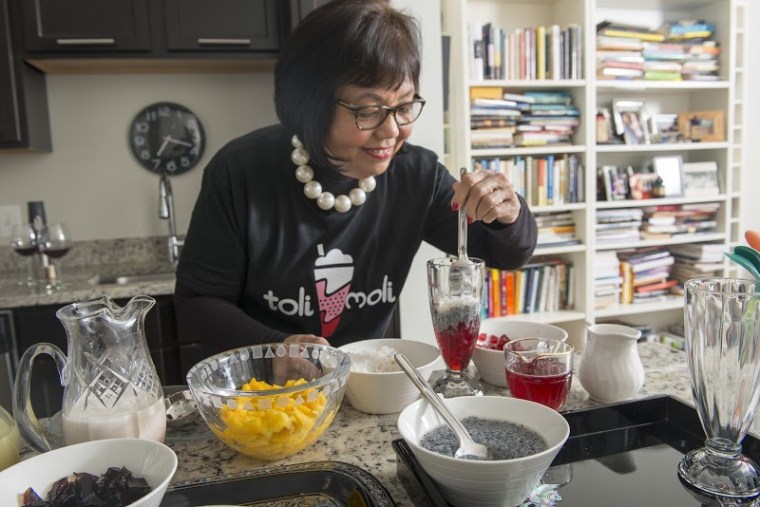 Law-Yone and Jacobson spent nine months in the test kitchen creating original jellies, syrups, and falooda flavor combinations. One of their proudest accomplishments has been developing a rose syrup from all-natural ingredients and no preservatives. While there are many variations of falooda, the most typical one called, "Royal Falooda," is a bright pink dessert made with a popular red "rose" syrup, milk, tapioca, and ice.
"It's a rose syrup but I don't know, it's just full of chemicals," Law-Yone said.
"If you look at the label it would totally freak you out," Jacobson added. "Like red number 40, xanthan gum … We started thinking about my three-year-old niece, Maya, and there's no way we're gonna feed this to her. If we're not gonna feed it to Maya, we're not gonna be proud to feed it to other people."
RELATED: Move Over Cronut, Meet the Milky Bun and the Men Who Made It
For the next nine months, the two worked with natural fruit and pure rose water to develop a healthier syrup with a similar color quality.
Then, they hosted weekly tastings to test out their product before going to market. Jacobson says she invited a wide range of people including chefs, restaurant owners, and friends — many of whom were trying falooda for the first time. "We tested it on lots of different people, different ages, different ethnicities," Jacobson said.
As the first business venture together, Jacobson would often joke with her mom that they chose a "get rich slow" idea because of the complicated steps to making their faloodas. "It's really labor intensive," Law-Yone said. "But the faloodas that came out of our heads, no one is making those faloodas."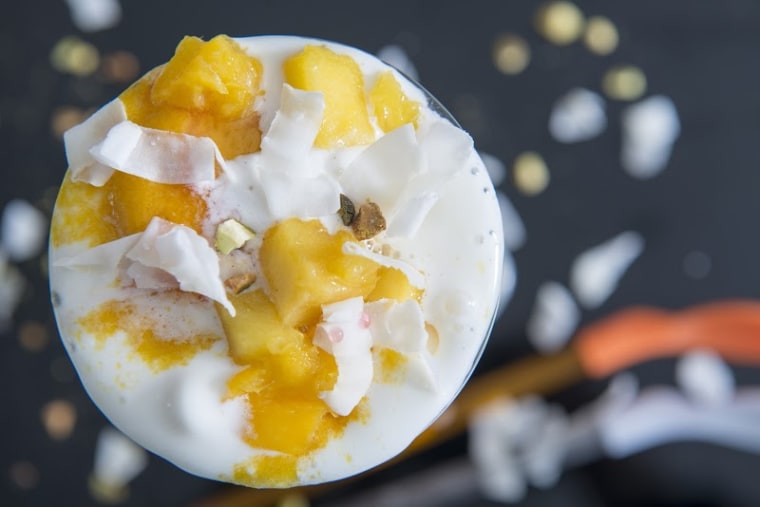 With three types of falooda currently on the Toli Moli menu, "Royal Falooda," "Mango Mogul," and "The Black Eye" (a Coffee-flavored variation), there are sixteen different ingredients — with all the jellies, pudding, and syrups being made from scratch.
But Law-Yone and Jacobson say all the hard work has been well worth it. More than 300 people showed up to the first Toli Moli pop-up at Eats Place in January to their surprise. People waited for an hour and a half to get their hands on a cup of falooda. "I'd be running around looking at [the customers'] faces thinking, they must be angry waiting for this product, but they're so wonderful! People are just so inviting and kind, it's been such a lovely experience." Law-Yone said.
After three pop-ups in three months, Toli Moli has now earned a spot in Washing D.C.'s Union Market. Starting this month, Toli Moli will be open six days a week for a trial six weeks — with hopes of an extended stay. "From the beginning my mom said 'I wana be in Union Market' and we just put it out there," Jacobson said.
"We were really honored that they came to us with open arms. It's amazing." Law-Yone said.
Now, their team grows with their vision. While Jacobson and her business partner, Eric Wang, both balance full-time jobs outside of Toli Moli, they've hired a store manager, Rhiannon Daniels, to assist Law-Yone with front of the house duties at Union Market. As the matriarch and chef, Law-Yone doesn't plan on slowing down on their "get rich slow" business.
"I am full time for Toli Moli," Law-Yone said.
"She's gonna be there, if not eight days a week," Jacobson added.
Follow NBC Asian America on Facebook, Twitter, Instagram, and Tumblr.