Toni Okamoto was trying to make her family healthier when she started the blog that would become Plant Based on a Budget, a website for meal planning, recipe sharing, and education about the affordability of a vegan diet.
By the time she first posted vegan recipes on her family blog in 2012, she had seen her grandfather pass away due to complications from heart surgery and an aunt amputate a toe and foot due to Type 2 diabetes.
"I had just started learning more about food issues, so in my early 20s, I thought, 'OK, this is really frustrating and sad for me to sit here and do nothing while my family is suffering," Okamoto told NBC News.
"It takes a lot of courage and effort to relearn all of the things you've been taught about food and that is difficult. Pat yourself on back for every healthy meal you eat and every day you choose plant based."
But over the past five years, Plant Based on a Budget has built a growing reader base, with more than 120,000 followers on Facebook.
The success has allowed, Okamoto, now 30, to author a cookbook, "The Super Easy Vegan Slow Cooker Cookbook," which highlights 100 healthy, low-maintenance recipes, as well as co-author "The Friendly Vegan Cookbook." She was also featured in "What the Health," a documentary on plant-based diets released on Netflix in June.
"The feedback for my segment has been amazing," she said. "I can't believe how many people are inspired to eat plant-based after watching the film. I'm so grateful to have had a small part in it all."
Growing up in a multi-ethnic household in Sacramento, California, Okamoto learned first hand the importance of maintaining a healthy diet.
Every day before high school track practice, she would eat lunch at a fast food chain located across the street. But within minutes, she'd immediately feel sick to her stomach.
"It was not healthy for me to eat that way," Okamoto said. "My track coach said, 'why don't you stop eating fast food and try cutting back on red meat?'"
As Okamoto changed her diet, she saw herself "thrive" as a runner and — after participating in a two-week vegetarian diet challenge with a friend — eventually decided to transition into a full-vegetarian diet.
The four-year transition to a vegan diet for ethical reasons was more gradual, Okamoto said.
"I stopped eating beef, then getting broth beef and stopped drinking cow's milk and butter," she said.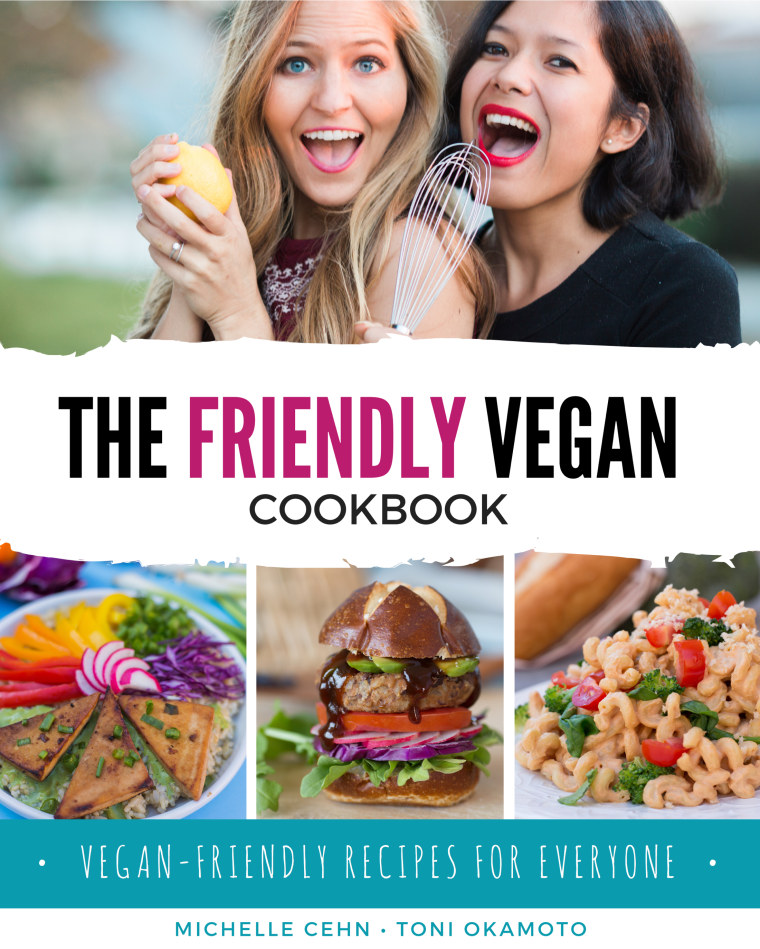 In an effort to inspire healthier eating options for her family, Okamoto began compiling plant-based recipes. But when she put the recipes up, she was shocked when many of her family members expressed the concern that it was too expensive for them to eat the way she did.
"That's when my family food blog turned into a blog that challenged the misconception that plant-based food is only for privileged people," Okamoto said. "I wanted to provide everyone resources that gave them inspiration and drive to eat healthy."
Okamoto stresses the importance of providing early nutrition education in schools and avoiding processed foods.
"Nutrition education is nonexistent in many low-income communities of color," she said. "It's important to feed children healthier food."
Having grown up in a low-income family, Okamoto focuses particularly on budget-conscious recipes. Her meal plans can be as inexpensive as $25 per week per person and include a grocery list that shows how to use 100 percent of the ingredients while staying within budget.
There's also a focus on ease — when she doesn't have time to cook, Okamoto pre-plans her meals and uses her slow cooker, letting ingredients cook overnight.
"While I sleep, I cook beans overnight, and in the morning I'll add chili and stuff, and when I'm at work, I'll cook it," she said. "When I come home, I have dinner, and the rest of the week I'll have leftovers."
Okamoto said that she wants people to know that Plant Based on a Budget is not an all-or-nothing decision and that every bit of progress toward a health goal is something to be proud of.
"It takes a lot of courage and effort to relearn all of the things you've been taught about food and that is difficult," she said. "Pat yourself on the back for every healthy meal you eat and every day you choose plant based."
Follow NBC Asian America on Facebook, Twitter, Instagram and Tumblr.