Dearborn, Michigan — home to the largest Arab-American enclave in the country — resoundingly backed both the first major Jewish candidate to run for president and a reality TV celebrity infamous for his proposal to ban Muslims from entering the United States.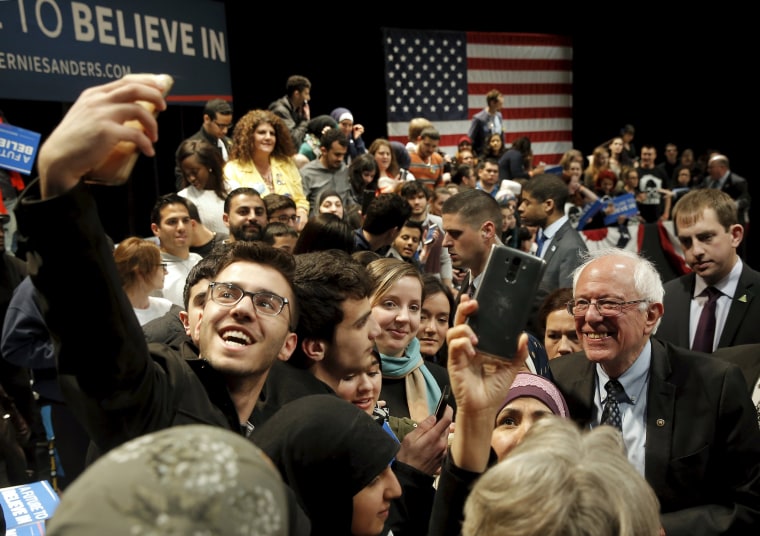 Overall, Michigan voters were full of surprises in its presidential primary Tuesday night, handing an upset victory to Bernie Sanders and launching Donald Trump to win three states throughout the night. The pair of wins keep alive a presidential contest already chock-full of unpredictable turns, keeping Sanders in the race while many had already counted him out, and setting up Trump perilously close to running away with the Republican nomination.
The most fascinating results came out of Dearborn, where about 41 percent of voters are Arab-American. Sanders claimed an uncontested lead there with 59 percent of the vote to Hillary Clinton's 39 percent.
Sanders had focused much of his campaigning efforts in Dearborn, holding events there twice over the last month to blast Clinton for her role in Libya's regime change and her record on trade. Over that time he released a radio ad in Arabic that also condemned his Republican opponents and cast himself as a voice of inclusion. And in his final swing through Michigan on Monday night, Sanders told the crowd that he had met with Arab-American leaders and vowed that Trump and his supporters were not going prevail in scapegoating minority communities.
"We are going to end bigotry in this country once and for all," Sanders said during the rally.
Even more surprising were Trump's results on the Republican side. There he came ahead of runner-up John Kasich by roughly 10 points, with 39 percent to the Ohio governor's 29 percent.
The candidate split comes amid a heightened climate of Islamophobia as the Arab-American community has been forced to shoulder much of the public's anxiety toward terror groups abroad and fear of more attacks. Muslim leaders have reported a number of potential hate crimes and attacks against the community throughout the U.S.
And yet, in a state with a deep history of acceptance toward the Arab community, Michigan Republicans reflected the feelings shared by an astounding majority of GOP voters – they support Trump's plan to temporarily ban Muslims, who are not U.S. citizens, from entering the country.
According to exit polls, 63 percent of Republican voters supported the proposal, 46 percent of which were Trump supporters, compared to 32 percent who said they were opposed.
This story originally appeared on MSNBC.
Follow NBC Asian America on Facebook, Twitter, Instagram, and Tumblr.