This post appears courtesy of Asia Society.
The chef Edward Lee, a four-time James Beard Award nominee, is the owner of the critically-acclaimed restaurants 610 Magnolia, Milkwood, and Succotash. Raised by Korean immigrants in Brooklyn, Lee was based in New York until a road trip to the South inspired him to relocate to his current hometown of Louisville, Kentucky. Since then, Lee has risen as a prominent Southern chef known for drawing from his culture and experiences to blend Asian and Southern flavors. He has appeared on several TV shows including "Top Chef" and "Mind of a Chef," written the cookbook "Smoke and Pickles: Recipes and Stories from a New Southern Kitchen," and even designed his own bourbon.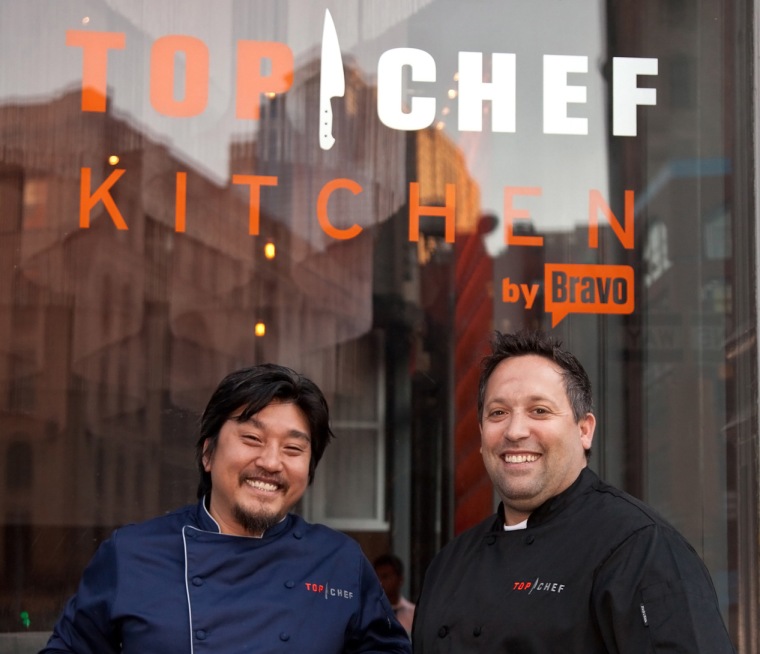 In an interview with Asia Blog, the highly-accomplished chef chats about his beginnings in the culinary world, pairing stinky tofu with Kentucky country ham, and why "lo-mein is as American as apple pie."
You graduated from New York University magna cum laude with a degree in literature. What made you decide to pursue a culinary career?
Food and literature have always been my two great passions, from the time I was a teenager. I originally thought I wanted to be a writer right out of college. I took a stab at it, but, you know, it's a really lonely life to be alone with your thoughts and a laptop all day long. I was in my early 20's and was a night owl. I wanted to be in a place with high-voltage energy and booze and decadence. Restaurants were right up my alley. It was easy to find a job back then. I had always worked in restaurants in the city from the time I was 15, so I knew my way around a restaurant from diners to fine dining. After a few weeks, I was hooked. I loved every minute of it. I never looked back. But now, many years later, I find myself being less social and the allure of spending hours at a time writing sounds just fine to me.
With your use of Korean flavors in Southern cooking, do you think it's important for chefs to draw from their heritage in creating food? Why or why not?
You don't choose the heritage you are born into, it forms your identity in ways that you can never truly understand, so yes, it is important to confront it. But cuisine is fluid and nothing says you have to cook the food you ate as a child. However, I think as you gets older, you find yourself looking at cuisines from a perspective that harkens back to your youth. It is inevitable. And that's what makes the American interpretations of global cuisine so interesting because it is never a mono-cultural approach to French, or Vietnamese or Mexican food. It is always a hybrid.
You've been praised for your creative approach to food that incorporates different flavors and techniques. What is your favorite unexpected combination of ingredients that you've used in a dish that worked really well? How about a combination that you tried that didn't quite work?
Something working well or not is just a matter of perspective and time. Some dishes don't work out because the time and venue aren't right. I have had unsuccessful dishes locked away in my memory and reintroduced them in a different environment to great success. So I never try to self-evaluate what works or doesn't. It is about persistence and perspective. Right now I am into stinky tofu paired with thin slices of Kentucky country ham. It is weird but it works on my palate.
There seems to be a recent surge in popularity of modern Asian cuisine along with a reinvention of Asian-American cuisine. What do you think caused this?
There is a long history of Asian food in America — in fact it is so deeply a part of the American palate that I don't really think of it as foreign. Lo-mein is as American as apple pie. But our American love affair with Asian flavors is cyclical and every generation will reclaim it in a new incarnation as part of their own identity. That is all that is going on now. Juxtapose that with an ever more complex American palate and the access to wild Asian ingredients that were never available to chefs before, and you have the perfect conditions for a renaissance. It is truly an exciting time to eat at Asian-inspired restaurants right now.
How do you think food-related TV shows like "Top Chef," "Mind of a Chef," "Chef's Table," etc. are influencing the culinary industry?
There's no going back. We have crossed a threshold where the American public is more and more fascinated by what goes on behind the doors of the kitchen. I don't see that changing anytime soon. As chefs, we all adapt. It's really not my place to analyze it. I just roll with it. And try to have some fun along the way.
Who likes their food spicier — Koreans or Southerners?
Koreans like a steady piquant heat that pervades everything they eat. Southerners don't put heat in everything, but when they do, it is usually to burn a hole in something.
Follow NBC Asian America on Facebook, Twitter, Instagram, and Tumblr.
RELATED