When Wesley Woo and Zach Hing started a crowdfunding campaign for their band's album, they knew it had to be about more than making music.
"I [didn't] want to just be like, 'We need money because we're doing a record,'" Woo, one of the lead singers of Trace Repeat, told NBC News. "That's silly and everyone has a campaign like that."
The six-piece funk and soul band's eventual Indiegogo campaign was about much more than making an album. It was an outright rebuttal of the limited characterizations of Asians in the entertainment industry. It is a message that the Oakland-based band — with all three of its singers being Asian American — finds difficulty ignoring.
"[People come up to us like,] 'That was really great, but there's someone else usually fronting this band, right?'" said Woo, who is Taiwanese American. "Or they'll just come up to us [and say], 'I can't believe that you're Asian and you're making music like this.'"
"In a perfect world, I'd like people to say, 'You know what? This is a great funk band.' Not a great funk band, fronted by two Asian-American musicians."
It's why the lack of meaningful representation of Asians in the media was front and center in their campaign. Because, as Woo says in their Indiegogo video, when faced with the "dopey, emasculated, sidekick, it becomes exponentially more difficult to defeat these stereotypes."
"This Indiegogo is a chance, a call to action," Zach Hing, one of Trace Repeat's other lead singer, told NBC News. "More importantly than raising money, it's going to raise awareness of this issue. You're promoting your music, but at the same time, you're shedding light on a bigger issue that affects not just you, but the next Asian-American musician."
The band's musical inspiration comes from artists like Stevie Wonder, The Temptations, and Marvin Gaye, and their style and aesthetic is a homage to all things vintage — from the way they dress to their campaign giveaways, like engraved pocket watches and typewritten thank you notes.
And in a world that doesn't leave much room for Asian men outside of the "dopey, emasculated sidekick," the band stands out for what they call their "unapologetically sexy" style.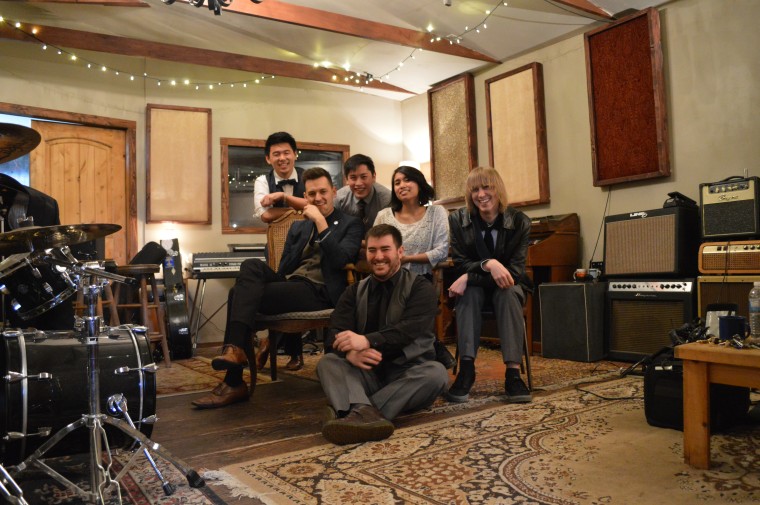 "When I was growing up, the Asians I saw on TV were the Jackie Chans, the William Hungs — these really stereotyped, de-masculinized Asian men that are typecast into these roles," Woo said. "When you're growing up, 13 or 14, that's just what you come to understand as all that Asians can do."
Although Hing grew up in different parts of Asia, including Shanghai and Kuala Lumpur, when he got to the U.S., he said he wasn't shocked by the depictions, or lack thereof, of Asians in media.
"There were foreigners living in China and I noticed that they were treated a little bit differently," he said. "If you were a white guy living in Shanghai ... you could get away with a lot more — that aspect of the western appeal affects all these countries. We unconsciously know it."
While the band wasn't sure how people would respond to their overtly empowerment-themed campaign, the message resonated. Trace Repeat raised more than $8,000 — most of it from strangers — and surpassed their goal by more than 50 percent.
"Asian empowerment [is] kind of a quiet thing right now," Khrizia Kamille, a Filipino American who sings and plays percussion in the band, told NBC News. "It's a symptom of the people it should be represented by. I'm really happy we're here to make a splash into that."
The other three members of the band — David Kaiser-Jones, Dan Wilson, and Ben Peterson, who aren't Asian — recognize that the theme of the campaign was necessary.
"You have to have an Asian empowerment theme when you're playing funk music and the band looks like it does," said Kaiser-Jones, who plays trombone. "We're not talking about it at shows, it's not in the lyrics. It's bold just by virtue of who the band is. You can't avoid it."
Now that the band's reached its funding goal, they've got their eyes set on two things: releasing an album sometime this year, and conquering upcoming performances at South by Southwest in Austin, Texas, this month.
But the ultimate goal for the band is to just be able to play good funk music.
"I want to take the music industry to the point where we don't have to make an Indiegogo campaign about making a record and being Asian American," said Woo. "We can make a record and be [just be] Asian American."
It's something everyone in the band can agree on.
"In a perfect world, I'd like people to say, 'You know what? This is a great funk band,'" said Hing. "Not 'a great funk band fronted by two Asian-American musicians.'"
Follow NBC Asian America on Facebook, Twitter, Instagram and Tumblr.