Rookie New York Police Department (NYPD) Officer Peter Liang violated key critical life-and-death training when he recklessly pulled out his gun, fired without reason, and then argued with his partner over calling for help as the man he allegedly shot lay dying in the stairwell of a Brooklyn housing project, prosecutors told jurors Monday.
During opening statements in State Supreme Court in Brooklyn, Assistant District Attorney Marc J. Fliedner said that after the shot rang out on Nov. 20, 2014, neither Liang, 28, nor his partner Officer Shaun Landau called it in to supervisors, even though both had working radios and cellphones.
And after descending the stairs from the eighth- to the fifth-floor landing of the Louis H. Pink Houses where Akai Gurley, 28, lay bleeding from a single bullet that ricocheted off the wall and entered his heart, neither officer stepped in to help Gurley's friend, Melissa Butler, perform CPR, Fliedner said.
"This man had just shot an innocent man, and he never even knelt to try to fix what he'd done, to try to undo what he'd done," said Fliedner, kneeling in front of the jury box.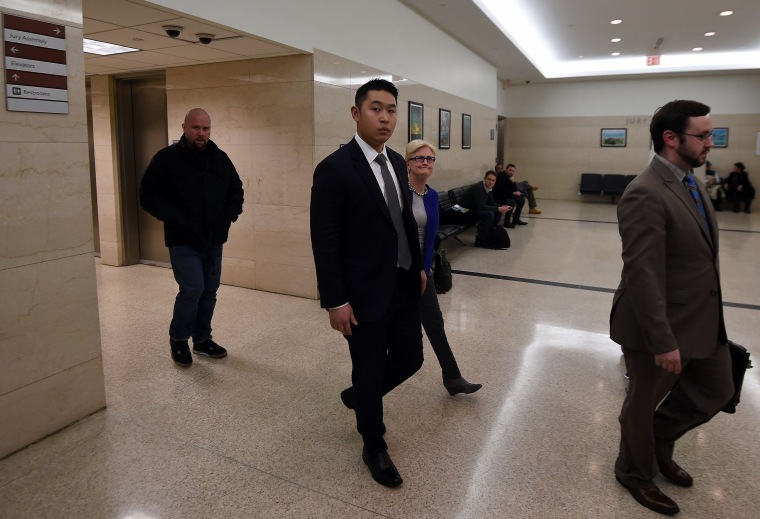 Defense attorney Rae Downes Koshetz told jurors that Liang, who is on trial for second-degree manslaughter and other charges, was in a "state of shock" when his gun accidentally went off, and that he was unaware the bullet had struck anything. Koshetz also said there was no NYPD rule barring police officers from unholstering their weapon, saying it is done frequently.
"He has his gun out because he's on his way to the roof, the most dangerous place in a dangerous place," Koshetz said, referring to a patrol Liang and Landau were conducting of the pitch-dark stairwell Gurley and Butler entered around 11 p.m. from the seventh floor.
Koshetz said Landau, who was not charged, refused to call in the shot himself or allow Liang to use his cellphone, which had a sergeant's phone number stored in it. Liang, who Koshetz said tried to make several radio transmissions that were incomplete or didn't go through, was so upset about what had happened that he had to ask for the address of the building a couple of times and write it in his cellphone before transmitting it correctly, Koshetz told the jury.
"His ears were ringing, he's hyperventilating, he needs oxygen," she said. "By the time the first supervisor arrives, Peter is unable to communicate except to say that he shot Mr. Gurley by accident."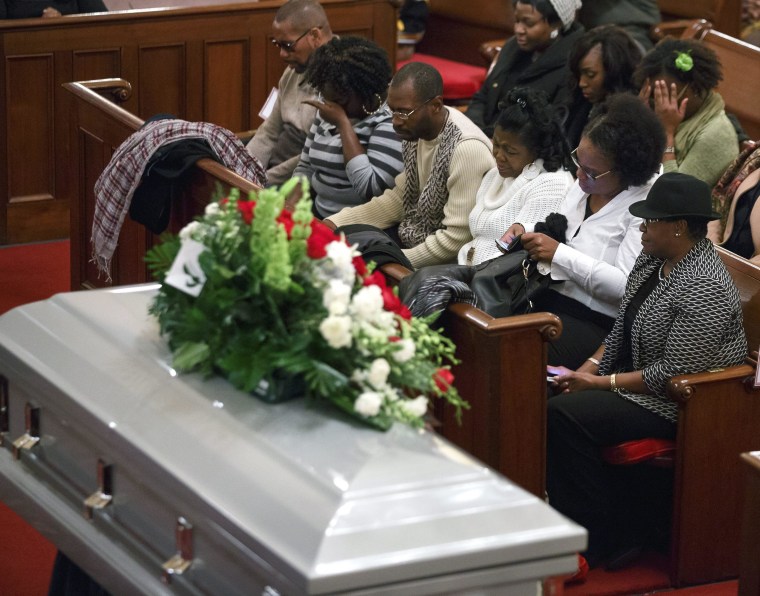 Following opening statements, prosecutors first called Gurley's domestic partner, Kimberly Ballinger, to testify about making a positive identification of Gurley's body at the Brooklyn morgue. Melissa Lopez, the second witness, provided a detailed account of the events surrounding the 911 call she made after Butler knocked on her door.
The tape, on which Butler can be heard crying, was later played in the courtroom.
"By the time the first supervisor arrives, Peter is unable to communicate except to say that he shot Mr. Gurley by accident."
That November night, Lopez was home with her two kids, and her husband was getting ready to work the midnight-to-eight shift when they heard a single shot fired, she said. There was a knock at the door, but Lopez said when she looked out the peephole, she didn't see anyone in the hallway. A second knock followed, and Lopez said when she opened the door, she saw Butler, crying and holding her hands out, palms up, covered in blood.
Lopez telephoned 911, and after giving a police operator the building's address and other information, she was transferred to an emergency medical dispatcher who provided first-aid and CPR instructions and told her an ambulance was on its way. According to the tape, Lopez shouted those instructions over to Butler, saying she should "give him two breaths and then press down on his chest."
Lopez, who was in the stairwell, said about a minute or two went by between the time she heard the knock at the door and when she gave Butler a bath towel to apply to Gurley's wound. "Everything was happening really fast," she said.
While still on the phone, Lopez said she looked up and saw the officers coming down, one of whom was Asian.
Liang, she said, was not crying, adding that "he was able to talk to me, he was able to walk to me." Liang had a cell phone in his hand and asked for the building address, which she told him more than once, Lopez said. On cross examination, though, defense attorney Robert Brown read back testimony Lopez gave to the grand jury, during which she described Liang's emotional state as being "stuck" or "shocked."
RELATED: 'Scapegoat': Supporters Rally for Indicted NYPD Officer Liang
RELATED: March Planned to Mark Anniversary of Death of Akai Gurley
The question of whether Liang should have been indicted last February has brought Asian Americans into a wider national debate about the role police officers have played in incidents involving civilian deaths, many of them black men. Some, who have attended rallies in support of Liang, believe that the Chinese-American officer has been made a scapegoat to compensate for the lack of indictments in other fatal incidents involving police, including the 2014 chokehold death of Eric Garner in Staten Island.
Others, including members of CAAAV Organizing Asian Communities, a group that addresses police and hate violence toward Asian immigrants, have maintained that the indictment was just and that Liang must be held accountable.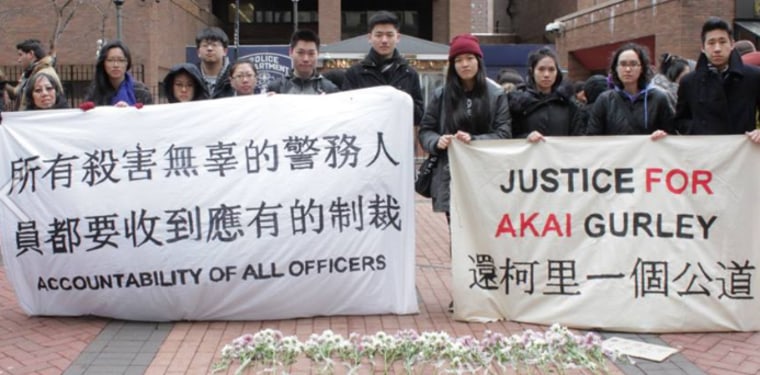 Koshetz told the jury in her opening statement that the NYPD is not on trial, nor is the trial "a referendum on policing in the United States."
At a midday news conference arranged outside the courthouse, Gurley's aunt Hertencia Petersen told reporters there is a void in Gurley's mother's heart that will never be filled.
"If we could bring you back again, we'd say we treasured you and that your presence in our lives meant more than we ever knew," she said.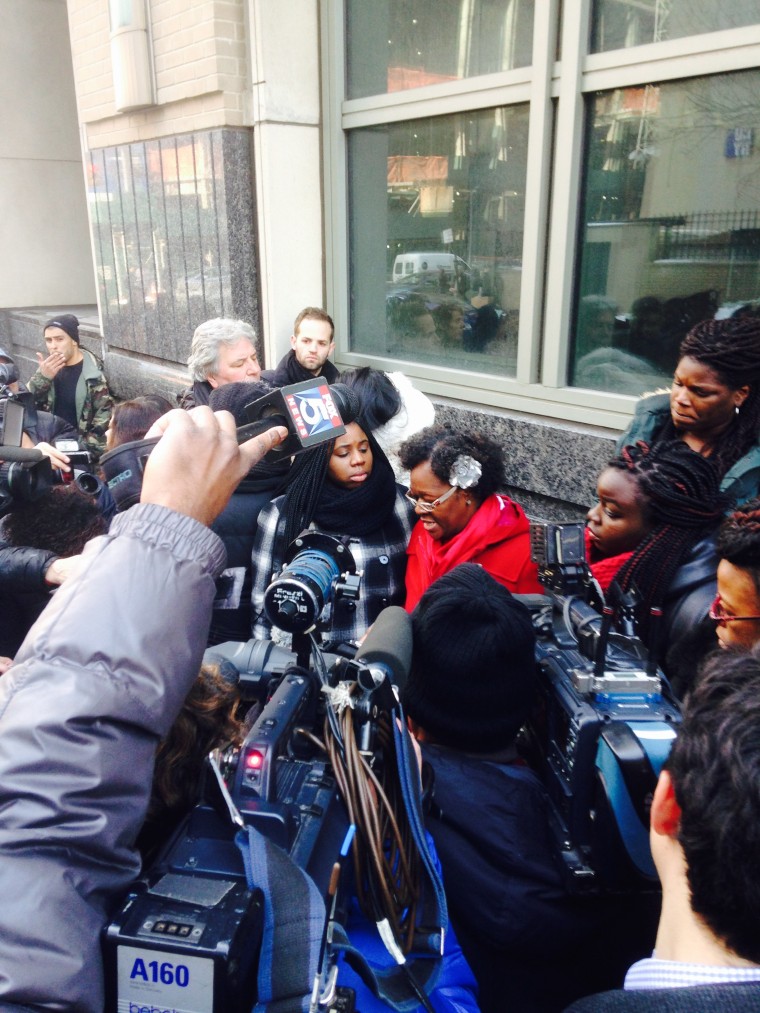 During the conference, several Gurley supporters had brief, if tense, exchanges with NYPD and court officers who, in trying to keep the sidewalk clear, asked everyone to move across the street.
Monday's proceedings drew more than 70 people — many of them friends, family, and supporters of Gurley — who packed the second-floor courtroom on Jay Street. Liang's mother, with some of her son's supporters, attended in the afternoon, sitting several rows behind Liang. Those proceedings were cut short, however, after a prosecution witness who was scheduled to testify was unable to take the witness stand.
Justice Danny K. Chun said the jury could get the case around Feb. 8, earlier than anticipated.
Butler and Landau are expected to testify for the prosecution, which said it would likely rest either next Tuesday or next Thursday. After that, the defense will have an opportunity to present its witnesses.
RELATED: On Trial for Second-Degree Manslaughter, NYPD Cop to Testify
RELATED: Cop Accused of Fatally Shooting Unarmed Black Man May Have Had Defective Gun, Lawyers Say
Earlier this month, Robert Brown told NBC News that Liang would likely take the stand in his own defense. He also said in December that he planned on calling a firearms expert, who would testify about a possibly defective trigger spring in Liang's gun, and a police procedures expert to explain why Liang had his weapon drawn while patrolling the darkened stairwell at the Pink Houses.
If convicted, Liang could face up to 15 years in prison.