Peter Liang, the New York Police Department (NYPD) officer accused of fatally shooting an unarmed black man in a Brooklyn housing project in 2014, will testify in his own defense, his attorney told NBC News. A pretrial hearing is expected to begin Tuesday.
Liang, an NYPD officer for less than two years, was patrolling a darkened stairwell at the Louis H. Pink Houses with his partner, Shaun Landau, that Akai Gurley and his girlfriend had entered on Nov. 20, 2014, around 11 p.m. when Liang's gun went off, police said. The single bullet was said to have ricocheted off the wall, striking and killing 28-year-old Gurley.
Robert E. Brown, a former NYPD captain who took over as one of Liang's attorneys in November, declined to comment on what Liang might say on the witness stand.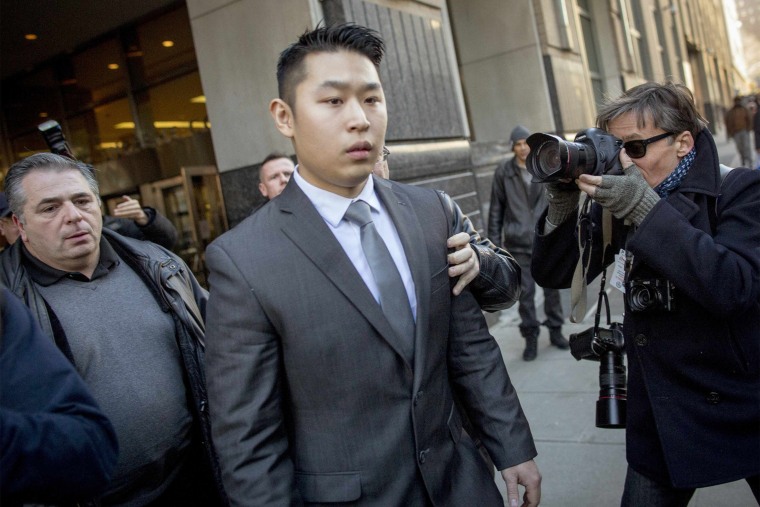 For Tuesday's pretrial hearing, Brown said he anticipates a police lieutenant who heard Liang say he shot Gurley by accident and who recovered Liang's gun will be called by prosecutors to testify. Jury selection is scheduled to begin Thursday and will likely take at least two days to complete, Brown said. Opening statements could begin as early as Jan. 25 or Jan. 26, he said.
Liang, who pleaded not guilty to second-degree manslaughter and other charges last February, has opted to be tried by a jury instead of a judge, Brown said. Liang does still have the right to switch to a bench trial if he chooses, he added.
Liang's attorneys will also consider whether to file a change of venue to have the case tried elsewhere, Brown said. That decision will depend on whether they believe they can select an impartial jury, he said.
RELATED: Cop Accused of Fatally Shooting Unarmed Black Man May Have Had Defective Gun, Lawyers Say
In addition to Liang, Brown said they plan to call a firearms expert to the witness stand. Brown told NBC News in December that the trigger spring on Liang's gun may have been "defectively installed." He said that a Glock 9-mm handgun requires 12 pounds of pressure to activate the trigger, but that according to a ballistics report, Liang's weapon needed only 11.5 pounds.
At the time, Brown also described as inaccurate claims that, according to prosecution court documents, Liang and his partner argued for two minutes over who should report the shooting to their superiors, and that the officers waited almost 20 minutes before radioing in to report an "accidental fire."
In response to Brown's statements, a spokeswoman for the Brooklyn District Attorney's Office told NBC News in December that "we intend to present the evidence in this case at trial."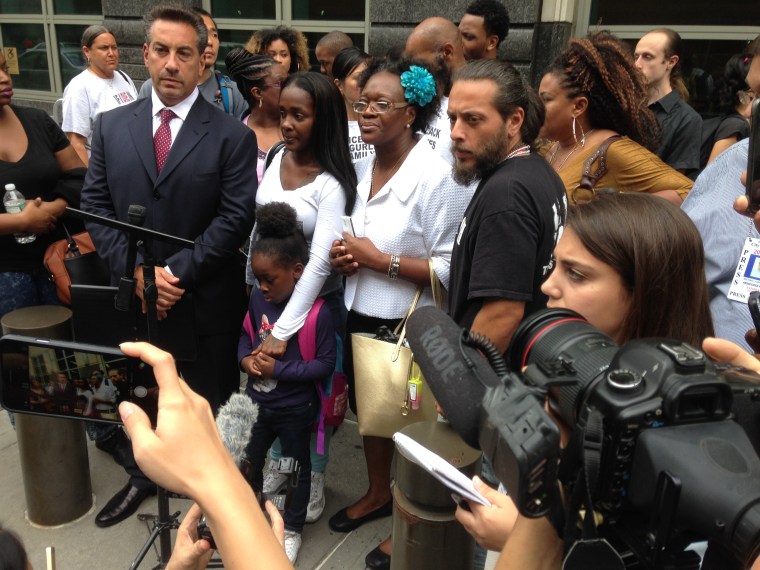 Since the indictment last February, the case has stirred a maelstrom of emotion within the Chinese-American community, with some saying Liang must be held accountable for Gurley's death. Others argue that Liang is being made a scapegoat to compensate for a lack of indictments in other fatal incidents involving police officers, including the 2014 chokehold death of Eric Garner in Staten Island.
Members of CAAAV Organizing Asian Communities, a group that addresses police and hate violence toward Asian immigrants, have attended hearings at the Brooklyn courthouse and have staged and participated in rallies in support of Gurley. Chinese Americans have done the same for Liang, including holding a demonstration outside City Hall last March that organizers said attracted between 1,800 and 2,000 participants.
RELATED: 'Scapegoat': Supporters Rally for Indicted NYPD Officer Liang
RELATED: March Planned to Mark Anniversary of Death of Akai Gurley
Last November, Brown and Rae Downes Koshetz replaced Liang's former attorney Stephen C. Worth, whose primary client is the Patrolmen's Benevolent Association, the union for NYPD officers. Koshetz served for 14 years as a deputy commissioner with the NYPD, supervising and presiding over disciplinary trials of civilian and uniformed members of the police department on everything from rules violations to homicides.
Gurley's family filed a civil lawsuit last May against Liang, Landau, and the New York City Housing Authority on behalf of Gurley's daughter and mother.
While Brown called Gurley's death tragic, he said Liang's actions were not criminal.
"Whether or not it's civil negligence, that's a completely different determination," Brown said. "Whether or not there was a training issue in the police department, whether or not there's an issue of his gun being defective, those are all questions for a civil jury to determine."