An optometrist who addressed the Republican National Convention, a Utah attorney general, and a former labor secretary are among the more than two-dozen members of Donald Trump's recently formed Asian Pacific American advisory committee, his campaign announced Sunday.
With little more than a month to go before the general election, the committee will meet with Trump and running-mate Indiana Gov. Mike Pence to discuss Asian American and Pacific Islander (AAPI) concerns about education, employment, and the economy, Trump campaign coalitions advisor Jason Chung told NBC News.
The GOP also released a one-minute video, to be aired on its website, that features AAPIs explaining why they will vote for the real-estate mogul.
Asked why the campaign waited until now to announce the advisory committee, which was formed back in July, Chung said, "We're trying to highlight Mr. Trump's record and his accomplishments and what he wants to do for the American people. What better way than to do that right before the debate, when millions of Americans will be tuning in."
Committee members — including elected, appointed, and grassroots leaders — were chosen to represent both ethnic and geographic diversity within the AAPI community, Chung said.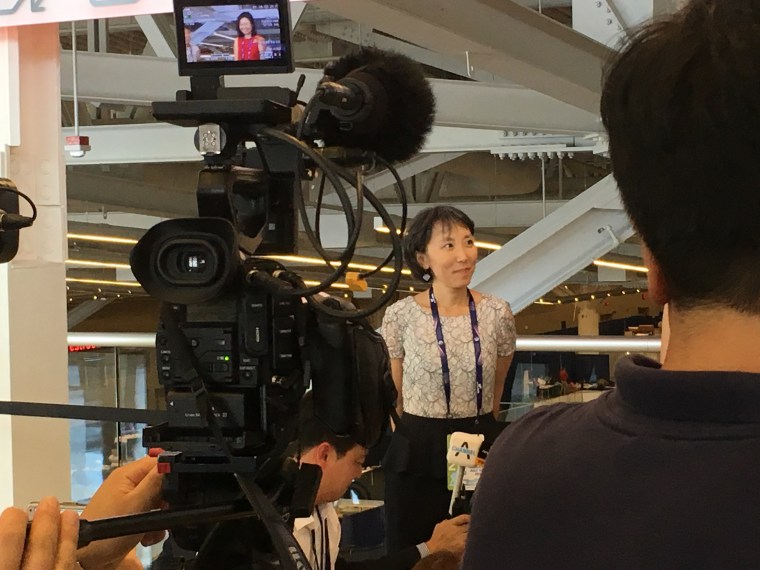 Among them are Korean Americans for Trump founder Lisa Shin, who spoke at the Republican convention; Utah Attorney General Sean Reyes, the son of a Spanish-Filipino immigrant father and a Japanese-Hawaiian mother, who represented Trump at the 2016 Presidential Election Forum hosted by Asian and Pacific Islander American Vote and the Asian American Journalists Association; Tian Wang, one of the organizers of Chinese Americans for Trump; and former Labor Secretary Elaine Chao, who was born in Taiwan and became the first Asian-American woman appointed to a U.S. president's cabinet.
RELATED: Immigration, Diversity Front and Center at 'Quad-Partisan' Presidential Election Forum
Guam Gov. Eddie Calvo and Northern Mariana Islands Gov. Ralph Torres will serve as co-chairs.
Some of the committee's members are also part of Trump's National Diversity Coalition, which the campaign announced in April as a way to reach out to minority voters, including AAPIs, blacks, and Latinos.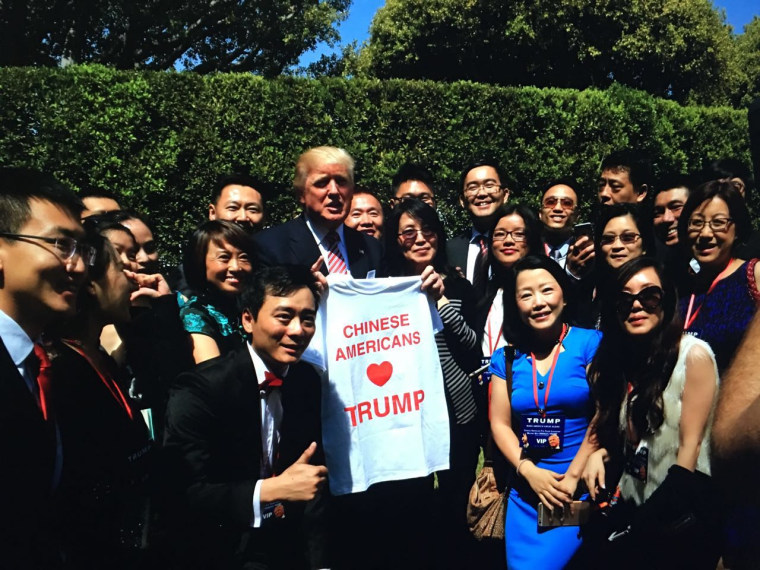 Trump was trailing Democratic nominee Hillary Clinton by six points, according to a NBC News poll released last Wednesday, as the two candidates head into their first presidential debate on Monday, to be moderated by NBC Nightly News anchor Lester Holt.
Among Asian-American registered voters, in particular, the GOP and Trump are both viewed less favorably than the Democratic party and Clinton, according to a survey released in May by three nonpartisan advocacy groups.
RELATED: Attracted by Immigration, Education Policies, Some Chinese Americans Stump for Trump
As Republican National Committee director of Asian Pacific American engagement, Chung said he and his party have been working to change the mindset of Asian Americans, who accounted for 3.8 percent of nationwide eligible voters in the last presidential election, according to the Census.
"Come November, the polls will reflect that Mr. Trump will have support among Asian Americans."
Those efforts have included the party's Republican Leadership Initiative, which recruits and trains grassroots leaders in AAPI communities, and now the Trump campaign's APA advisory committee, Chung said.
News of the committee's formation comes more than eight months after the launch of Clinton's own AAPI leadership council. Hers includes more than 150 elected officials and community leaders, such as Rep. Judy Chu (D-CA), Rep. Ted Lieu (D-Calif.), Rep. Grace Meng (D-N.Y.), and Democratic Representative Gregorio Sablan from the Northern Mariana Islands.
RELATED: Asian-American Voters Tip Toward Dems Headed into 2016 Election: Study
While the May survey showed Asian-American voters overwhelmingly gave Democrats the advantage in dealing with a range of issues, from the environment to health care — handling terrorism being the only thing respondents thought Republicans did better than Democrats — Chung said he's confident that Trump's message on the economy and creating jobs will resonate with AAPIs.
The advisory committee and new ad, he believes, will both have a strong impact on helping to deliver that message — even with just 43 days to go before Election Day.
"Come November, the polls will reflect that Mr. Trump will have support among Asian Americans," Chung said.
Follow NBC Asian America on Facebook, Twitter, Instagram, and Tumblr.