President-elect Donald Trump's phone call Friday with Taiwanese President Tsai Ing-wen signals a new openness to improving protection of the island nation, long viewed by China as a breakaway province, according to one Taiwan expert.
But the mixture of a Trump presidency, with a new and uncertain view toward Asia, and a party in power in Taiwan that has historically supported Taiwanese independence could also prove "lethal" in the the next few years, Jerome A. Cohen, director of the U.S.-Asia Law Institute at NYU Law School, told NBC News.
"The combination could lead to a very severe provocation of the regime in Beijing and causing them, especially at a time when the military seems to have great influence, to attack Taiwan or create at least another Taiwan-straits crisis," said Cohen, who is also an adjunct senior fellow for Asia studies at the Council on Foreign Relations.
The exchange between Trump and Tsai made headlines Friday as the president-elect has had talks with a number of controversial global figures, including Philippines President Rodrigo Duterte. Tsai's office confirmed the congratulatory phone call in a statement, saying the friendly discussion touched on such topics as promoting development of Taiwan's national economy and strengthening its national defense.
Trump also tweeted Friday about the call, which a Taiwanese official said was prearranged. Trump noted that Tsai phoned him and in another tweet wrote, "Interesting how the U.S. sells Taiwan billions of dollars of military equipment but I should not accept a congratulatory call."
The last part of that post sparked its own controversy in Taiwan. Some criticized a Chinese-language translation that, according to the Epoch Times, reportedly appeared in several news outlets and made it sound as if Trump should not have accepted the phone call. Those news organizations are largely seen by Taiwanese as supporting closer relations between China and Taiwan.
In 1949, the two sides split amid the Chinese Civil War, and the Nationalist party, headed by Chiang Kai-shek, moved its government to Taiwan. The island later lost its U.N. seat to China in 1971. Eight years later, the U.S. established diplomatic relations with Beijing, recognizing it as the sole legitimate government in China.
The U.S. still maintains unofficial relations with Taiwan, pledging in the Taiwan Relations Act to help the island maintain its self-defense capabilities.
RELATED: As UN Prepares to Convene, Taiwanese Rally for Inclusion
While the phone call is believed to be one of the first between a U.S. president or president-elect and a leader from Taiwan in decades, Cohen said it did not violate diplomatic protocol because Trump, who heavily criticized China on the campaign trail, is not yet president and is still a private citizen.
"Although as a matter of custom and respect for our relations with China, previous leaders have not engaged in such a conversation, I'm not upset about it," Cohen said. "And the Beijing response in public suggested they're trying to play it down in order to maintain the possibility of good relations with Trump."
"Just because something has never been done before," he added, "doesn't mean it shouldn't be done for the first time."
China, for its part, responded to the call in a statement, saying, "It must be pointed out that there is only one China in the world, and Taiwan is an inalienable part of China. One China policy is the political basis of China-U.S. relations."
A spokesperson for the White House's National Security Council said after Trump's phone call that the administration remains "firmly committed to our 'one China' policy."
More broadly, Trump's communications with leaders like Tsai and Duterte, as well as his meeting with Japanese Prime Minister Shinzo Abe in November, could signify part of a larger strategy in Asia, Cohen said.
"And that is to show increasing American strength, that we are not going to withdraw from the Pacific and certainly even the South China Sea, that we're going to fortify our friends there and allies, as well as try to take away from Beijing those countries that show some prospect of going either way — for example, Myanmar, Thailand, Malaysia, the Philippines," he said. "They're all up for grabs now."
Elaine Chao, Trump's choice to head the Department of Transportation, could also play a role in U.S.-China-Taiwan relations, Cohen said. Born in Taiwan to parents from China, Chao served two terms as President George W. Bush's labor secretary.
"What people have noted is her relationship to her husband and his prominence now in the Senate," Cohen said, referring to Senate Majority Leader Mitch McConnell (R-KY). "So this could be a very important influence."
He continued, "Now, it doesn't necessarily mean it's going to be sympathetic to the mainland. If anything, I think it could be the other way. Her sympathies could lie with the rather tough-minded Republican Asia policy."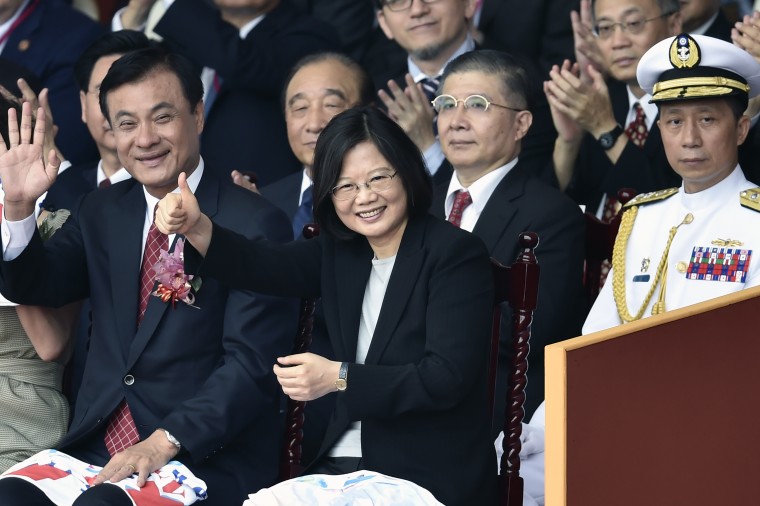 Cohen also reflected on how Tsai's predecessor, former Taiwanese President Ma Ying-Jeou, might have handled a hypothetical call with Trump. During his eight years as president, Ma brought China and Taiwan closer together, signing more than 20 trade agreements with the mainland while earning dismal approval ratings at home with Taiwanese.
RELATED: For Some Taiwanese Americans, a Long-Haul Flight to Vote for President
Ma, whose Nationalist party has historically favored eventual reunification with China, was also one of Cohen's former students at Harvard Law School.
"I don't think [Ma] would have done it without sounding out Beijing, unless relations had begun to sour," Cohen said.
"But this phone call has made people sit up and take a fresh look at the anomalies with our relations with Taiwan and the mainland," Cohen added. "Here we are sending billions of dollars selling weapons to Taiwan, and we can't have a phone call between the leaders? It's kind of bizarre."
Follow NBC Asian America on Facebook, Twitter, Instagram, and Tumblr.