President-elect Donald Trump announced Wednesday the appointment of China critic Peter Navarro to a newly formed White House trade council, a move that could impact U.S.-China relations at a time of tension between the two countries.
"Navarro is well known as somebody who has been very hostile to China, not only on trade and investment questions, but generally in terms of the nature of the Chinese regime," Jerome A. Cohen, director of the U.S.-Asia Law Institute at New York University, told NBC News.
"Of course, some of his criticisms are very well taken. The problem is, what can sensibly be done to improve the situation in China domestically and to improve economic cooperation between the U.S. and China."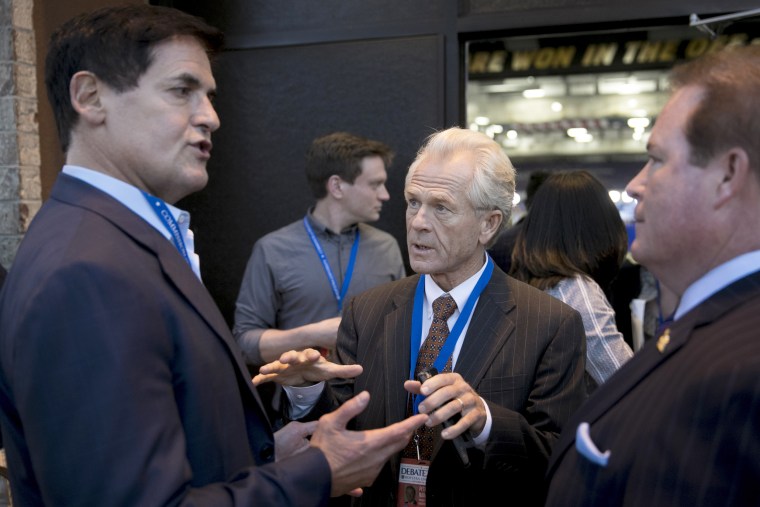 In a statement Wednesday, Trump's transition team praised Navarro as a "visionary economist" who "will develop trade policies that shrink our trade deficit, expand our growth, and help stop the exodus of jobs from our shores."
A professor at the University of California, Irvine, Navarro has authored several books, including "Death by China," which was turned into a documentary. It argues that a destructive trade relationship between the U.S. and China has caused American factories and jobs to disappear.
"He has presciently documented the harms inflicted by globalism on American workers, and laid out a path forward to restore our middle class," Trump said in a statement.
Navarro will head the newly formed White House National Trade Council, serving as assistant to the president and director of trade and industrial policy.
He did not immediately return an NBC News request for comment.
The Trump team said the council will be charged with thinking "strategically about the health of America's defense industrial base and the role of trade and manufacturing in national security."
But Cohen wondered whether recommendations offered by Navarro for improving the situation in China will be more helpful or harmful.
"This is not a totally negative regime," Cohen said. "In order to understand the attitude of the Chinese people, we have to see how it looks from their point of view."
RELATED: A Donald Trump Trade War With China Would Hurt America, Some Say
He added, "We don't want to create a situation where the two countries really minimize and indeed endanger their cooperation in many areas that are welcome, and create a hostile environment that could lead, if overdone, to a real military conflict."
"I think the big signal is Trump meant what he said when he said he was going to try to reconfigure the trade relationship with China. Navarro is sort of the font of ideas on how to analyze China."
Other China watchers offered their own take on Navarro's appointment.
"I think the big signal is Trump meant what he said when he said he was going to try to reconfigure the trade relationship with China," said Scott Kennedy, a China expert at the Center for Strategic and International Studies, according to CNBC. "Navarro is sort of the font of ideas on how to analyze China."
Throughout his campaign, Trump has promised to get tough on China, calling for a 45 percent tariff on its imports and vowing to label the country a currency manipulator.
Proponents of higher tariffs argue that they could help bring back jobs to America, but others fear they'll drive up the U.S. retail price of goods made in China.
Cohen said such a high tariff would likely encounter huge opposition.
"The ramifications are so profound, so many interests will be affected by it that I don't think it's likely to happen," he said.
In recent weeks, several incidents have inflamed tensions between the U.S. and China. They include China's seizure and return of a U.S. military drone and Taiwanese President Tsai Ing-wen's congratulatory call to Trump, a gesture that angered Beijing which views Taiwan as a breakaway province to eventually be reunited.
Navarro's appointment could be one more signal of Trump's approach to a country he's repeatedly blamed for America's economic woes.
"It could be seen as another nail in the coffin, except it's not clear at all that this fellow and his views will emerge," Cohen said of Navarro.
Follow NBC Asian America on Facebook, Twitter, Instagram, and Tumblr.