There is a simple explanation to Sayu Bhojwani's relentless devotion to improving the lives of America's immigrants.
"I'm restless," said the 47-year old. "For better or worse I get bored with what I'm doing and I start thinking about what problem I can solve."
But her commitment to the immigrant cause -- leading Bhojwani to start not one, but multiple organizations to move forward that mission -- come as no surprise to anyone with an understanding of her own, itinerant upbringing.
An 'Atypical' Immigrant's Tale
Born in India to Sindhi parents in 1967, Bhojwani became quickly acclimated to the idea of not fitting in when she -- then four -- and her family migrated to Belize.
With its miniscule Indian population -- mostly comprised of fellow Sindhis, many of whom were retailers -- the Central American country offered Bhojwani her first immigrant experience. She, along with her two brothers and sister, grew up going to Catholic school and Sunday school, but also celebrating Diwali and other Hindu celebrations.
"It was clear to me that we were different but in a way that was very integrated," she said. By 1981, Belize had gained full independence from Great Britain. Bhojwani, then 14, became more attuned to the country's class and cultural differences.
"There was this distinction between the business owners and the customer and that distinction happened to be ethnic and racial," she said. "I'm sure my parents felt it all along but for me, that was when I really felt it."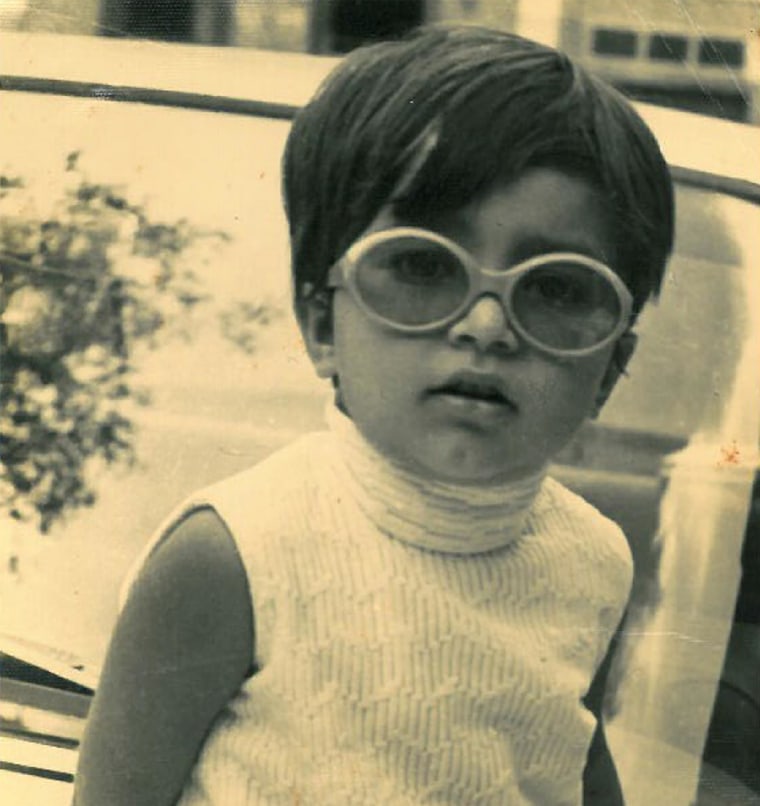 That experience stoked an awareness in Bhojwani she carried with her when she came to the U.S. in 1984. She'd visited America before, and now studying English at the University of Miami, felt at home in an academic setting. Her love of literature, she says, grounded her. Still, she recalls, there were times she felt "lost."
"Culturally there were some things. On an academic level, the biggest challenge for me was to learn how to speak up in class and how to be analytical," Bhojwani said. She forged ahead, and excelled, graduating in just two-and-a-half years. But she left college feeling out of place and uncertain about her future.
The chance to pursue a graduate teaching degree brought her to New York in 1987. She could, she thought, eventually return to Belize to teach. What she saw going on around her changed her mind. The landscape of the city surrounding her -- the undulating sea of diverse faces and voices and stories -- reassured her in many ways, as the product of a multi-cultural upbringing. The lack of diversity in her graduate program, however, she found unsettling. She graduated, took a job with The Asia Society, and set out to fix the problems she'd been seeing around her.
"There was a very slowly emerging race and class consciousness," Bhojwani recalls. "The point at which I really felt that something shifted for me was when I was working at the Asia Society and I started working with Asian-American communities."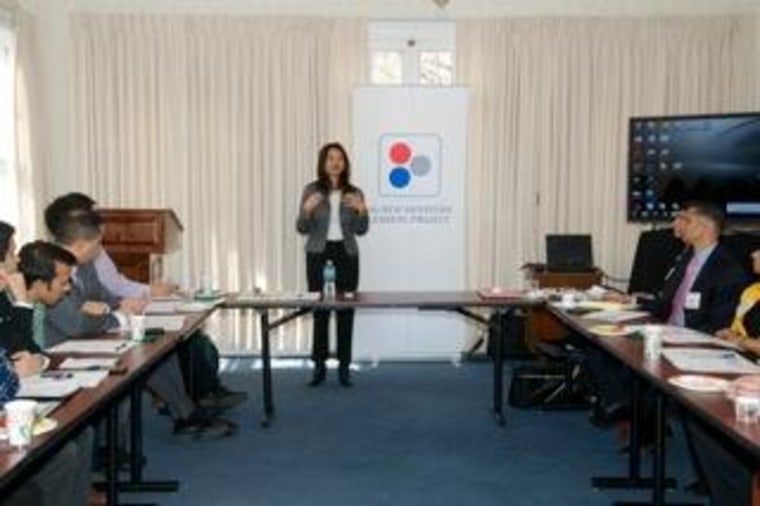 She immersed herself in Asian-American issues, getting to know the leaders and members of the communities, and the problems that plagued them year after year. As Bhojwani listened and learned, she noticed another issue: there were very few faces on the policy-making side that looked like the people she was trying to serve.
She also took notice of a rise in disaffected South Asian youth in New York -- many of them first-generation Americans who seemed disconnected from their parents, their school, and their communities. That feeling of being the outsider resonated with Bhojwani. So in 1996, she created South Asian Youth Action! (SAYA!), a non-profit working to connect disenfranchised youth with resources like mentors, tutors, internships, and job opportunities. Over time, SAYA! grew into much more -- a safe space for kids who'd never had one.
"Really what we did, was serve as a pain in the ass, to getting these things through city bureaucracy."
"There were many young people for whom SAYA! became a psychological home," said Bhojwani. "It became a place where they could voice alternate scenarios for their lives."
After five years of growing her group in size and influence, Bhojwani became a name associated with immigrant issues in the city. In 2001, she was tapped to be New York City's first Commissioner of Immigrant Affairs. At just 34, she was one of the youngest to hold that title.
By that point in her career, Bhojwani's professional track record spoke for itself. But she believes her atypical migration story was an additional asset. "I think it was in that moment that being an Indian who was raised in a Caribbean culture in a central American nation who minored in Spanish all kind of helped me be this 'all things immigrant,'" she said.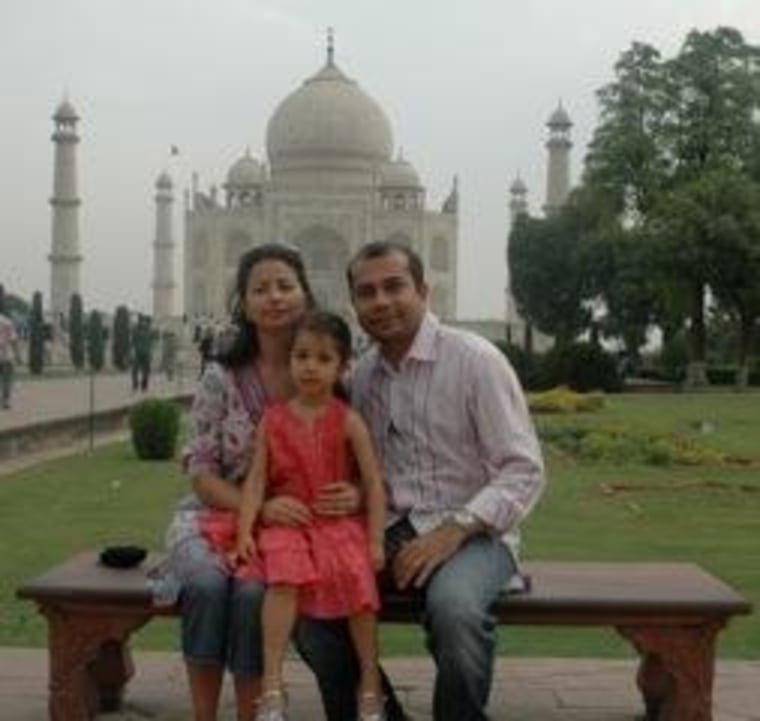 From New York to National Stage
Bhojwani assumed oversight of New York City's immigrant policies when the city was still reeling from the September 11th attacks. Her South Asian heritage was again an integral part of her work.
"The most fundamental experience for me as Commissioner was being able to articulate the fear that communities like mine were experiencing post-September 11th," she recalled. "Because people were so caught up in the post-9/11 trauma of what had happened to our city that if they were not South Asian or Arab or Muslim, they really couldn't' see the other side of this."
Despite an unsteady and challenging climate, she pushed ahead for two years with her policy work, including language access services, and confidentiality for immigrants seeking services.
"Really what we did," she said, "was serve as a pain in the ass, to getting these things through city bureaucracy."
"I feel like if I see something, I have to do something about it."
Bhojwani filled the gaps as best she could at the city level. Changing the way immigrants across the country were viewed or treated, she thought, would require a different approach. So again, she set out on her own, this time, creating the New American Leaders Projet (NALP) in 2010. The goal was simple -- the work, anything but.
"Let's fix who's in Congress," she said. "And one way to fix that is to work at the local and State level because that's the pipeline to Congress."
NALP recently released a report mapping the steep representation gaps faced by Asian Americans and Latinos. Even in states like California and New York, with significant populations of both groups (51% in CA, 25% in NY), those numbers don't translate to the numbers in elected office (31% in CA, 10% in NY).
Bhojwani admits that closing these gaps is slow and painstaking work, but remains optimistic because of what she calls "untapped potential" in the immigrant community to be more engaged in politics.
NALP focuses on identifying potential immigrant leaders at the local level and provides them with training to help them get elected. Guidance includes everything from how to fundraise and navigate the political arena, to how to leverage their identities to connect with broad voter bases.
Potential candidates often need those additional coaching, mentorship, and networking opportunities, Bhojwani says, because they "believe their immigrant status, their appearance, their previously undocumented status are all going to be barriers."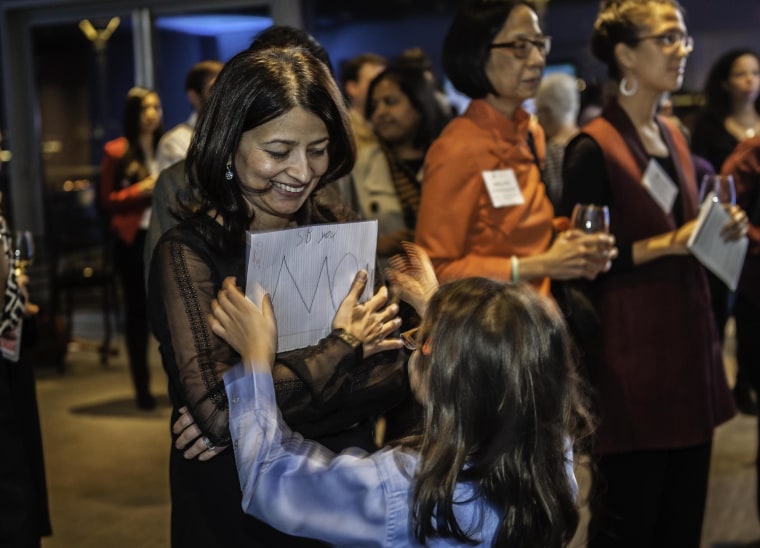 Among NALP's success stories is Stephanie Chang, a Taiwanese American who benefited from some of the organization's early trainings and recently became the first Asian-American woman elected to Michigan's State Legislature, in a district that's 87% African American.
Even rainmakers need their cheerleaders. Front and center on Team Bhojwani is her eight-year-old daughter, Yadna. Bhojwani makes sure Yadna gets an insider look at how the process works, how helping one person overcome hurdlers to leadership can mean helping an entire community.
"We did a fundraiser for Stephanie [Chang] at our apartment," Bhojwani remembered. "[Yadna] introduced Stephanie at the fundraiser. She gave Stephanie a contribution. So, she's seeing how this all works."
For her part, Bhojwani remains as committed as ever to advancing immigrant communities, even if it is by creating one leader at a time.
"I think what motivates me, at least a little bit, is that everything does come from my own personal experience," she said. "I feel like if I see something, I have to do something about it." She pauses and smiles before continuing. "As I get older, I am working on this – if I see something, I should point it out to someone else."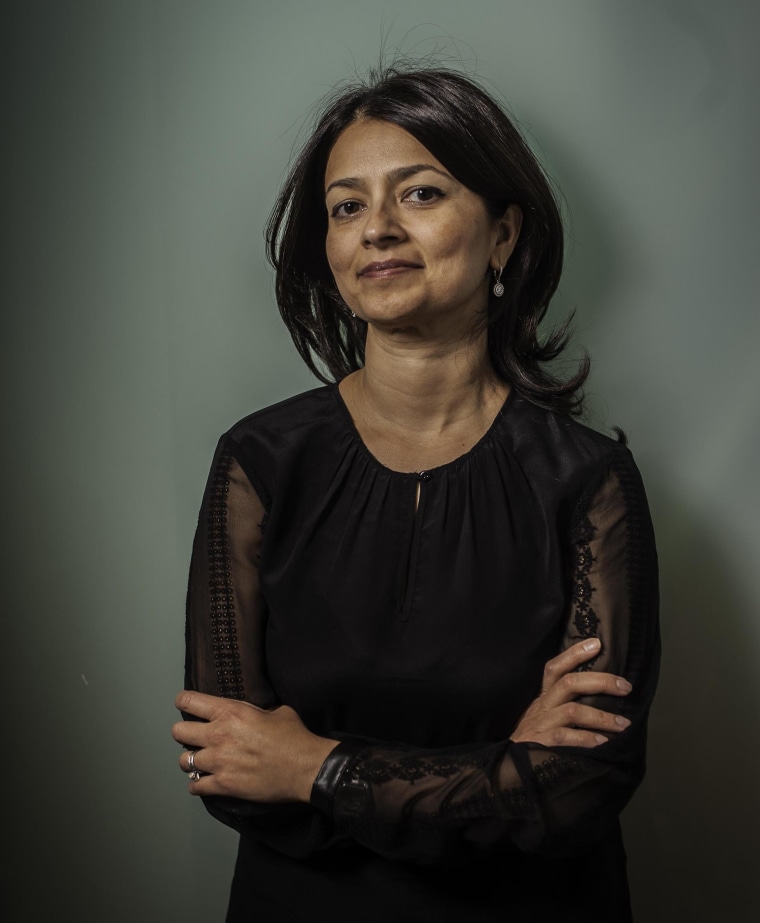 MORE 'CHANGEMAKER' PROFILES: