What happens when two adoptees who live 5,000 miles apart meet each other for the first time only to realize they're not only sisters, but identical twins separated from birth?
"Twinsters" is a documentary that follows the story of Anaïs Bordier, an adoptee and Paris-based fashion designer who came upon a startling discovery after watching a YouTube video that featured someone who looked just like her.
Overwhelmed by the physical similarities, in February 2013, Bordier contacted Samantha Futerman, the woman featured in the video. She soon found out that Futerman, an actress based in L.A., also happened to have been adopted on the same day, from Busan, South Korea. The discovery ultimately led each other to retrace their roots and uncover the possibility of being "Twinsters," or identical twin sisters separated at birth.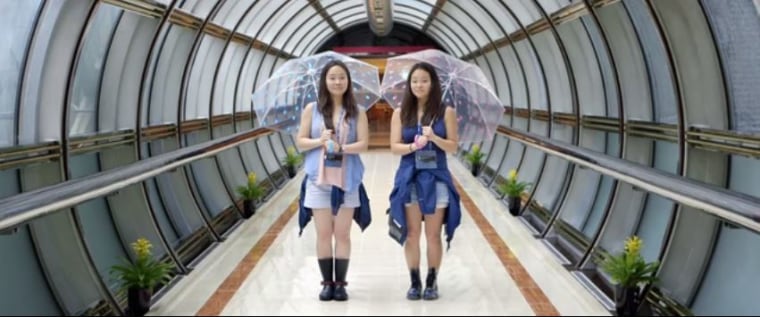 Futerman also launched a Kickstarter campaign supporting a documentary that would highlight the twins' raw encounters via Skype, Vlogs, and in-person, from Europe to L.A.
"Twinsters" made its world premiere at SXSW 2015 in March. Since then, it made its West Coast premiere April 25 at the Asian Film Festival of Los Angeles, taking home the grand jury prize for "Best Documentary." According to Variety, the documentary will also be screened at the AMC Empire in New York July 17, 2015, and more than 40 cities in the U.S. this summer.
In Southern California, it'll be screened at ArcLight Hollywood, Arclight Pasadena, and other major theaters nationwide.
Related: The Search for a Birth Family Leads to Seoul and Back Again
"In 2013, I had been given an opportunity to begin a new journey in life, one that included my first connection with a living, blood relative and potential identical match. And somewhere in the pit of my gut, I desired to share my sister and my story with the world," wrote Futerman, who co-founded Kindred: The Foundation for Adoption, shortly after her discovery.
The documentary is co-directed by Ryan Miyamoto and stars actress and adoptee Futerman, who has appeared in films like "Memoirs of a Geisha," and "21 and Over."