It's been three years since Nina Davuluri made history when she became the first Indian-American contestant to be crowned Miss America. During the 2013 pageant, Davuluri spoke about her commitment to "celebrating diversity through cultural competency," addressing the topic in the interview portion of the evening: "I have always viewed Miss America as the girl next door, and the girl next door is evolving as the diversity in America evolves."
According to Blain Roberts, associate professor of history at Fresno State and the author of "Pageants, Parlors, and Pretty Women: Race and Beauty in the Twentieth-Century South," the history of the Miss America organization dates back to 1921, but, she told NBC News, "for most of its early history, it was exclusively a white pageant."
That lack of diversity still exists as a point of contention for pageants today, most recently over the Miss Teen USA competition that led model Chrissy Teigen to call out the pageant on Twitter.
Roberts said that the visibility of Asian-American contestants like Davuluri may have spurred interest among the AAPI community to participate, adding that seeing more diverse contestants "will increase America's concept of what it means to be American and who is American."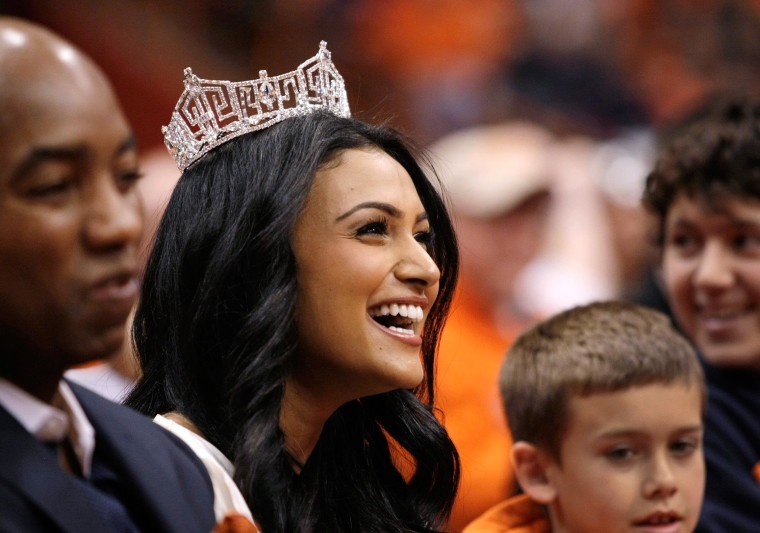 "In fact, the Miss America organization had a list of rules that governed the contest and contestants and one of the rules said that contestants had to be 'of the white race,'" Roberts added. "And that was on the books for quite a while."
It wasn't until 1983, when the organization crowned its first African-American Miss America, Vanessa Williams. In 2001, the organization crowned its first Asian-American Miss America, Angela Perez Baraquio.
This month, 52 contestants, a handful of whom are Asian American and Pacific Islander (AAPI), will compete for the title of Miss America 2017 (scheduled to take place on Sept. 11 and will air on ABC) — and two of those hopefuls say they want to use their platforms to reach out to diverse communities.
RELATED: Nina Davuluri Looks Back at Her Year as Miss America 2014
"It's important for me — especially during this climate during this political year — to be able to proudly stand in front of millions and to just be proud of who I am," Arianna Quan, the first Asian-American contestant to be crowned Miss Michigan, told NBC News.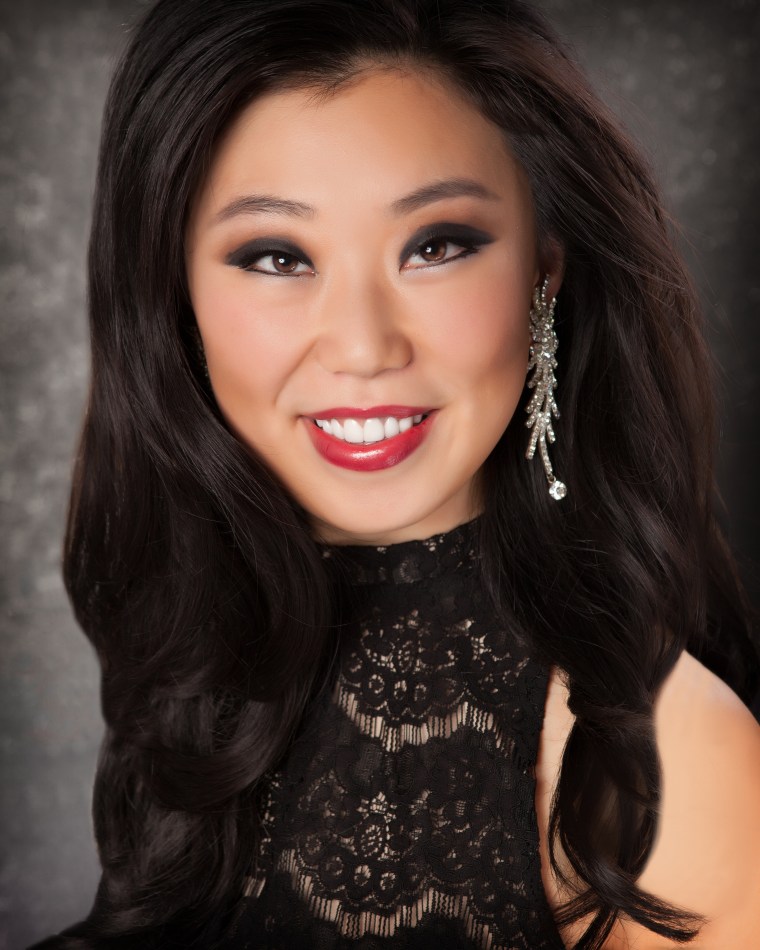 Her platform, "Being American: Immigration and Citizenship Education," is an effort to encourage people to exercise their right to vote – something that she says is symbolic of her own immigration story and the identity she came to embrace.
Quan, 23, was born in Beijing, China, to parents and grandparents of Korean descent. She and her parents immigrated to Michigan when Quan was six years old, and Quan said she struggled with her identity because she did not see herself reflected in the media, on television, or in her school.
"It's so strange to walk into a room and realize that no one in the room looks like you and for some reason that makes me feel lonely at times," she said.
Quan, who is currently studying automotive design at the College for Creative Studies, described herself as a shy "stereotypical Asian-American" kid growing up: She took piano lessons and several AP classes, and often kept to herself. It wasn't until college when she realized the importance of communicating, developing social skills, and having a platform to voice one's opinions, which led her to reach out to the Miss America organization for scholarship opportunities.
In June, she was crowned Miss Michigan.
"On the one hand I don't want the fact that I'm Asian American to be the forefront of my year as Miss Michigan, but on the other hand I realize this organization opens up this organization into an entirely wider demographic," she said. "I want to be able to show everyone that just because I'm a minority — that I'm an Asian American — that it doesn't make me a different type of human being."
For 22-year-old Justine Ker, representing her home state of Louisiana is a step toward fulfilling her dreams. Ker, the first Asian American to be crowned Miss Louisiana, told NBC News she hopes to serve her community and become a physician — a desire reflected through her pageant platform, "A Beautiful Mind: Promoting Positive Mental Health," which will focus on the importance of removing the stigma of mental health in communities, including among AAPIs.
"Growing up in the [AAPI] community, we do feel that pressure to succeed and we feel a sense of shame when we don't. But it's time that we change our perspectives on what it means to fail," she said.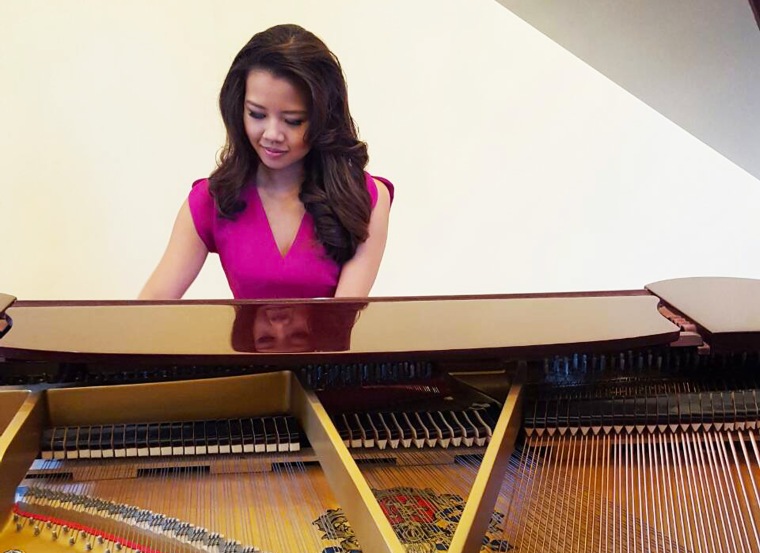 Ker, who recently graduated from Vanderbilt University with a bachelor's degree in neuroscience, says her platform for Miss Louisiana is an extension of her work at the Psychological and Counseling Center (LEAPS), where she helped students navigate resources and have open dialogues about depression, anxiety, and suicide.
"It wasn't until I started taking classes and engaging in mental health organizations and realized it's a real mental illness. One in four people in the U.S. will suffer from a mental health issues," Ker said.
Ker's exposure to pageants began at the age of 10, through a mentorship program known as the Fleur de Lis Princess Program. She later went on to compete in her first pageant in 2009, winning Miss Louisiana's Outstanding Teen title in 2011 and later became first-runner up for Miss Louisiana 2015.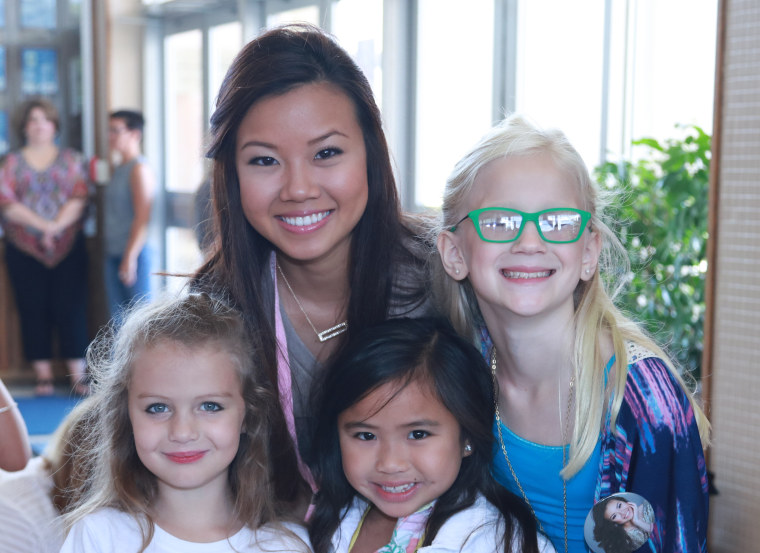 Ker said that representing the AAPI community in Louisiana and globally is a huge honor for her, noting that, growing up, there was little to no Asian-American representation in her community in North Louisiana.
But Ker acknowledges the progress of seeing more Asian Americans reflected in the media, though there is still a long way to go before we "see that diversity come full circle."
Ker says she is glad to see more Asian Americans representing their state titles and participating in the Miss America program in their local communities. "It makes you proud to be part of an organization that celebrates diversity and diverse cultures," she said.
Arianna Quan echoes that feeling with similar pride, saying she's honored to represent Asian Americans in such a visible event, but knows that there is still work to do when it comes to representation in the media.
"It's about taking really slow heavy steps. I think there is a lot to work on right not, but I think we shouldn't be grasping at every chance to make sure that our voices are heard," she said. "It's about taking very meaningful steps with intent."
Editor's Note: NBC News reached out to the Miss America organization for statistics on pageant diversity to confirm the number of Asian-American contestants, but representatives for the organization said they do not track this information.
Follow NBC Asian America on Facebook, Twitter, Instagram, and Tumblr.