A U.S. citizen detained for 40 days in Vietnam said Thursday that he doesn't regret participating in protests that landed him behind bars in the communist country.
Police in Ho Chi Minh City arrested Will Nguyen, 32, on June 10 while he took part in demonstrations against the Vietnamese government. Among the issues angering protesters were plans to establish special economic zones that they feared would be dominated by Chinese interests.
"The idea of a protest is indeed to disturb the public order, to bring the public's attention to an issue that is pressing in that society," Nguyen said by phone from Houston, where he was born and raised. "I will readily admit that I disturbed the public order. That was the intent of the protest. So no I don't regret it. I knew what I was doing when I went into it."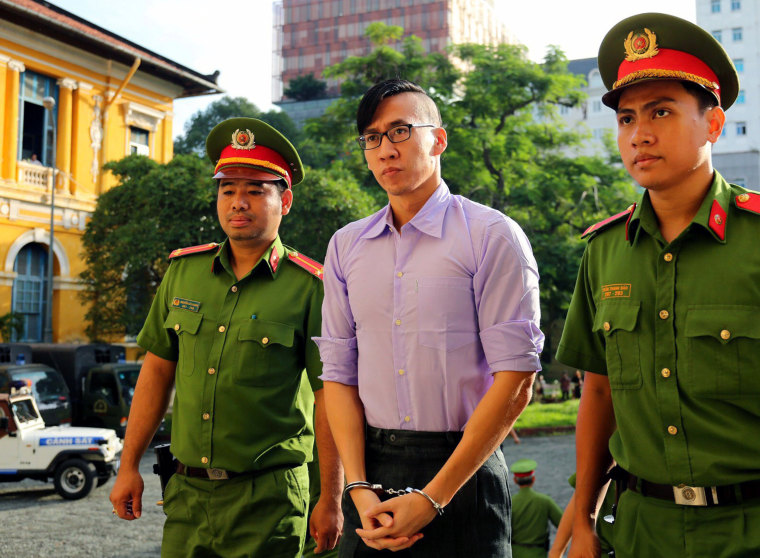 Nguyen said that, while he was detained, he slept on a cement floor, was fed twice a day, and that his 2-by-3 meter cell for the first few weeks was shared with three other people.
But, he added, he was treated well.
"I think that they knew that the world was watching," he said. "I know that even before I was put in a prison cell, the police kept telling me my case was going viral, it was widely known, it was reaching higher levels of government."
Nguyen's ordeal ended in mid-July when a Vietnamese court convicted him of disturbing public order and deported him, according to The Associated Press. Nguyen had faced up to seven years in prison.
Support came from a number of elected officials who got involved in his case, including members of Congress from California, where he had lived for a period.
I will readily admit that I disturbed the public order. That was the intent of the protest. So no I don't regret it. I knew what I was doing when I went into it.
Rep. Jimmy Gomez, D-Calif., was among those who wrote to Vietnam's ambassador to the U.S., Pham Quang Vinh, Secretary of State Mike Pompeo and President Donald Trump, expressing concern over Nguyen's detainment.
Pompeo raised Nguyen's case with Vietnamese officials during his visit to Vietnam on July 9 and encouraged a speedy resolution, according to the State Department.
Gomez said he was satisfied with the way the U.S. government handled the case, adding that the U.S. embassy in Vietnam had weekly calls with his office so they could update Nguyen's family.
"We were lobbying them, but we were working in coordination with them, making sure that we were making our voices heard," Gomez said ahead of a news conference Thursday in Houston.
Nguyen, a Yale alumnus who graduated in July from a master's program in public policy at the University of Singapore, said it was coincidental that he wound up attending the demonstration after arriving in Vietnam for a short vacation.
Nguyen said he joined the protests, being conducted in a park near the airport, mostly as an observer around 10 a.m., taking pictures and posting them online.
Later, the participants headed toward the city center, but encountered what Nguyen called human barriers at every intersection, young men with body-length plastic shields standing in a row.
"I realized at that point there was a lot of fear of pushing through," he said.
Seeing that he was physically stronger than a lot of the young men holding up the barriers — and that he was an American citizen — Nguyen moved to the front of the protest and assumed the risk of forcing his way through, he said.
Nguyen said he also asked police to move pick-up trucks blocking one of the intersections. When they didn't, he jumped onto one of them to help protesters over for about 20 minutes, he said.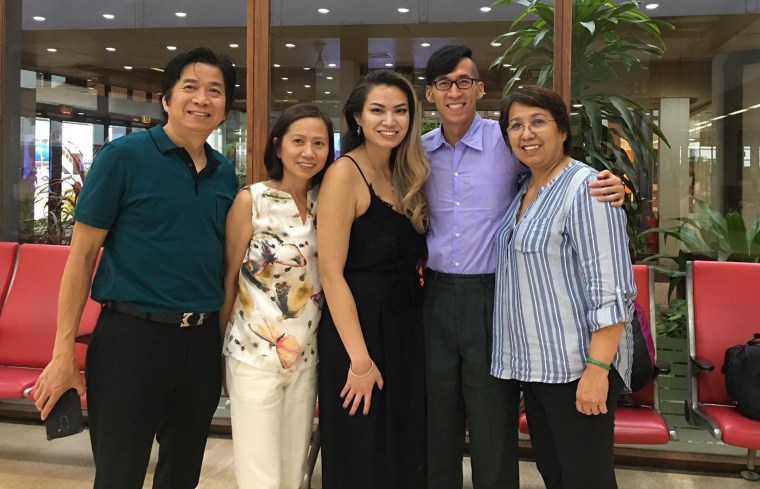 After Nguyen opened up a pathway for motorbikes, things turned ugly when police allegedly beat Nguyen over the head and dragged him into the back of a police truck, according to Nguyen and a previous statement from his family and friends.
A video uploaded to YouTube that was shared along with the statement appeared to show Nguyen, bleeding from his head, being dragged by a group of men. Nguyen can later be seen standing on the bed of a police truck that drives off.
His mother, Vicky, said it was so scary to see that video.
"We feel like hopeless to try to help him," she recalled.
Vietnam's National Assembly voted to put off the legislation that sparked the protests until the next session in October to allow for more research.
A little more than a week after his arrest, Nguyen confessed on state television in Vietnam, saying he regretted breaking the law and that he would stay away from future rallies, according to Agence-France Presse.
Nguyen said the confession was coerced. But he added that the sentence of being deported from Vietnam was a relief.
"I know that there are people inside the country who don't have the — I guess the word would be privilege — of American citizenship, to act against the Vietnamese government," Nguyen said. "Because I had that, I was one, able to participate, and two, go further in pushing back against the Vietnamese government than I otherwise would have."
Follow NBC Asian America on Facebook, Twitter, Instagram and Tumblr.