U.S. Congressman Mark Takai, who served as the representative for Hawaii's first district, has died, NBC News has confirmed.
Takai, 49, announced in May he would not seek re-election after recently learning that his pancreatic cancer has spread. Takai had planned to serve the rest of his term, which would have ended in January 2017.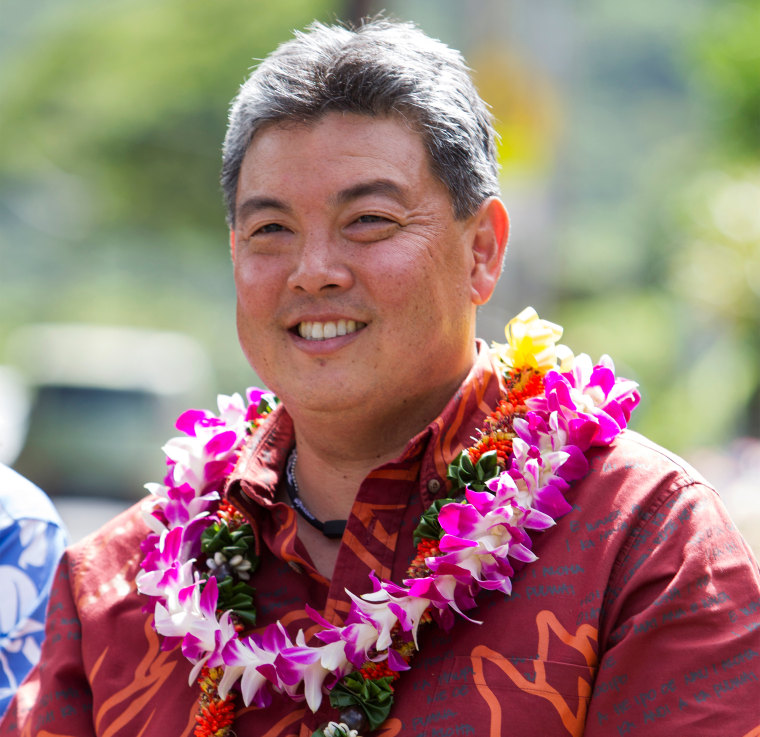 On Wednesday, his office confirmed his death in a statement:
"Today, Congressman Mark Takai passed away at home, surrounded by family. Takai represented Hawaii's 1st District in the U.S. House of Representatives during the 114th Congress and spent 20 years serving in the Hawaii State House of Representatives. In Congress Takai served as the Ranking Member of the Committee on Small Business's Subcommittee on Contracting and the Workforce in addition to being a member of the House Committee on Armed Services."The Takai family thanks the people of Hawaii for their support during this difficult time. Information regarding a service will be available at a later time. The Takai family politely asks for the continued respect of their family's privacy."
Following the news of Takai's death, President Obama released a statement Wednesday night, praising Takai for "the spirit he brought to more than two decades of public service on behalf of the people of Hawaii" — from his work to support veterans to his "relentless push" for cancer research.
"Simply put, our country is better off because of Mark's contributions," the statement continued. "He leaves a legacy of courage, of service, and of hope."
In a statement to NBC News Wednesday, Rep. Judy Chu, chair of the Congressional Asian Pacific American Caucus (CAPAC), called Takai a "true patriot, public servant, and friend."
"Mark was a decorated war veteran and proud member of the Hawaii Army National Guard, but more importantly, he was an outstanding colleague who truly embodied the aloha spirit and worked tirelessly to improve the lives of the people of Hawaii and all Americans," Chu said. "As a member of the Congressional Asian Pacific American Caucus, he also led notable efforts to benefit the Asian American, Native Hawaiian, and Pacific Islander community, including efforts to reunite Filipino World War II veterans with their loved ones, secure treatment for veterans suffering from service-related radiation exposure, and commemorate the patriotism of Japanese Americans during World War II. I always enjoyed working with Mark and will never forget his strong commitment to bettering our country."
Sen. Mazie Hirono of Hawaii also shared her grief over the passing of a colleague she considered family.
"I affectionately called Mark my younger brother. We shared so many of the same values and supported each other during challenging times," Hirono said in a statement. "Mark's passing is a tremendous loss for all of us who loved him, and for the state of Hawaii. But he said it best- 'as often happens, we find ourselves on a different journey than we had planned.' While we find that our journey is not as bright without Mark, we will continue his work to make Hawaii a better place."
Democratic Leader Nancy Pelosi called Takai a "dedicated champion for hard-working families," and shared her grief over his passing.
"In his service to America and the people of Hawaii, Congressman Takai embodied our nation's highest ideals. In his fight against cancer, Mark showed the courage and strength that defined the wonderful person he was," Pelosi said in a statement.
Members of the House and Senate shared their condolences on Twitter, including fellow colleague, Rep. Tulsi Gabbard (D-HI):
RELATED: #MahaloMark: Colleagues, Community Mourn Rep. Mark Takai's Death, Celebrate His Legacy
Takai, a veteran, was first elected to office in 1994 and served as a Hawaiian House representative for two decades. In 2014, he became the U.S. representative for Hawaii's first congressional district.
"I am incredible humbled and proud to have this opportunity to fight for the people of Hawaii," Takai said in a statement in 2015 after he was sworn in.
Takai was diagnosed in October 2015 with pancreatic cancer, and underwent surgery a month later. This past January, Takai met with Vice President Joe Biden to thank him for his leadership on the fight against cancer.
Described by his colleagues on the Hill as "courageous" and a hard worker, Takai was also known to be a champion of diversity and the "Aloha spirit." Earlier this year, Takai gifted Speaker Paul Ryan with an Aloha shirt in an effort to urge him to allow "Aloha wear" to be worn on Fridays in the House.
"The Aloha shirt is the embodiment of Hawaii's melting pot culture," Takai told NBC News in February. "To me and many residents of our state, the growth in popularity of the Aloha shirt truly represents the American Dream."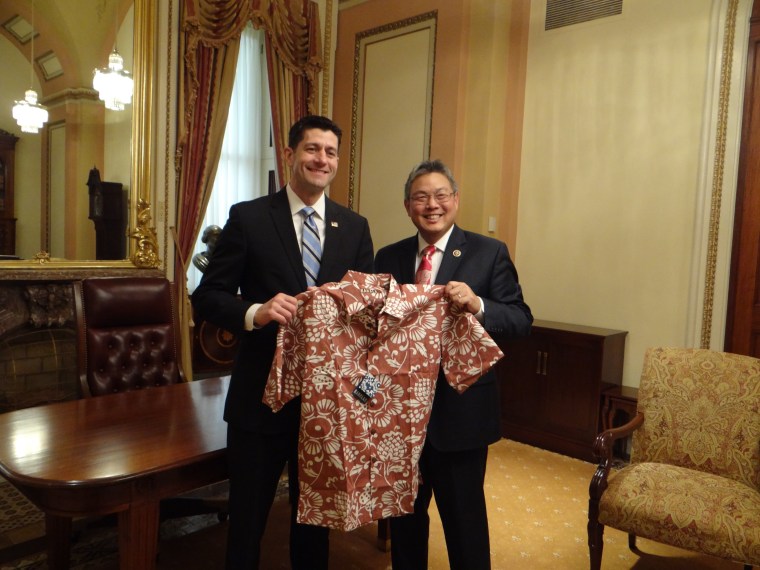 Takai had been cleared in February to run for re-election, but announced in May he would not seek office in order to focus on his cancer battle.
Follow NBC Asian America on Facebook, Twitter, Instagram, and Tumblr.