President Donald Trump's administration is considering the end an Obama-era rule that extends work authorization to the spouses of certain U.S. visa holders, according to a recently published federal notice.
The rule change would apply to the spouses of H-1B visa recipients who are on track for green cards to work in the U.S. The controversial H-1B program attracts foreign specialized workers to come to the United States for employment, many of them from India and China.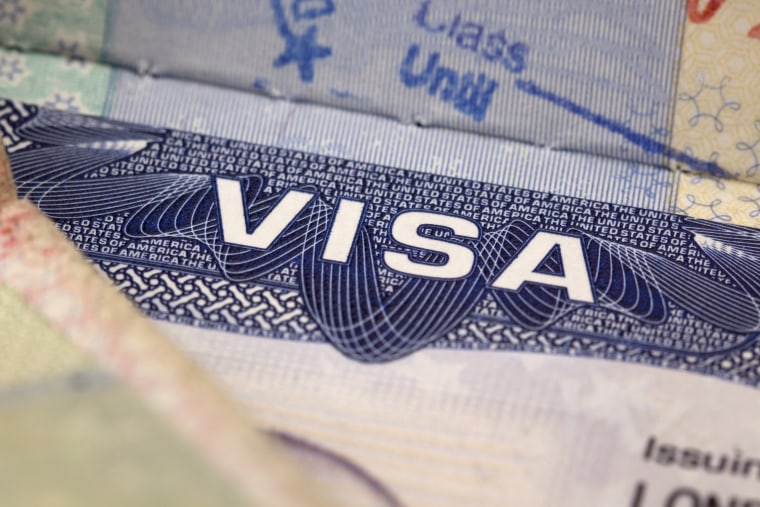 "I think the regulatory agenda simply makes clear what has been understood by many of us, that this administration will do everything it can to get rid of legal immigrants or discourage them to come in pursuit of its closed-border agenda," said William Stock, an immigration lawyer from Philadelphia and past president of the American Immigration Lawyers Association.
The notice appeared in the fall edition of the semi-annual Unified Agenda of Federal Regulatory and Deregulatory Actions, a list of regulations under development by federal agencies.
It indicates that the Department of Homeland Security is considering stopping granting employment authorization to certain holders of H-4 visas, granted to spouses of H-1B recipients.
"The agency is considering a number of policy and regulatory changes to carry out the President's Buy American, Hire American Executive Order, including a thorough review of employment based visa programs," R. Carter Langston, a U.S. Citizenship and Immigration Services (USCIS) spokesperson, said in an email. "USCIS is focused on ensuring the integrity of the immigration system and protecting the interests of U.S. workers, and is committed to reforming employment based immigration programs so they benefit the American people to the greatest extent possible. No decision about H4 visas is final until the rulemaking process is completed."
The original 2015 rule, created under the Obama administration, gives work permission to H-4 visa holders so long as their spouses are applying to become lawful permanent residents.
According to U.S. Citizenship and Immigration Services, 26,858 employment authorization documents were approved for H-4 visa holders in fiscal year 2015, 41,526 in fiscal year 2016, and 36,366 from Oct. 1, 2016 to June 29, 2017. Some of those were renewals, Stock said.
Proponents have argued that the Obama H-4 rule helps alleviate financial pressures of H-1B families that would otherwise have to manage on a single income, a move that can help retain overseas talent in the U.S.
But it has also drawn criticism, including from Save Jobs USA, a group comprised of laid-off computer workers in California who claim their jobs were filled by programmers from India on H-1Bs.
Save Jobs USA filed a federal lawsuit in 2015 to block the H-4 rule after it was announced. That case is pending before U.S. Court of Appeals for the District of Columbia Circuit.
The group argues that the Department of Homeland Security lacks the authority to grant work authorization to H-4 recipients through the rule.
Save Jobs USA has said in court papers that the regulation "clearly allows aliens to compete with Save Jobs USA members in their job market because it allows 179,600 aliens to work anywhere in the United States—an injury in fact to participants in the entire labor market."
But Immigration Voice, a national nonprofit advocating for high-skilled immigrant workers, said in a motion to join the appeal that overturning the rule would hurt many of its more than 100,000 members. Many have or are planning to apply for H-4 employment authorization or have spouses doing the same.
Created in 1990, the H-1B program allows U.S. companies to sponsor nonimmigrant visas to temporarily employ foreign workers with bachelor's degrees in specialty fields like engineering, computer programming and science.
India and China, in that order, are the top two countries from which H-1B recipients hail.
Supporters argue that the program brings in overseas talent to fill a job gap, but critics say it promotes outsourcing and gives away American positions to lower-paid workers.
Some experts say the proposed rule change for spouses of H-1B holders is part of an effort to push forward Trump's pledge in his inaugural speech to bring back lost jobs and "rebuild our country with American hands and American labor."
In October, U.S. Citizenship and Immigration Services (USCIS) updated its policy to instruct officers to review and scrutinize visa renewals for foreign workers as if they were first-time applications, a move that could induce companies to instead hire Americans.
USCIS also said in April it was stepping up efforts to ferret out fraud in the H-1B program, while the Justice Department warned employers petitioning for H-1B visas not to discriminate against U.S. workers.
Though the timing may change, proposal of an official H-4 rule is planned for the Federal Register by February.
Stock said it's clear the administration is taking concrete steps to move forward with revoking H-4 employment authorization.
"But the regulatory process takes time," he added. "A lot of people inside the government have to agree before a rule moves forward. And if they don't do it right, a court can come in and strike down the rule."
Follow NBC Asian America on Facebook, Twitter, Instagram and Tumblr.