Supporters of LGBT rights are making a final push in the U.S. to raise funds for marriage-equality organizations in Taiwan that hope to sway how Taiwanese vote on a series of same-sex marriage referendums in late November.
Freedom To Marry Global, a campaign that helped win marriage equality in the U.S., and Marriage Equality Coalition Taiwan were among the groups that co-hosted a fundraiser Friday night at The Stonewall Inn in Manhattan, a fixture in LGBT history.
The event netted at least $6,700, exceeding the goal of $5,000, which Freedom To Marry Global agreed to match, according to Cameron Tolle, an advisor with the group.
That means around $12,000 will be sent to marriage-equality groups in Taiwan to help fund ads and other get-out-the-vote efforts in the final weeks leading up to a Nov. 24 ballot referendum — the results of which could affect whether Taiwan's government seeks full-marriage equality or limited civil partnership.
"Taiwan is really the top priority for us right now as a global battleground for LGBT equality," Tolle said.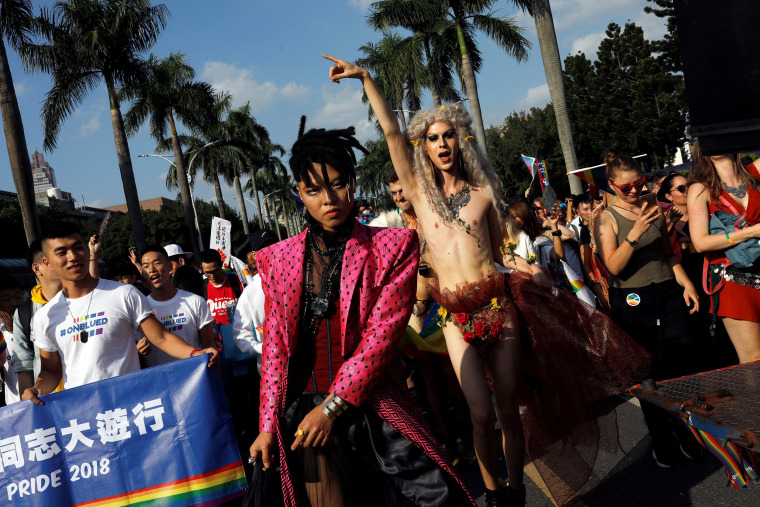 Last May, Taiwan's Constitutional Court ruled in favor of same-sex marriage, a first for Asia. It found that provisions in the democratically self-ruled island's civil code violate guarantees of freedom of marriage and the right to equality for same-sex couples who want to marry.
The court gave authorities two years to amend or enact laws in accordance with its ruling. Failing to do so by May 2019 would automatically permit same-sex couples to register their marriages.
With about a half-year to go before that deadline — and no action thus far from legislators —five referendum questions about same-sex marriage will appear on ballots on Nov. 24, when Taiwanese also head to the polls to vote in a number of local races.
Two come from groups supporting marriage-equality and three from those opposed. One of those referendum items attempts to roll back LGBT education in elementary and junior high school curricula.
"The younger generation has been much more friendly toward LGBT people at this point," said Lance Chen-Hayes, a Newtown, Pennsylvania, resident who was born and raised in Taiwan and identifies as gay. "The conservative Christian groups recognize that, they want to change that."
The Coalition for the Happiness of Our Next Generation, a conservative Taiwanese group supporting three of the referendum questions, did not immediately respond to an emailed request for comment.
One of those items asks if the civil code's definition of marriage should be limited to a union between a man and a woman, a question with which the coalition wants voters to agree.
On its website, written in Chinese, the group says that in putting forth these referendums, it hopes to save families from being "broken" and from "collapse."
Chen-Hayes, who was married in New York City in 2011 and has a 15-year-old son, accused Taiwanese President Tsai Ing-wen of backing away from commitments she made to Taiwan's LGBT community when she was running for office.
On the day the Constitutional Court announced its ruling, Tsai tweeted that "the law must protect the people's freedom of marriage and right to equality."
Tsai, of the independence-leaning Democratic Progressive Party, is expected to seek reelection in 2020 amid increasingly strained relations with China, which views the island as a renegade province.
"A leader should lead the country in a way that you keep a promise and really signify the democracy of Taiwan, to show people that, yes, Taiwan can be a leader in so many different ways," Chen-Hayes said.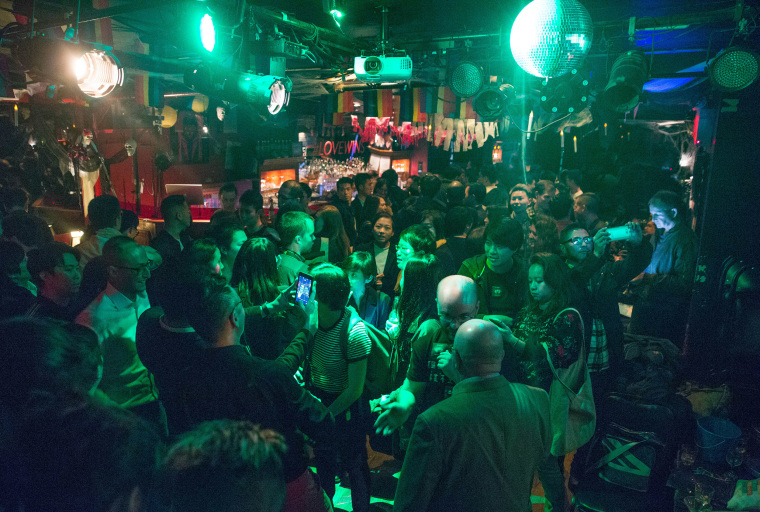 Ahead of the Nov. 24 referendum, marriage-equality groups will be ramping up efforts to get Taiwanese to vote in favor of same-sex marriage and LGBT equality issues, according to Tolle, of Freedom To Marry Global.
Tolle said the money they raised last week will go in part toward ad campaigns focused on persuading Taiwanese who haven't yet decided how they will vote.
One of the video ads shows a 93-year-old grandmother discussing why she supports her 37-year-old granddaughter marrying someone of the same sex. Another features two Taiwanese firefighters, both of them married and one with two daughters, sharing their thoughts on love and marriage. One of the men says love is the same whether you're straight or gay.
While all eyes have been trained on the fight over legalizing same-sex marriage in Taiwan, Chen-Hayes said it's also important to discuss the broader issues of equal-rights protections for members of the island's LGBT community.
"I'm hoping that marriage equality will be a very important starting point to lead the country toward that direction," Chen-Hayes said.
Follow NBC Asian America on Facebook, Twitter, Instagram and Tumblr.