Neftalie Williams was 16 when he met two pro skateboarders outside of a summer camp he wasn't able to attend. It was after hours, and the pair skated with him. They taught Williams that the sport wasn't out of reach to anyone.
"Even though I didn't have the chance to attend the camp, they still made sure to provide me the opportunity to skate with them," Williams told NBC News. "Their gesture taught me that skateboarding was an activity 'by the people and for the people.' It has been my goal to return the favor to the next generation of skaters ever since then."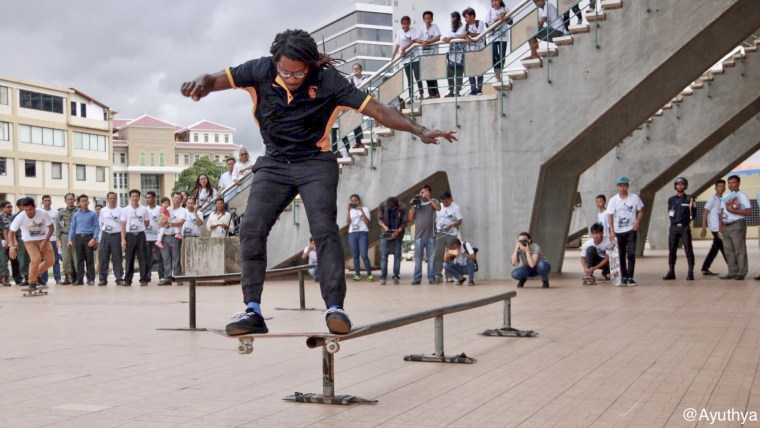 Now 37 years old, Williams is a skateboarding envoy with the U.S. State Department and is spreading his love for the sport, recently completing a cultural diplomacy mission in Cambodia, where he highlighted skateboarding's benefits to young people.
"It's a bridge between people all over the world," Williams said. "For me, I've always been focused on what it was that made skateboarding special."
"It's been built into the ethos and the DNA of skateboarding culture to explore new spaces, to build community, and to always have fun in a non-competitive way while you're skateboarding," he added.
William's program in Cambodia was a first in the country for the State Department, according to Williams, who had previously hosted a program in the Netherlands working with Syrian refugees who had just been granted asylum.
During the multi-day series, he discussed skateboarding culture and how it can be a positive pathway for academics and physical activity. Clinics and demonstrations were also held for the kids, some of whom had never been on a skateboard before, according to Williams.
"Once you give a kid a skateboard and they start pushing, then they just realize how much faster they are than the world, and it gives them some freedom and a way to sort of express themselves through skateboarding," he said.
Williams, who also lectures at the University of Southern California and is a Ph.D. candidate at the University of Waikato in New Zealand, noted that skateboarding culture allows kids to meld academia with athletics.
"There's a space for them if they're into business or media and content creation or design," he said.
"There's a space for them if they're into business or media and content creation or design."
Williams said skateboarding culture is growing in popularity in Cambodia partly because of the Cambodian youth's interest in American sports and culture.
Kids in Asia have growing opportunity to reach higher levels of the sport, he noted, with the inaugural Asian Skateboarding Championships being held last November. At the 2020 Olympic Games in Tokyo, skateboarding will be an official sport, he added.
"Skateboarding is that one sport that has all of those aspects at one time, and you don't need to have a coach. You don't have to have a league. That's really important in countries where there may be kids who are disadvantaged or slightly disenfranchised," said Williams, who has also worked in South Africa, Brazil, and Cuba.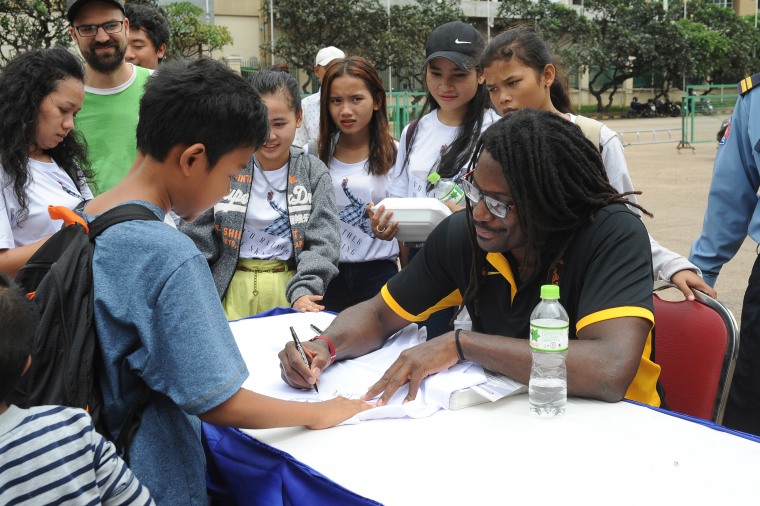 At Skateistan, a nonprofit organization that works with kids in Cambodia, the youth and staff were inspired by Williams, Kov Chan Sangva, a program officer at the organization, told NBC News.
"He made a presentation about the skate scene in America and it was a wonderful story," Kov said. "We also spoke out about the skate scene in Cambodia and hopefully in the future, the world will know more about Cambodia skaters and our story."
Skateistan offers free programs at a safe place for kids who may not otherwise be able to afford the materials necessary to skateboard. The sport is becoming more popular among the youth, Kov said.
"Skateboarding is an amazing sport," she said. "It feels fantastic and it really helps people a lot — to build trust, to build confidence and make a lot of friends. It can help us to get out of bad situations, and builds trust between people, communities and the world."
Follow NBC Asian America on Facebook, Twitter, Instagram and Tumblr.