U.S. veterans are helping to protect San Francisco's Chinatown residents amid a rising number of discriminatory acts against Asian Americans since the coronavirus outbreak.
Max Leung said he decided to form the SF Peace Collective, a group of local volunteers committed to patrolling the streets of Chinatown, on March 19.
Among the volunteers are several former veterans from the Army, the Navy and the Marines. Leung believes having veterans benefits the group, especially their skills in self defense and first aid.
"They are trained to properly and effectively handle certain types of situations," he told NBC Asian America. He pointed out the physical presence of someone patrolling can also make a difference.
Leung's desire to create the SF Peace Collective came before the outbreak led to bias incidents. Seeing viral videos of attacks on Asian Americans over the last few months motivated him, but he was also upset about incidents that did not catch the media's attention.
"It's just a lot of these incidents don't get reported, they don't make the news. So that's why we started, and the timing is just crazy with the COVID-19 thing," Leung said.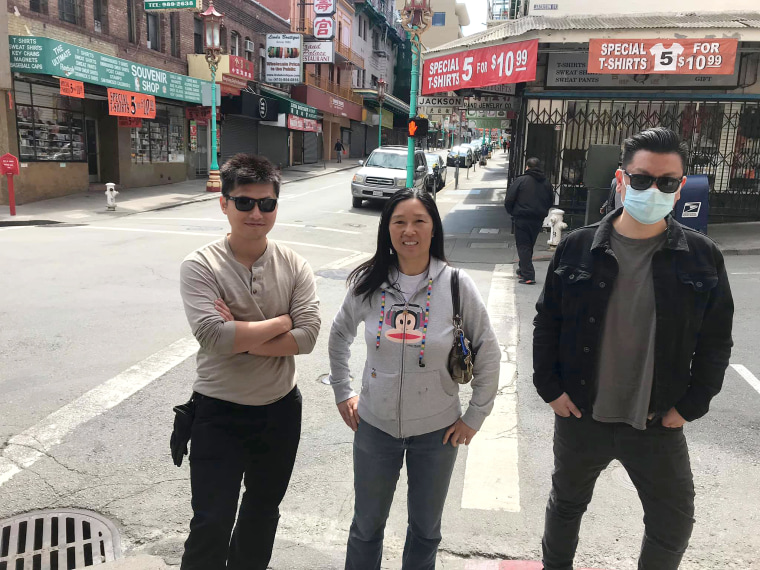 The group hasn't stepped in to thwart any discriminatory acts yet, but Asian Americans have reported more than 650 acts of racism, xenophobia and anti-Asian hate crimes across the country over the last week.
This month, an individual described being spit on and harassed by a stranger who shouted "f--- China" in the streets of San Francisco. In New York City, a 23-year-old woman was punched in the face by a woman making anti-Asian slurs. Such incidents have led New York Attorney General Letitia James to announce a hotline for the city's hate crimes and bias-based incidents.
Leung says he personally can relate. "I was often bullied and have been the victim of many violent assaults and robberies myself. I've even been shot in an attempted carjacking," Leung said. "Growing up in San Francisco, the xenophobia, prejudice, bigotry, discrimination, racism, bullying and violence has always been an ongoing issue for the Asian American community."
He said he believes his group could provide his community a sense of comfort for years to come.
"It not only inspires and empowers the community and others to take action and be proactive, but also provides a sense of safety and security because nobody should have to live in fear," Leung wrote. "For them to know that there are actually people out there who care is important."
Follow NBC Asian America on Facebook, Twitter and Instagram.