The University of Arizona (UA) and the American University of Phnom Penh (AUPP) inked a deal earlier this month that will allow the Tucson-based university to open a "micro-campus" in Cambodia, the first partnership of its kind between the two countries, according to the universities and the country's U.S. Embassy.
The University of Arizona is one of a handful of American-based institutions of higher learning that has signed dual-degree programs with the American University of Phnom Penh, a private university that opened in 2013 to offer "American-style" education in the English language to Cambodian students, but it is the only school with plans to eventually send a professor.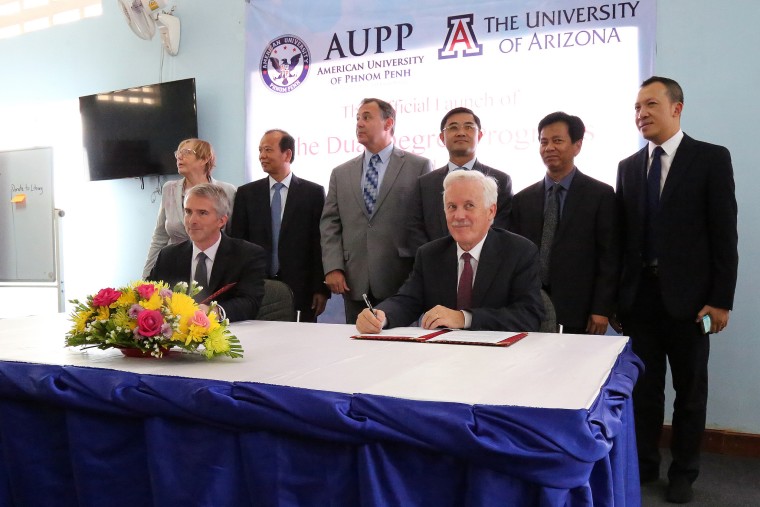 "They will actually be feeding us all of the materials and we will be teaching, and once we get to a certain number of students, they will have a professor on ground," Billie Slott, director of student affairs and business development and an associate professor of law at AUPP, told NBC News. Once 100 students are enrolled, UA will provide a professor on ground, she said.
The University of Arizona, which became the first university in the United States to offer a bachelor of arts in law, started a similar dual-degree program in China. Now in its second year, UA-Qingdao is located on the Ocean University of China campus in Qingdao, China, and has 174 students enrolled to earn undergraduate law degrees from both Ocean University and UA, according to a statement from the University of Arizona.
In Cambodia, students in the dual-degree program with the University of Arizona can study law or business and the program may eventually include civil engineering and architecture, Slott said.
RELATED: California University to Offer Hmong Minor Starting Fall 2016
"We're very excited about the possibilities the dual-degree program opens up for our students. It opens up the possibility for them to get degrees from both the America University of Phnom Penh and the University in Arizona, and thus we are providing access to quality U.S.-style education and U.S.-quality-assured education," said Nial Farrell, vice president of academic affairs for the American University of Phnom Penh.
During the official signing ceremony, U.S. Ambassador to Cambodia William A. Heidt said higher education is one of Cambodia's fastest growing sectors, noting that more than 250,000 Cambodians are enrolled in university programs and about 300,000 young Cambodians enter the job market each year.
"Just like in America, those with college degrees have the best chance to find satisfying, well-paid jobs that offer career advancement," he said.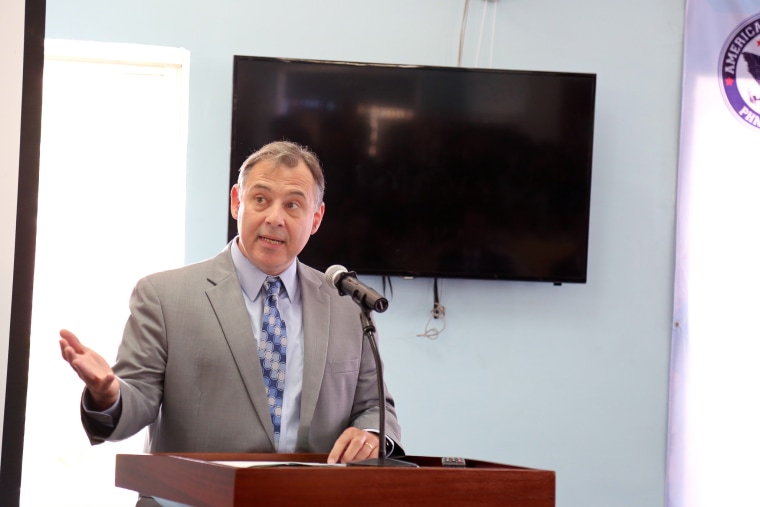 The University of Arizona, meanwhile, can also learn from the "young, exciting, fast-paced, and Facebook-loving country in the heart of Southeast Asia," Heidt added. He said he hopes that the program will allow for increased exchanges of students, faculty, and administrators between the two universities.
The price of that education won't come cheap for the Cambodian students. Tuition at AUPP, which is working toward accreditation in the United States, is $9,000 per year. Though many students receive scholarships and financial aid based on high school examinations, according to the university's website, it is still a steep price for many in Cambodia, where nearly 20 percent of the population lives under the international poverty line of $1.25 per day, according to UNICEF.
"We give a lot of scholarships to deserving Cambodian students," Slott said. "We take a high percentage of scholarship students because they are very deserving and very smart and just don't have the financial resources to ever see the inside of an institution."
RELATED: When Harlem Meets Gyeongju: A Korean Education System in New York
Reaksmey Lim is one of those students. Lim, a sophomore studying information technology management, received a full scholarship to study at the university. Though he said the school wasn't initially his target university, once he visited friends who attended, he decided it was the right place for him.
"Education at AUPP does not teach me what to think, but how to think," he told NBC News, adding that he also learns through extracurricular activities like the Investment Club. "So I don't just get stuck in programs and codes. I also know how to read stock exchange graphs," he said. "There are many other clubs available at AUPP and almost all of them are initiated by AUPP students."
Sunner Kea, a third-year law student at AUPP, said he believes the new partnership between the University of Arizona and the American University of Phnom Penh will improve the level of education at the school.
"We can also transfer to one of the top universities in the United States," he said. "It's one good step for AUPP."
Follow NBC Asian America on Facebook, Twitter, Instagram, and Tumblr.