Victoria Hong remembers the moment she decided to become a vegetarian.
"I was eating a chicken salad one day in front of my dog," Hong told NBC News. "And it just hit me — I thought it was hypocritical of me to be treating my dog like my family, while I was eating a chicken I had never met. It just didn't bode well for me."
Hong's passion for animal rights flowered at an early age — she became a vegetarian at 16 and then a vegan at 19 — and now as the Asian-American outreach coordinator for peta2, animal rights organization PETA's youth division, she hopes to bring the same kind of awareness to Asian-American college students across the nation.
"Young people are embracing animal rights at an unprecedented rate, with an estimated 12 percent of millennials identifying themselves as 'faithful vegetarians,' compared with 4 percent of Gen Xers and 1 percent of baby boomers," Ryan Huling, the director of international youth outreach at PETA, told NBC News. "The number of colleges that offer vegan food has grown by more than 60 percent over the past two years in response to this growing demand, but Asian Americans were still noticeably underrepresented in the movement."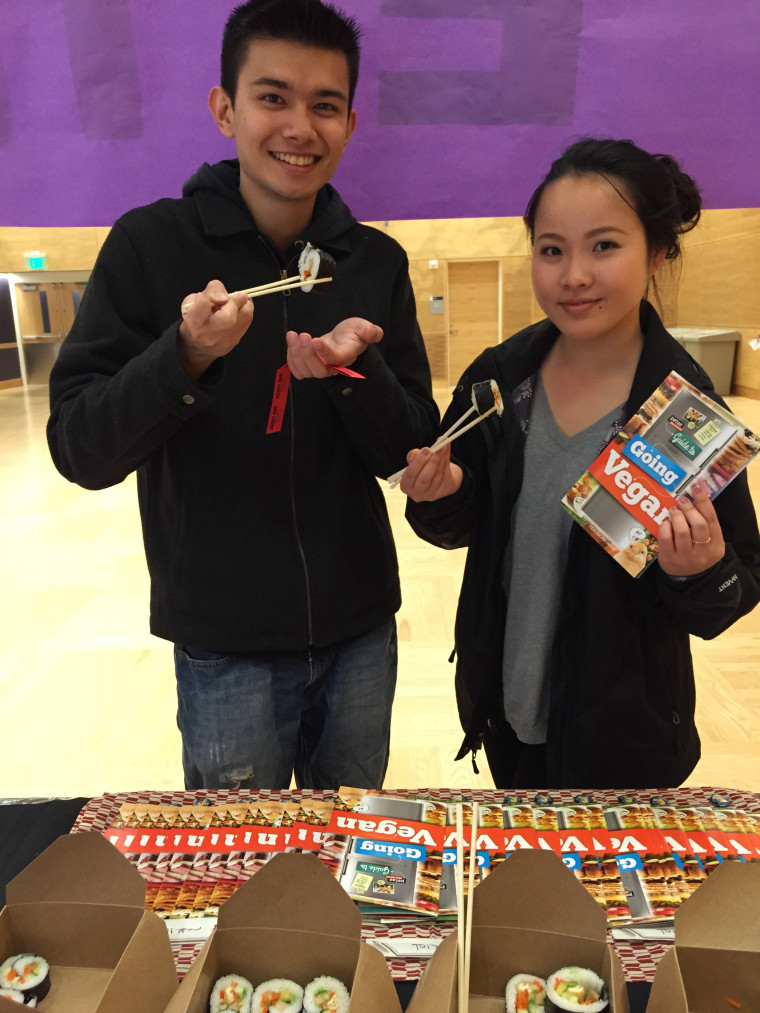 Huling believes the lack of Asian American representation in the animal rights movement, despite the steady increase in the Asian-American and Pacific Islander population at many colleges across the U.S. stems from lack of engagement as well as the community's unique cultural obstacles. With her years of experience in grassroots organizing as well as her personal background in the Asian-American community, Hong was brought on to peta2 a year and a half ago to lead an initiative specifically geared toward AAPI student outreach.
Hong is the first and only PETA member to focus solely on reaching out to AAPI students. She divides her time between designing and publishing culturally-sensitive literature online (one of her blogs is titled "The unPHOgettable Guide to Vegan Vietnamese Food") and organizing campus-wide events to educate students on topics like animal abuse and veganism.
"My role was an opportunity to begin advocating for rights our community wasn't yet talking about," Hong, who was born in Orange County, California, to Chinese and Vietnamese immigrant parents, said. "And as a social rights advocate, I saw animal abuse as another extension of oppression."
"I was eating a chicken salad one day in front of my dog, and it just hit me — I thought it was hypocritical of me to be treating my dog like my family, while I was eating a chicken I had never met."
Hong's dedication toward education and social justice manifested during her time as an English and international studies double major at the University of California, Irvine, where she was a part of Irvine Students Against Animal Cruelty, an animal rights club on campus. Immediately after graduating in 2011, Hong went on to work for two years as an early childhood teacher in South Los Angeles through Teach for America.
Working in a low-income neighborhood inspired Hong to take on a more involved role in the community, and she joined the Asian Americans Advancing Justice | Los Angeles, a civil rights and social justice nonprofit organization, as a parent leadership coordinator.
"Having understood how much my parents had to struggle to get me through school, and then being a teacher and seeing parents who didn't have the language skills to access the education system, really mobilized me to help where I could," Hong, who worked with Asian and Latino immigrant parents in east LA and the San Gabriel Valley, said. "Being able to work with those parents and giving them the tools they needed was rewarding."
RELATED: Vegan Eating Would Slash Food's Global Warming Emissions: Study
It was while working at peta2 that she learned just how intersectional her interests were.
"It's a fight against cruelty, but it's also a fight to reclaim our health," Hong said. "The consumption of processed meat, for example, is building upon America's obesity epidemic, and we're seeing that play out in our community, because 11 percent of AAPI children in California fall into the category of obese. Historically, the Asian diet has always been leaner in terms of fat and cholesterol."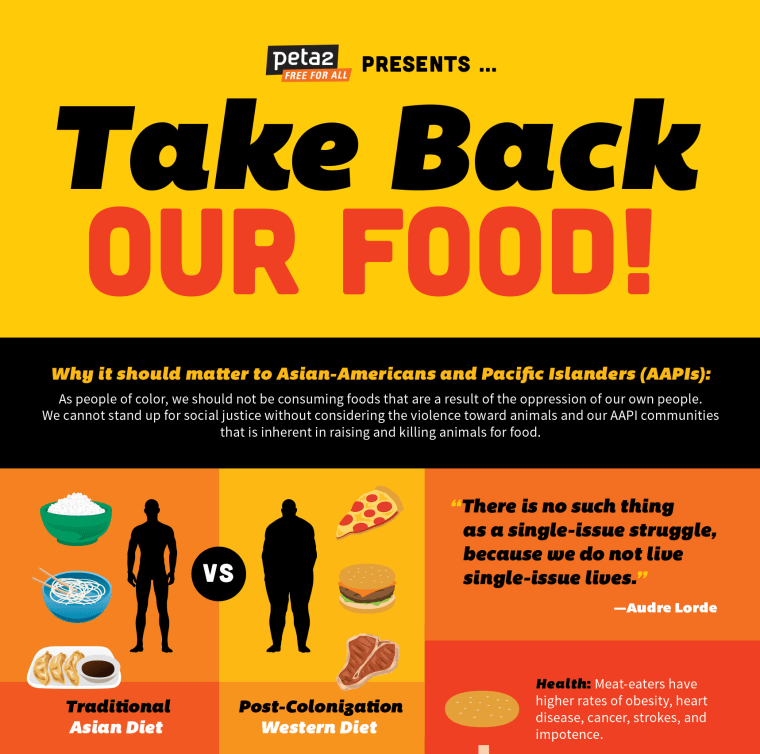 By partnering with college community centers and conferences, including the West Coast Asian Pacific Islander Student Union summit and the Queer and Asian Conference, Hong hosts workshops that educate students on where their food comes from and explore the history behind food colonization.
But one of the best ways she's found to reach students is through their stomachs.
In the past year, peta2 has set up booths on campuses like the University of Southern California, University of California, Los Angeles, and University of California, Berkeley during Lunar New Year's celebrations and mid-autumn festivals to hand out free vegan takes on traditional dishes like mooncakes and sushi. Hong has also designed leaflets offering plant-based recipes to give vegan and vegetarian students alternative options to their mom's homemade dumplings.
"We're very conscious about the types of food we bring out to events," Hong said. "We want to make sure it's familiar, and that the literature is related to their upbringing. And college students love free food."
Hong also hopes to include the high number of international students on U.S. college campuses in the animal rights discussion, particularly those from China, where 50 million of its residents identify as vegetarian or vegan, the highest number of any country in the world. Peta2 plans on launching an information campaign in July that will provide Chinese students access to vegan advocacy materials in their native language.
"Raising animal rights awareness in my community is the natural thing for me to do, because everything overlaps," Hong said. "I'm always reminded of this Audre Lorde quote: 'There is no such thing as a single-issue struggle, because we do not live single-issue lives.'"
Follow NBC Asian America on Facebook, Twitter, Instagram, and Tumblr.