After the University of Southern California football team lost to Stanford last Saturday, USC student body president Rini Sampath was lamenting something more than a game.
"There's an indescribable hollowness in me, but I'm going public with this because this can't continue," Sampath wrote on Facebook the following morning.
According to Sampath's post, she was walking past a fraternity house Saturday night when someone threw a drink at her and yelled, "You Indian piece of shit!"
Once the person's friends saw it was her, Sampath said, they apologized.
Sampath, 21, who immigrated with her family from India to Arizona when she was 6, said that she was still in shock.
"Some people don't believe racism like this can happen on our campus," she wrote on Facebook. "Some people continue to doubt the need for safe spaces and the need for expanded cultural resource centers or the need for gender neutral bathrooms or the need for diversity in our curriculum or the need for diversity in our professors or the need for diversity in dialogue. And to those who continue to believe we're just playing the 'race' card, I ask you this — what's there to win here? A sense of respect? A sense of humanity? A sense of love and compassion for others regardless of how they look like?"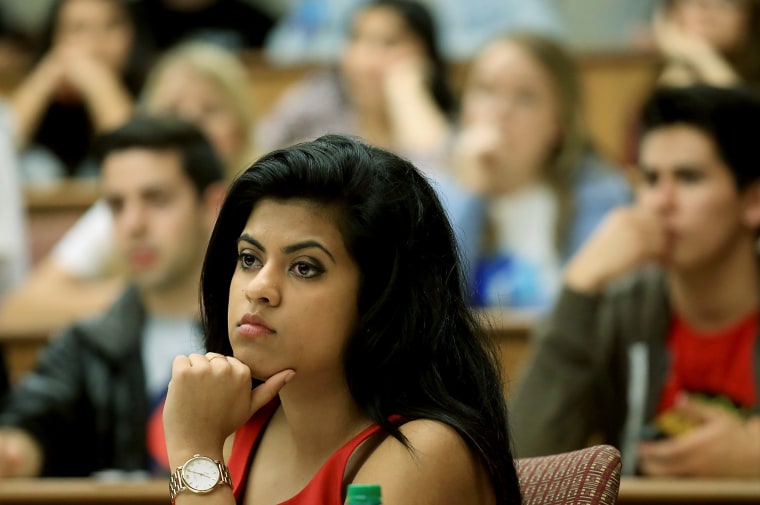 Varun Soni, USC's Dean of Religious Life, told The Washington Post on Monday that the university had a zero-tolerance policy for that type of behavior, and said he asked Sampath to file a formal complaint on campus.
Sampath said she still is haunted by the taunt, and the the apology from the fraternity member's brothers failed to make things better.
"I couldn't quite figure out why their after-the-fact apologies deepened the wound. But one of my friends explained it to me the best this morning: 'Because now you know, the first thing they see you as is subhuman.' And that's the first thing some students on our campus see when they look at anyone who looks like me," she wrote on Facebook.
Sampath was elected as USC's student body president last winter, becoming the first woman elected to the position in nearly a decade.