A Virginia pastor recalled the chilling moments Sunday when a man armed with a loaded gun and knives entered his church during worship services. 
Barry White, the founder and pastor of Park Valley Church, in the northern town of Haymarket, said the 10 a.m. service had just begun and music was playing when the man entered the building. 
White, who was backstage preparing for the service, said a member of the church's safety team told him about having noticed a man arriving through a north entrance, dressed all in black and wearing sunglasses indoors. 
"It was raining, and there was no need — no one was wearing sunglasses, let alone in the building. So that member right away said, 'Hey, this doesn't look right to me,'" White said. 
"So we shadowed him throughout the entire time that he was in the building," he said. 
At some point, the man left the auditorium and the safety team confronted him in the lobby, White said. 
"As soon as that happened was when Prince William County police came in," he said.
Prince William County police arrested Rui Jiang, 35, of Falls Church, Virginia. He was found to be carrying a loaded handgun, along with an additional magazine, a folding knife and a folding "credit card"-style knife, police said.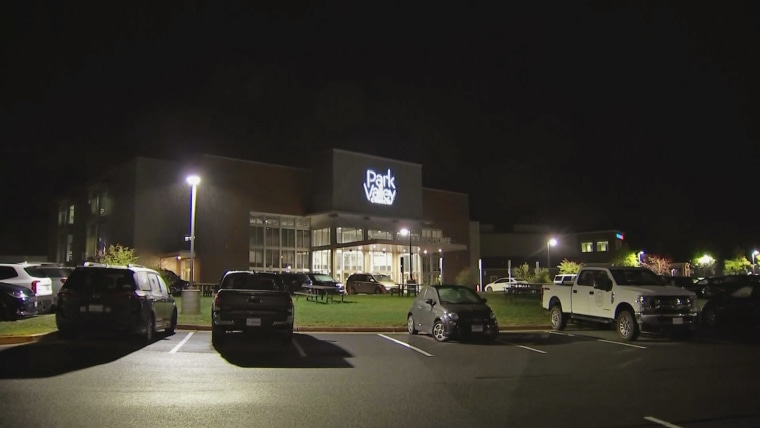 Police said in a news release that an off-duty, uniformed officer, who was working a detail assignment at the church, and church staff members coordinated to detain the man "without incident."
Meanwhile, worship continued. "It wasn't until the end, after all services were over, that I really started to get informed and briefed on how dangerous the situation was," said White, who called the incident a "sobering" moment.  
Police said they acted on an out-of-state tip after authorities in Anne Arundel County, Maryland, received a report from a nearby resident who noticed "suspicious and concerning" Instagram posts from the suspect. 
After they found Jiang's potential address in Falls Church, police from Fairfax County dispatched officers to the home but didn't find him there, the release said. After they obtained additional information, Prince William County police were alerted and sent to the scene. 
Officers "found a kill manifesto, the likes of which I've never read," Fairfax County Police Chief Kevin Davis told NBC Washington. "But he also articulated that he didn't know anyone at that church. … He knew he was going to take many lives yesterday, and he also said, 'I don't know any of them.'"
Jiang, who was being held without bond, was charged with making threats of bodily harm and carrying a dangerous weapon to a place of religious worship.
The Prince William County Public Defender's Office, which is representing Jiang, did not respond to a request for comment. 
White said the church has been overwhelmed with positivity since the incident.
"Everybody has been so incredibly courageous and just supported us," he said. 
White also said he hopes the suspect gets help, adding that he believes "there's definitely a mental health crisis." 
"Anybody that's faced any kind of trauma or any kind of loss, I get it. There's churches everywhere. It takes a village," White said. "The bottom line is we're here. We're here to help anybody that's hurting in any way, shape and form."
For more from NBC Asian America, sign up for our weekly newsletter.