This Valentine's Day, two non-profit organizations are hoping you'll write your love letters to immigrants.
Immigration advocacy groups Define American and Welcome.us have partnered to launch a new campaign, #ToImmigrantsWithLove, as a way to encourage people to show support for immigrant communities around the United States.
The campaign asks people to write letters to immigrant friends, neighbors, classmates, and coworkers in a show of solidarity and share their recorded or handwritten letters on social media using the hash tag #ToImmigrantsWithLove.
Celebrity participants of the campaign include Reza Aslan, Russell Simmons, José Andrés, Max Levchin, Amy Schumer, and Constance Wu.
"This campaign comes at a crucial time not only for millions of immigrants who call America home, but for the millions more whose lives are connected to ours," Jose Antonio Vargas, an immigration rights activist and founder of Define American, said in a statement. "We are an immigrant nation and we love our immigrants. Let's show it."
"For birds, dinosaurs, seeds, and the first thousands of years of human life, migration has been a vital part of life on Earth. Only in the recent millennium and rise of empire, has it become criminalized and stopped by borders."
Jess X. Snow, a queer Asian-American multidisciplinary artist provided some of the artwork for the campaign in collaboration with Roger Peet, a fellow member of artist co-operative Justseeds. She became involved with the campaign when her friend, Hemly Ordonez, who helped organize it, brought the idea up to her.
Snow, who is a first-generation Chinese American, said art and activism stems from her own personal journey of coming to America. Her parents emigrated from Nanchang, China to Canada after the Tiananmen Square Massacre in 1989. When she was 6 years old, Snow and her mother migrated to the U.S. shortly after her parents' divorce.
"After my parents' divorce, and my journey to the U.S. I developed a stutter so I wasn't able to speak," Snow told NBC News. "Art became my way of healing and communication. The imagination that painting and poetry gave me was the only way I could bridge the distance between my mother and father, their separation from a homeland, and the canyon between the many homes I was forced to move away from."
"It took nine years for us to get green card status in the U.S., and during that time I moved around eight times due to my mother losing her jobs and finding new ones," she added. "Art was the only way I could seek stability when the concept of home was impermanent and constantly changing all around me."
RELATED: 'I Am An Immigrant': Campaign Brings Faces, Voices to Immigrant Heritage Month
It was just within the last two years, Snow said, that she realized her passion was creating art that focused on uplifting immigrants. She began to connect with migrant poets and artists, which led to her doing work for CultureStrike, a national migrant justice organization, where she provided art for their "Visions from the Inside" campaign. Since then, she has spoken at various universities, including at a TEDx conference at the City University of New York where she told her own migration story.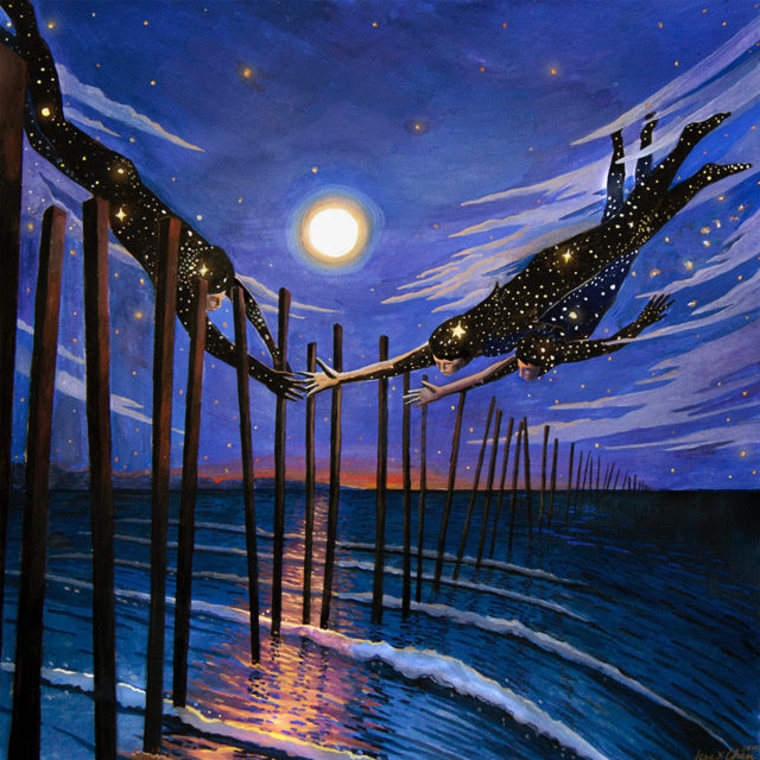 "A lot my work is inspired by the fact that migration is natural and has been happening on the Earth for millions of years," Snow said. "For birds, dinosaurs, seeds, and the first thousands of years of human life, migration has been a vital part of life on Earth. Only in the recent millennium and rise of empire, has it become criminalized and stopped by borders. My work is about how migration and movement is essential to the preservation and balance of our planet.
In one of the pieces of art that she and Peet designed for the campaign, Snow said Peet created the Statue of Liberty's torch and the hummingbirds, while she drew an immigrant family.
"Welcome.us wanted to show these immigrants were people who have already migrated to the US and so we wanted it to be a universally identifiable symbol to show they are in America," Snow said. "Even though the many challenges migrants face such as deportations, detention, separation from family members and racial profiling contradicts the liberty and freedom that [the torch] is supposed to represent, Roger wanted to create an image that could still bring to light the dreams of freedom that are driving people to come here. He believes art can urge the United States to strive toward those ideals."
Snow varied the skin colors of the family she drew to make clear that it is an immigrant family of color, she said. She also focused on a mother on her child, in an ode to her own mother.
"I would not be here if it weren't for [my mother] and her unstoppable love," she said. "The love of mothers is a driving force in keeping immigrant families together and they are extremely underrepresented in mainstream narratives of migration."
Snow hopes the #ToImmigrantsWithLove campaign can inspire people who are not immigrants to become allies to them. "I want allies to question what their roles can be in empowering their immigrant neighbors," Snow said. "It is becoming more clear that migrants cannot be advocating for our rights alone. For allies, maybe that means hiring more immigrant artists, protecting undocumented people and refugees, making sure families at risk of deportations have lawyers and fees covered, preserving sanctuary cities, or educating their own peers to become allies."
"I think sometimes people think being in solidarity means telling stories of migrants for them, but I think the best way to be an ally is to use your privilege to empower or support the people most vulnerable and affected by the recent legislations," she continued. "Perhaps allies can create more spaces and opportunities for migrants to tell their own stories with grace."
Follow NBC Asian America on Facebook, Twitter, Instagram and Tumblr.