From the entrance of her family's surf school, steps away from Oahu's Waikiki Beach, Tammy Moniz can see the statue of Olympian Duke Kahanamoku, the Native Hawaiian swimmer who earned 3 gold medals and 2 silver medals between 1912 and 1924. Kahanamoku is also widely regarded as the "father of modern surfing," who popularized the sport throughout his career.
"The story of Duke is important especially to my kids. It's more relatable to them because he was a Waikiki Beach boy," said Moniz, who homeschooled her five children on the same beach that was once Kahanamoku's stomping grounds.
A record-setting swimmer, Kahanamoku was born in 1890 in Honolulu and grew up surfing off Waikiki Beach. Between Olympic games, he toured the world, putting on surfing exhibitions, introducing the sport to Australia, New Zealand and the U.S. Atlantic coast. He's immortalized not only by the bronze statue across the street from Moniz's surf school, but also in an annual aquatic sports festival and a national restaurant chain.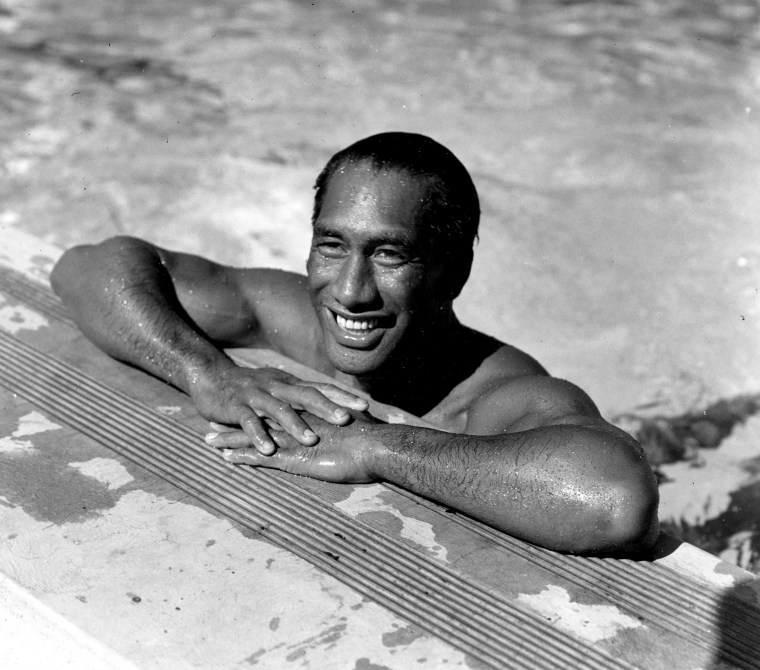 Surfing runs deep in the Moniz family: Tammy Moniz's husband, Tony, competed on the professional circuit and coached the Hawaii World Amateur Surf team before they started Faith Family Surf in 2000; they opened a second location, Moniz Family Surf, in 2018.
Their five children have all been sponsored surfers for more than a decade, and their youngest, Seth Moniz, 21, is currently a rookie on the World Surf League's Men's Championship Tour.
Daughter Kelia Moniz, 26, is a two-time women's longboarding champion and travels the world, surfing and modeling.
She said that it's Kahanamoku's spirit of ambassadorship that she carries with her on her travels; she recently started hosting pop-up lessons while on the road.
"I'm trying to showcase the more artistic side of surfing, which is longboarding," Kelia Moniz said. "My hope is that a little girl in middle America, who doesn't have the ocean at her fingertips — that she can look at my surfing and be inspired to do that."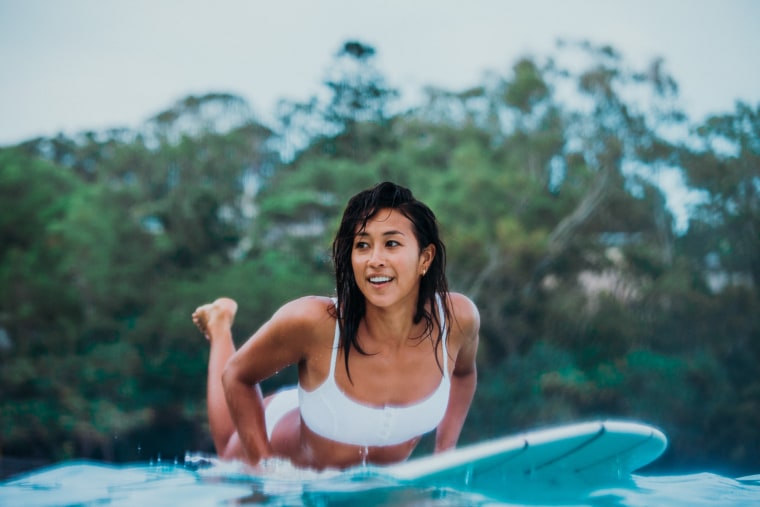 Kahanamoku has also been the inspiration for Fernando Aguerre, who has led the charge for the sport to be included in the Olympic Games since 1995. It's a campaign that will come to fruition in 2020, when surfing makes its debut at the Tokyo Games.
Aguerre, who has been president of the International Surfing Association since 1994, added that the event also paves a way to Olympic glory for some countries.
"With surfers, you might get a chance, especially small nations like Costa Rica, Peru and Barbados," he said. "Those are nations that don't figure into the medal count in the summer games." And, subsequently, expand who represents the sport, which at the professional level in recent decades, has been mostly male, mostly white, and mostly from the United States or Australia.
Athletes are getting ready, too, with some changing their country allegiances to qualify to compete. And for generations of surfers, its debut on sport's biggest stage will be the newest chapter in a history that spans hundreds of years, if not more.
The origins of surfing are murky, but European voyagers in the 1700s recorded seeing the sport practiced throughout the Polynesian Islands. British explorer Captain James Cook's first lieutenant, James King, documented the activity in the posthumous portion of Cook's diary, describing Native Hawaiians riding ocean waves on long, carved planks of wood off the coast of Hawaii island in 1779.
Surfing's designation as the "sport of kings" comes from it having been practiced by Hawaiian royalty — ali'i — both men and women, who had exclusive access to certain surf breaks, although commoners partook in the activity as well. The traditions and kapu (taboo) involved with he'e nalu ("wave sliding") included offerings before cutting down trees for board-making and praying to gods for favorable conditions in the water. People often surfed in the nude.
Evidence of similar wave-riding-via-wooden-vessels have also been recorded in West Africa and Peru. But historian Peter Neushul says that surfing's modern incarnation — standing upright while riding a wave on a board — must be credited to Native Hawaiians, whose population was decimated after contact with Cook and his crew in 1778. According to a study cited by the Pew Research Center, the population had declined by 84 percent by 1840, through a combination of diseases including venereal disease, measles, chickenpox and tuberculosis — and less than a hundred years after European contact.
"They were massacred by disease and the hell that was brought upon them by outsiders who came to their islands," said Neushul, co-author of "The World in the Curl: An Unconventional History of Surfing." "Before, they were able to cultivate a lot of food. It was a culture that was healthy and drew extensively on the ocean for food and all aspects of their life."
But with a weakened population and missionaries imposing moratoriums on certain Hawaiian cultural practices in the 19th century — including hula — surfing went into decline, although never truly went away, as Neushul noted that missionaries did not "ban" surfing outright.
As the islands became increasingly popular tourist destinations, so did the sport. One practitioner, George Freeth, Jr., a surfer of part-Native Hawaiian descent, caught the attention of railroad and real estate magnate Henry Huntington, who had been vacationing there. Writers Alexander Hume Ford and Jack London also took note, inspired to try their hands at the sport with varying degrees of success (Mark Twain tried it, too).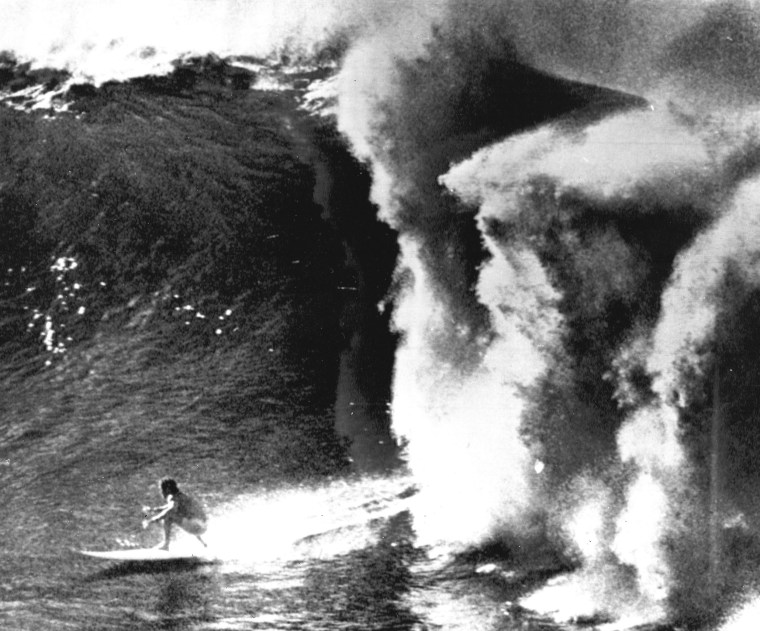 Via Huntington, Freeth found his way to the mainland in 1907, relocating from his home island of Oahu to Redondo Beach, California. Once there, Freeth led surfing exhibitions and developed modern methods of lifeguarding, still used today. His contributions to the latter earned him a Gold Lifesaving Medal by the U.S. Coast Guard after he saved seven fisherman during a winter storm. His legacy is commemorated by a statue at the Redondo Beach pier, dubbing him the "First Surfer in the United States."
Despite its introduction to the mainland, Hawaii remained surfing's mecca throughout the 1940s and until post-World War II, when the surfing boom hit California with its commercialization through movies, music and apparel, according to Matt Warshaw, a former editor of SURFER Magazine and the founder of the Encyclopedia of Surfing.
By the late 1960s, boards had gotten faster and more dynamic, a so-called "shortboard revolution." And, by the 1970s, more competitive, thanks to a crop of Australian surfers out to nab world titles on the professional circuit. The brash, bombastic style of Australian surfing clashed with that of Hawaiian surfers, especially during contests held in the Aloha State; at times, things got violent. Eddie Aikau, a lifeguard on the North Shore of Oahu, helped broker a resolution between Australian competitors and local Hawaii surfers.
"It was a huge issue with the first new wave of Australians who wanted to compete and win world titles and didn't want to flow with it," Warshaw, also a former competitive surfer, said. "We wanted to be colorful and flamboyant, and Australia brought that into it." U.S. surfers such as Tom Curren and 11-time world champion Kelly Slater put American athletes at the forefront in the 1980s and the 1990s.
Now, both the men's and women's competitive circuits draw athletes from all over the world. The increasing prominence of women in the sport, including pay equality with the men's contest at the championship tour level despite a shallower field of competition (34 men versus 17 women), and the rise of artificial wave pools are also ushering in its latest chapter. An estimated 50 million people will surf by 2020, according to the ISA.
It would seem that an Olympic debut, then, would be inevitable. Although skeptics like Warshaw — noting the unpredictable conditions of contests held in the ocean — are dubious about the sport's broadcast viability. Surfing events are scheduled to be held at Tsurigasaki Beach in Chiba, outside of Tokyo, in 2020.
"I think there's a real chance that the Olympics will be kind of a bust," Warshaw said. He added that it wouldn't be unreasonable for organizers to end up holding the contest in a mechanized wave pool — at which point, though, he questions if it can still be called surfing. "What have we done to surfing when we've taken the very center of it — waves — and all that variability and all that connection to nature and replace it with a machine? To me, I think you've actually kind of ruined the whole sport."
But for athletes like Kelia Moniz, the bigger the stage, the better. In addition to her career as a model, she recently returned to competitive longboarding and said she is in awe of the level of athleticism of her fellow competitors, similar to the kind displayed by Kahanamoku and the original founders of the sport. It's something she and her brothers take to heart.
"To carry out the legacy of the Native Hawaiians is super important to me and my brothers because there's not many of us left. We're one of the last Hawaiian surfers on the professional level," Kelia Moniz said. "We're really proud that we can carry the aloha spirit, do what Duke did and spread surfing throughout the world."
Follow NBC Asian America on Facebook, Twitter, Instagram and Tumblr.