Author and entrepreneur Chitra Agrawal feels that most American dinners think of heavy curries and naan when they think of Indian food, not the lighter, vegetable-focused fare she would eat while growing up.
"I do feel like North Indian recipes are what people think of when they think of Indian food," Agrawal told NBC News. "As a [cooking] teacher, I want to bring another cuisine to the forefront."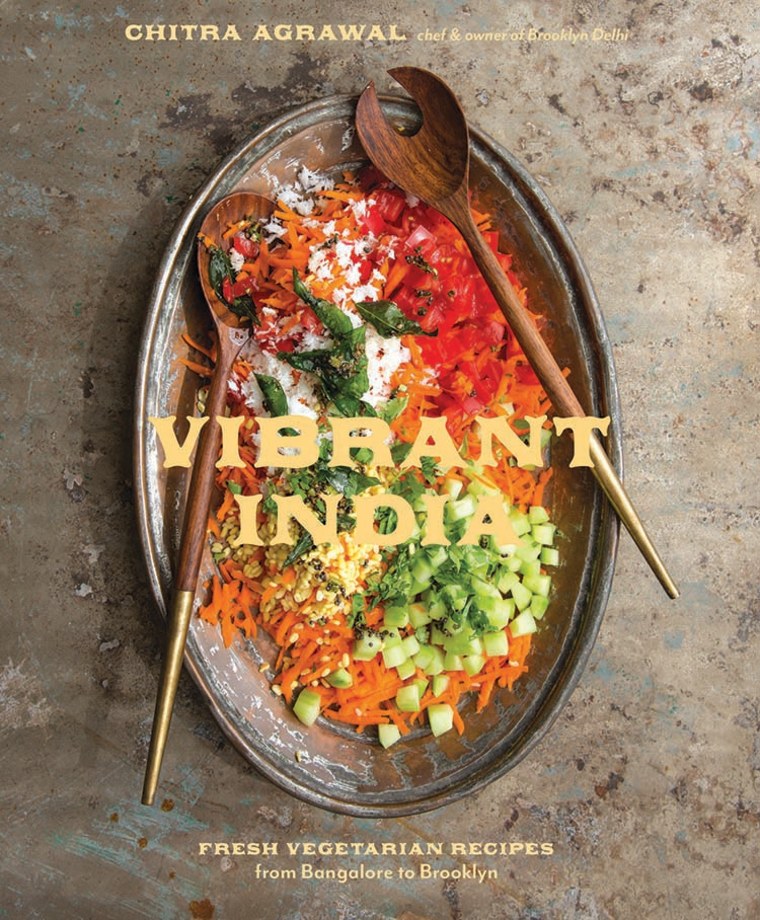 Agrawal is hoping to do that with the release of her new cookbook "Vibrant India: Fresh Vegetarian Recipes From Bangalore to Brooklyn." To write it, she turned to the traditional South Indian recipes her mother's family has been cooking for generations. By including dishes like dosas and the classic breakfast porridge upma, she's hoping American cooks will broaden their culinary horizons.
"I teach cooking classes too and there were a lot of people interested in South Indian recipes," she said. "It naturally lends itself to a vegetarian diet and can even be adapted to be gluten-free or vegan."
The history and culture of Bangalore — her mother's hometown — factor prominently in the book, and Agrawal decided to dedicate "Vibrant India" in part to the city because of that. "My dad went to school there and met my mother in class," she said. "We would go back every year, and I've become very familiar with the city."
RELATED: How One Writer Started A Cookbook and Discovered Her Indian Jewish Heritage
A New Jersey native, both Agrawal and her brother learned how to cook from their parents at an early age. "It was a way to share their culture with us," she said, noting that because her father was North Indian, that the food they prepared was quite varied. "Both my parents cook and we'd have a combination of North and South Indian dishes," she recalled. "We would wash vegetables and cut them and roll chapatis and things like that."
Agrawal would carry that love of cooking and planning elaborate meals as she went on to college and eventually began a career in marketing. That's when she began her blog ABCDs of Cooking, an introductory recipe blog whose name is a play on the phrase "American Born Confused Desi," an acronym sometimes used to refer to South Asian Americans.
As her cooking classes and food writing began to get more popular, Agrawal also began experimenting with creating her own version of one of her favorite foods — Indian pickles, which are known as achaar (pronounced uh-char). "Technically, they are more like a sauce. Indian pickle is used the way we would use hot sauce or siriacha," Agrawal explained.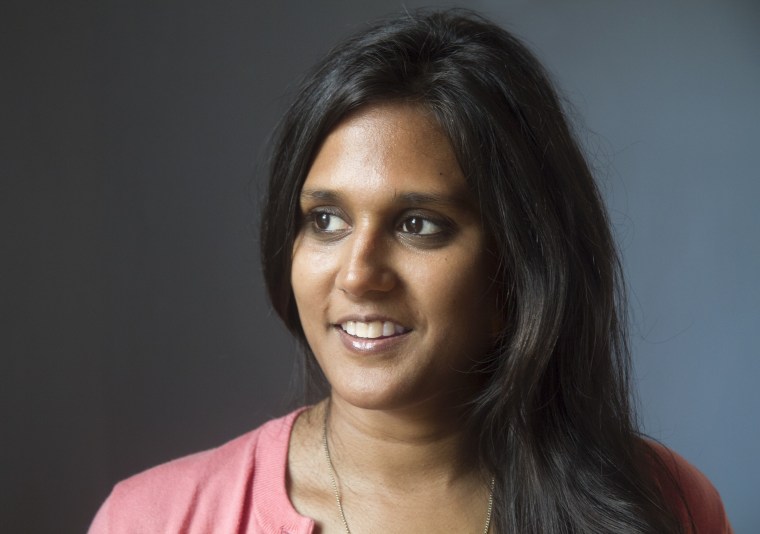 But Agrawal found that fresh Indian pickle was nearly impossible to find in South Asian stores in the U.S. "I loved pickle so much, but there wasn't any homemade pickle," she said. "Growing up we usually relied on uncles and aunts who brought back jars from India."
It was when she joined a community-supported agriculture program that she was inspired to create her own. "I made rhubharb pickle and gooseberry and garlic pickle," Agrawal said. "And I started serving those at my pop up dinners, and people really liked them."
Seeing how the achaar was a hit, Agrawal's husband Ben Garthus, an artist and designer, suggested they begin selling the product. The couple started their business, Brooklyn Delhi, in late 2013. The company currently sells tomato, rhubharb, and garlic varieties of achaar. "[It] can be savory, spicy and maybe bitter at times," she explains. "It just gives your meal a boost."
Even though she now spends her days in the Brooklyn kitchen her company calls home, Agrawal still delights in shopping for and prepping her meals. "I love going to the grocery store," she said. "My parents loved picking the best vegetables and making sure they got the best one and that's how we grew up."
Uppittu or Upma (Spiced Spring Vegetable and Coconut Polenta)
Reprinted with permission from Vibrant India: Fresh Vegetarian Recipes from Bangalore to Brooklyn by Chitra Agrawal, copyright © 2017. Published by Ten Speed Press, an imprint of Penguin Random House LLC.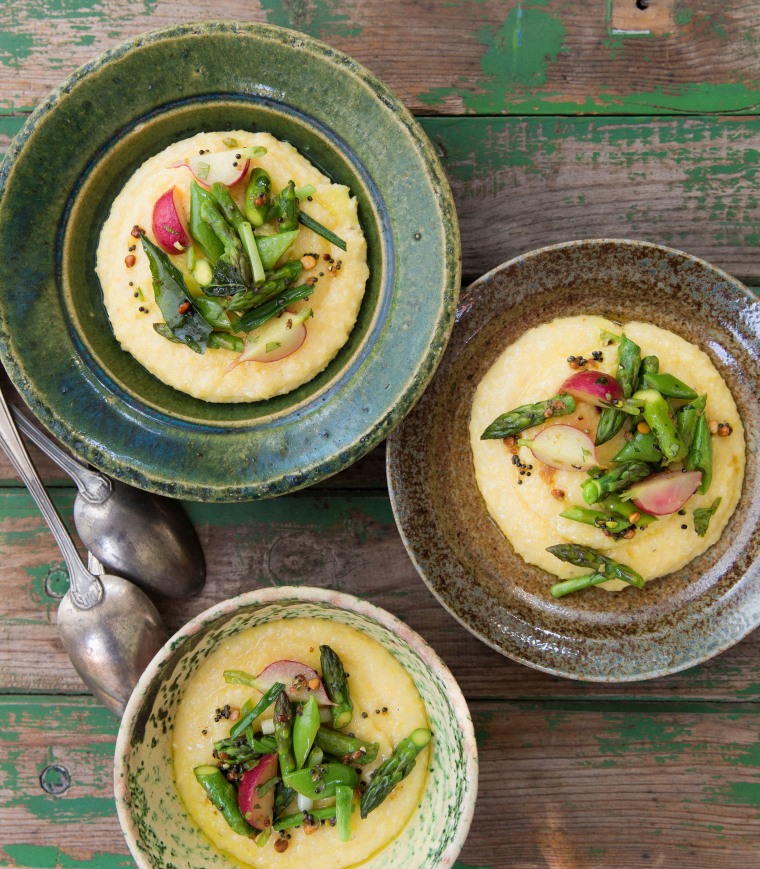 "This is my gluten-free spin on uppittu or upma, a savory South Indian semolina breakfast or light snack," Agrawal said. "In Kannada, uppu means 'salt' and hittu means 'flour,' so uppittu roughly translates to 'salted flour' and is sometimes referred to as upma. In place of Indian semolina flour or farina, I use polenta and pair it with crunchy spring vegetables and traditional flavors of black mustard seeds, curry leaves, chile, coconut, and lemon."
"Feel free to substitute other vegetables like potato, green bell pepper, onion, grated carrot, peas, or tomatoes," she added. "Uppittu is usually served with a pat of butter or yogurt and hot pickle and sometimes a topping of fried cashews. In the past, I have used cooked quinoa or couscous in this recipe in place of polenta, so feel free to experiment with different grains as well."
Serves 3 or 4
1/2 cup unsweetened grated coconut (fresh, frozen, or dried)
1 teaspoon salt, plus more for sprinking
1 cup polenta* or medium or coarsely ground cornmeal (if using quick-cooking polenta, adjust cooking time accordingly)
2 tablespoons unsalted butter
8 ounces asparagus, tough parts of spears broken off
1⁄2 cup snap peas, trimmed
and stringed
1 1⁄2 tablespoons coconut oil
1 teaspoon black mustard seeds
1⁄2 teaspoon chana dal
1 teaspoon urad dal
5 or 6 fresh curry leaves
1⁄2-inch piece fresh ginger, peeled and grated
1 Indian green chile or serrano chile, finely chopped
2 or 3 scallions or seasonal ramps, both white and green parts, chopped
1⁄4 teaspoon turmeric powder
4 or 5 red radishes, trimmed and quartered
Juice of half a lemon (about 1 1⁄2 tablespoons), plus more as needed
2 tablespoons chopped cilantro leaves
To Serve
Plain yogurt or butter
Hot pickle or Brooklyn Delhi achaar
Thaw frozen coconut or place dried coconut in a little hot water to plump it up.
Bring 4 cups water to a boil in a saucepan, and add the salt. Turn the heat to low and slowly whisk in the polenta until there are no lumps. Cook the polenta, partially covered, for 30 minutes, whisk-ing it well every few minutes. When cooked, the polenta should look creamy. Add the butter and coconut and mix well. The polenta should become fluffy and lighter in color when you do this.
While the polenta is cooking, cut the asparagus into 1-inch pieces on the diagonal. Cut the snap peas into 1-inch pieces on the diagonal. Put the oil in a wok over medium heat. When the oil is hot and shimmering, add one black mustard seed. When the seed sizzles and pops, add the rest of the mustard seeds. Keep a lid handy to cover the pan while the mustard seeds are popping. When the popping starts to subside (a few seconds), immediately add the chana dal and urad dal. Stir to coat with oil and turn the heat to medium-low.
Continue to stir the dals so they evenly roast, until they turn a reddish golden brown and smell nutty, less than a minute. Rub the curry leaves between your fingers a little to release their natural oils, and drop them, the ginger, and green chile into the oil. Cover immediately, as moisture from the curry leaves will cause the oil to spatter. Then stir to evenly coat everything with oil and continue to fry until the ginger and chile are less raw, 10 to 15 seconds.
Add the scallions and turmeric powder. Stir-fry for 1 minute on medium heat. Mix in the asparagus, snap peas, and radishes with a sprinkling of salt. Stir-fry the vegetables over high heat until tender but still crisp and just cooked through, about 3 minutes. During cooking, if the pan is looking dry, add a little water to it. Turn off the heat. Mix in the lemon juice and chopped cilantro. Taste for salt and lemon juice and adjust as needed.
Serve the polenta hot, topped with the vegetables, a dollop of plain yogurt, and a spoonful of hot pickle or Brooklyn Delhi achaar.
Follow NBC Asian America on Facebook, Twitter, Instagram and Tumblr.